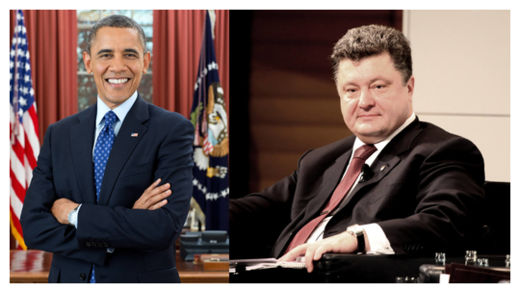 In a surprising move the Nobel Prize Committee revised its former decision and has now awarded the 2015 Nobel Peace Prize jointly to U.S. president Obama and Ukrainian oligarch Poroschenko!
"The decision was not an easy one" a spokesperson of the Norwegian Nobel Prize Committee explained."Both Obama and Poroschenko contributed exceptionally to global peace during the last year!"
Extract from the laudatory speech:
"We admire the U.S. president so much for more than satisfying all expectations we had placed on Obama in 2008.
To list his successes: there was first the comprehensive troop withdrawal from Afghanistan and Iraq. And there were the liberation of Libya without any casualties and his peace missions in Syria and the Ukraine.
Obama immeasurably contributed to peace, liberty and prosperity in Middle East and the Ukraine. The most important issue for Obama was to bring democracy and western values to those countries - and he never forgot who can never be democratically elected, i.e. Assad.
Obama is now one of only five individuals who have received the Nobel Price twice. An extraordinary honor!