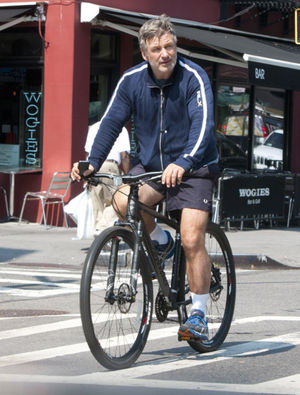 There was new trouble for Alec Baldwin Tuesday, as police said the actor was arrested and issued two summonses when he acted belligerently toward two officers who had stopped him for riding his bike the wrong way down the street.
As CBS 2's Kathryn Brown reported, Baldwin returned to his Greenwich Village apartment pushing his bicycle Tuesday afternoon. It was the same bicycle that he was allegedly riding the wrong way down Fifth Avenue, at 16th Street, around 10:15 a.m.
Two officers stopped Baldwin after they spotted him riding his bike the wrong way against traffic near Union Square Park, police said.
When Baldwin could not hand over a photo ID, they handcuffed him, loaded him into the back of a patrol car, took him to the 13th Precinct station in Gramercy Park, and seized the bicycle.
Eddie Cacho said he saw it all. "He looked kind of disheveled and kind of annoyed. He was straddling his bike," Cacho said, "and as I was coming around the corner, I could see one of the female officers grabbing his arms and pulling the handcuffs on him."
Police said Baldwin was belligerent, mouthing off insults at the two female officers.