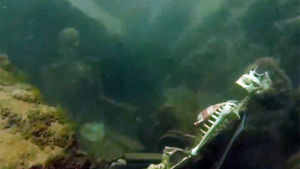 The eerie underwater scene would have warmed the cockles of Captain Barbossa's long-dead heart, but the snorkeler who spotted skeletons at the bottom of the Colorado River thought the grisly view was a result of foul play.
After the snorkeler notified authorities of the potential for human remains near a boat launch in Cienaga Springs, Arizona, La Paz County Sheriff deputies and the Buckskin Fire Department headed to the scene. A diver with a video camera 'headed down into the sea to see what he could see.'
As it turns out, the two skeletons were, in fact, playing ‒ but it was not foul play.
They were playing 'tea party.'
"When firefighter Foerstner located the alleged remains, he found it to be an
underwater tea party with two fake skeletons sitting in lawn chairs
," the sheriff's department said in a statement.