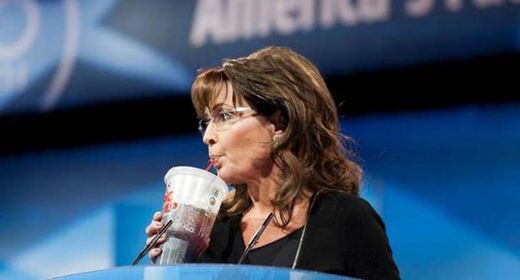 Sarah Palin - the recurrent infection given to America by John McCain during his presidential campaign that crashed and burned like it was just another plane given to him by the Navy - is flaring up again.
Haven't we suffered enough already for whatever it was that we did, particularly if we didn't mean to do it, whatever it was?
Apparently not.
Okay. Now what, Sarah?
When we last heard from the matriarch of the Rock-em Sock'em Drunk'en Palin Partycrashers, she was very upset at America for laughing at her daughters who are apparently
easily tipped over
after a Zima or nine. Having thoroughly harangued the American media for lamestream "reporting" so-called "police reports" and "transcripts" of her daughter drunk-babbling "word-like sounds" at police officers, Palin has turned her disapproving eye on that colored Obamerbola guy for talking shit about
someone's mom
.
According to Sarah - who is the mother of either four or five children depending upon whether you're Andrew Sullivan or not - Oebolabunglermomhater, "Declares Stay-at-Home Moms Aren't Worth a Hill of Beans; Says It's a Choice 'We Don't Want Americans to Make"