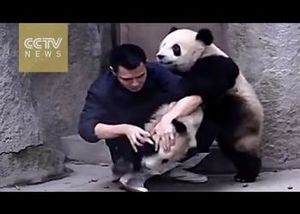 Getting kids to take their medicine can be hard, but when it comes to adorable panda cubs, it can be even more difficult.
In a new viral video, a Chinese zookeeper needed to give a dose of medicine to two pandas, but it didn't go according to plan, the
Huffington Post
reports.
The two young cubs mistake the man's presence for playtime as they climb on top of him and even cling to his legs.
As
Metro
notes, just as the zookeeper is close to getting one of them in position to take the medicine, the other panda climbs on his back, sending all three of them tumbling.