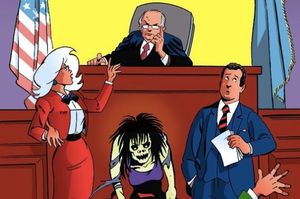 When do you need to tell a prospective buyer your house is haunted? Where do you need a license to practice necromancy or to be reincarnated? And where can you file a lawsuit against a supernatural being? These real-life laws will tell you all that and more.
1. In some cases, US home sellers must tell a buyer if a property is haunted.
There are all sorts of disclosures that home sellers must make to potential buyers, but do you really need a ghost disclosure? Some states require a seller to disclose if a property is "psychologically impacted" in some way, such as from a recent murder on the premises.
If your house is famously said to be haunted, however, you may want to make sure the buyer is aware of the situation. In the 1991 case
Stambovsky v. Ackley
, Helen Ackley had sold her Nyack, New York, property after she and other members of her family had widely reported that the house was haunted by poltergeists. Jeffrey Stambovsky, unaware of the stories surround the house, purchased the home and later sued, requesting rescission of the contract of sale. The New York Supreme Court justices had a field day writing that opinion, stating that the "plaintiff hasn't a ghost of a chance" and "I am moved by the spirit of equity." While the court didn't state that poltergeists actually exist, it did say that, based on wide reports of the house's haunted status, that its value was affected and therefore the house was haunted as a matter of law.