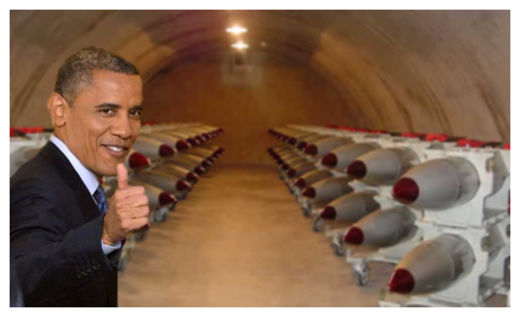 Following eight days of tense negotiations in Switzerland, America has increased fears by confirming it will keep almost all of its reported 1900 deployed nuclear warheads along with its over 5000 additional unarmed nuclear warheads.
Conversely the news that Iran's nuclear program would slow down significantly to the point where they will still have zero warheads was met with warm applause from citizens around the world.
Many citizens in the Middle East and its surrounding environs were pleased to hear
that a country which regularly carries out questionable drone strikes in several sovereign nations has reaffirmed its commitment to owning nuclear weapons.
"I think if America was trying to be oppressive in any way they would hide their weapons away and out of sight," explained Yemeni national Aaban Abad, "but instead they take them on world tours on big aircraft carriers, showing them off. I think it's their way of saying 'look, don't listen to all that nonsense, here are our weapons you are free to have a look'".