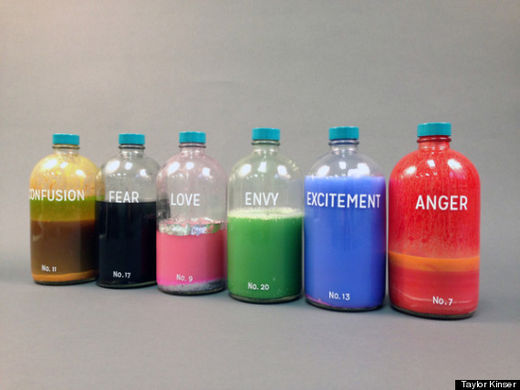 Therapists (and mothers) around the world have touted the old adage that
it's unhealthy to bottle up emotions
. For Tennessee-based artistTaylor Kinser, bottling emotions is just one of the ways she is able to express her creativity.
"Bottled Emotions" was born of Kinser's desire to mix a conceptual art piece with packaging. "I was interested in the idea of packaging something intangible, and emotions were an interest... I started thinking about how people are always so emotionally drained," Kinser told The Huffington Post, "We deal with so many emotions in any one day and that is amplified when big events happen -- deaths, weddings, breakups, births, holidays, injuries, etc. What does it even mean to be emotionally available anymore?"
We certainly don't have the answer to that; but Kinser's take on the big question sees bottles filled up with emotions like love, fear, confusion, anger, excitement and envy, each with a unique color to match the feeling. The project also includes a tonic book, which teaches people how to create cocktails for life's most emotional moments, like Black Friday, Mall Traffic or Tacky Sweater.