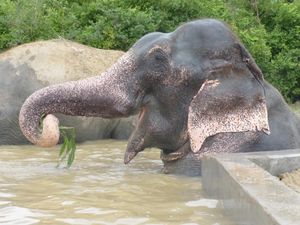 After 50 brutal years of being used as a "beggar's prop," Raju finally has a family of his own.
The tortured elephant who made headlines in July for crying upon his release from captivity has joined five striking female pachyderms at his new home in India.
Tear-jerking video shows the gentle giant being welcomed to the Wildlife SOS's Elephant Conservation and Care Center refuge in Mathura by his new companions.
Raju -
believed to have been snatched from his mom as a young calf and to have been traded among 27 owners over the course of five grueling decades
- joined new pals Laxmi, Chanchal, Sai Geeta, Phoolkali and Maya the sanctuary.
The female pachyderms flapped their ears, trumpeted greetings and touched Raju with their trunks - all signs of joy.
His new family members, collectively dubbed the "Herd of Hope," were all rescued by the Wildlife SOS charity, which also saved Raju from a life of "hell" during a nighttime raid early July.