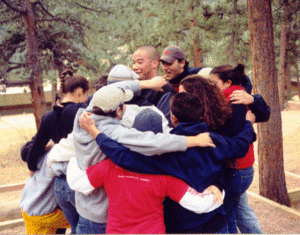 Not only does touch seem to signal trust and cooperation, it creates them. Our sense of touch does much more than help us navigate the world at our fingertips. It is becoming clear that touching each other plays a fundamental role in our lives. It isn't just a sentimental human indulgence, says Francis McGlone at Liverpool John Moores University, UK. "It is a biological necessity."
Touching gives the world an emotional context. It builds trust and promotes teamwork, wins friends and influences people. But that's not all. Beginning in the womb, it may guide the development of regions in our brain that govern social behaviour. It could even give us our sense of self. The touch of others makes us who we are.
Compared to the other senses, however, touch often gets a raw deal. It receives less attention than sight or hearing, say. And yet the skin -- our touch detector -- is our biggest organ. An average-sized man has some 5 or 6 kilograms of it -- roughly the weight of a bowling ball.
As well as regulating our temperature and shielding us from infection and injury, our skin is a communication interface with the outside world. And just as we can lose our sight or hearing, we can go touch-blind.