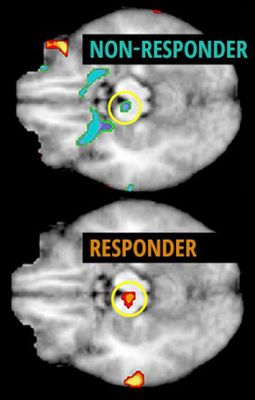 For nearly a decade, doctors have used an implanted electronic stimulator to treat severe depression in people who don't respond to standard antidepressant therapy.
Now, preliminary brain scan studies conducted by researchers at Washington University School of Medicine in St. Louis are beginning to reveal the processes occurring in the brain during stimulation and may provide some clues about how the device improves depression. They found that
vagus nerve stimulation brings about changes in brain metabolism weeks or even months before patients begin to feel better.
The findings will appear in an upcoming issue of the journal
Brain Stimulation
and are now available online.
"Previous studies involving large numbers of people have demonstrated that many with treatment-resistant depression improve with vagus nerve stimulation," says first author Charles R. Conway, MD, associate professor of psychiatry. "But little is known about how this stimulation works to relieve depression. We focused on specific brain regions known to be connected to depression."
Conway's team followed 13 people with treatment-resistant depression. Their symptoms had not improved after many months of treatment with as many as five different antidepressant medications. Most had been depressed for at least two years, but some patients had been clinically depressed for more than 20 years.