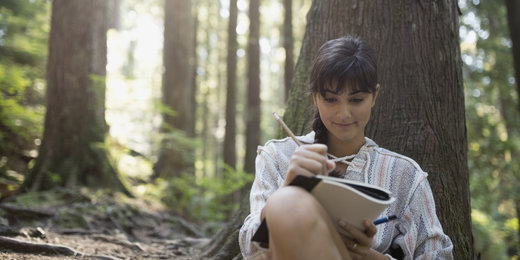 The benefits of writing extend beyond the way it creatively engages the intellect.
Writing can be an emotionally rewarding way of letting go of pent up stress and sorrow. It's good to control and override stressful emotional impulses but it serves no benefit if we keep them inside of us.
Exercise or talking to loved ones about how you feel can help in this regard, but you may find yourself in a situation where you might not have a voice to hear you or you prefer to keep how you feel to yourself but still need a way to release your emotions. Writing in this case can be very helpful.
Writing helps you enter a flow state in which all the built up emotions rush out of your heart and mind and onto the paper. When you write vividly and honestly about your experiences and how you feel, a gradual collection of emotional experiences will be documented throughout your life.
Looking back at the journal, you will be able to see patterns of how certain emotional conflicts arise, giving you insight into the source and nature of your malfunctions, and the environment you are putting yourself in that is increasing those conflicts
. You'll be in a position to make a better decision about whether certain behavior patterns are serving you or not, as well as determine which people and things are causing those problems in your life.