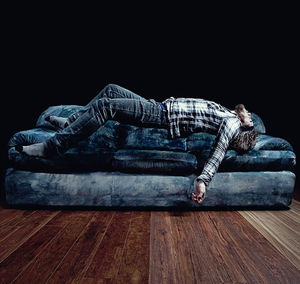 In the new research on 59 participants, those who were confirmed night owls (preferring late to bed and late to rise) had lower integrity of the white matter in various areas of the brain (
Rosenberg et al., 2014
).
Lower integrity in these areas has been linked to depression and cognitive instability.
This research doesn't tell us what the relationship is, but the authors guess that it may be related to 'social jet-lag'.
Social jet-lag comes about because night owls are forced to live - as most of us are - like early risers. Work, school and other institutions mostly require early rising, which, for night owls, causes problems.
As night owls find it difficult to get to sleep early, they tend to carry large amounts of sleep debt. In other words,
they're exhausted all the time.
As a result, they tend to be larger consumers of caffeine and other stimulants, in order to counteract their sleep debt.