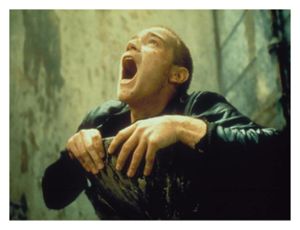 Feeling physically disgusted can make us prone to deceive others, whereas cleanliness prompts us to play fair again, say scientists behind a newly published study.
The decisions you make are often highly influenced by seemingly innocent objects and events around you, whilst you remain completely oblivious to the effect.
Seeing an ad for a burger chain and choosing to stop for food is an obvious example, but some of the ways in which our minds are guided by the outside world are less self-evident. Would you have guessed, for example, that watching the toilet scene from
Trainspotting
would make you more likely to lie and cheat?
That infamous scene was shown to one group of participants in a new study published in the journal
Organizational Behavior and Human Decision Processes
which aimed to uncover the effects of disgust on unethical behaviour. And lo and behold, those who had just watched Ewan McGregor slide through the 'Worst Toilet in Scotland' were more likely to lie in order to get two dollars than those who had been spared this ordeal.
Vikas Mittal, professor of marketing at Rice University in Houston, Texas, co-authored the paper and explains the mechanism behind the seemingly bizarre connection.
"As an emotion, disgust is designed as a protection. When people feel disgusted, they tend to remove themselves from a situation. The instinct is to protect oneself. People become focused on 'self' and they're less likely to think about other people. Small cheating starts to occur: If I'm disgusted and more focused on myself and I need to lie a little bit to gain a small advantage, I'll do that."