Researchers have struggled to identify how certain states of mind influence physical health. One biologist thinks he has an answer.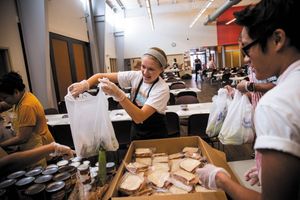 When Steve Cole was a postdoc, he had an unusual hobby: matching art buyers with artists that they might like. The task made looking at art, something he had always loved, even more enjoyable. "There was an extra layer of purpose. I loved the ability to help artists I thought were great to find an appreciative audience," he says.
At the time, it was nothing more than a quirky sideline. But his latest findings have caused Cole - now a professor at the Cousins Center for Psychoneuroimmunology at the University of California, Los Angeles - to wonder whether the exhilaration and sense of purpose that he felt during that period might have done more than help him to find homes for unloved pieces of art. It might have benefited his immune system too.
At one time, most self-respecting molecular biologists would have scoffed at the idea. Today, evidence from many studies suggests that mental states such as stress can influence health. Still, it has proved difficult to explain how this happens at the molecular level - how subjective moods connect with the vastly complex physiology of the nervous and immune systems. The field that searches for these explanations, known as psychoneuroimmunology (PNI), is often criticized as lacking rigour. Cole's stated aim is to fix that, and his tool of choice is genome-wide transcriptional analysis: looking at broad patterns of gene expression in cells. "My job is to be a hard-core tracker," he says. "How do these mental states get out into the rest of the body?"