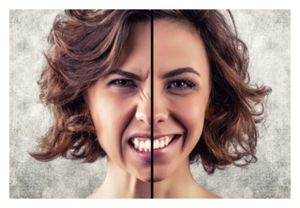 Psychologists have long been investigating the connection between facial expressions and emotions. A theory first offered by
Paul Ekman
, says that there are six primary emotions that are globally recognized and easily construed through specific facial expressions: happiness, sadness, fear, anger, surprise and disgust.
According to new research published in the journal
Current Biology
, scientists at the University of Glasgow have discovered that there are only four basic emotions: happiness, sadness, fear/surprise and anger/disgust.
In a unique approach, the study team looked at the 'temporal dynamics' of facial expressions, thanks to a unique system developed at the University of Glasgow. They studied the array of different muscles inside the face involved with conveying different emotions, called 'Action Units,' in addition to the time-frame over which each muscle was triggered.
The scientists determined that while the facial expression signals of happiness and sadness are clearly unique across time, fear and surprise share a typical signal - the wide open eyes - at the start of the signaling mechanics. Likewise, anger and disgust share the wrinkled nose.
It is these first signals that could possibly represent simpler danger signals. Later in the signaling mechanics, facial expressions transfer signals that differentiate all six 'classic' facial expressions of emotion, the researchers said.
"Our results are consistent with evolutionary predictions, where signals are designed by both biological and social evolutionary pressures to optimize their function," said study author
Rachael Jack
, a psychologist at the Scottish university.