As yet another summit passes into history, journalists are trying hard to interpret something which continues to puzzle them: how on Earth could the four presidents stay clear-headed throughout sixteen hours of negotiations and stick to their respective agendas to the very end?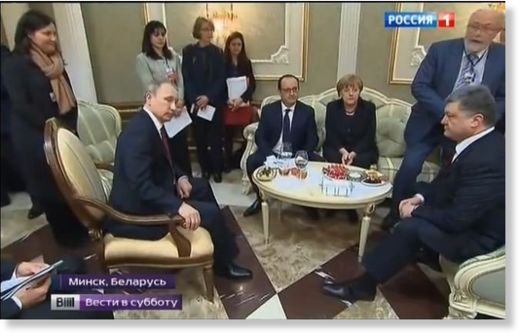 The venue for the February 11 Normandy Four meeting remained the same as in September of last year: the vast marble-and-glass Independence Palace in the Belarusian capital, Minsk. The room for negotiations, however, was shifted from a spacious hall with a large table to the "Green Room" proposed by President Putin.
The room features a low coffee table in the middle, which is impossible to bend towards and absolutely ill-fitted for 16-hour-long negotiations.
While the extended negotiations with other members of the delegations were held in a larger room, the four heads of states stuck to the Green one.
The room was furnished with a soft sofa and two armchairs from the same set, which were taken by Presidents Hollande and Poroshenko and Chancellor Merkel.