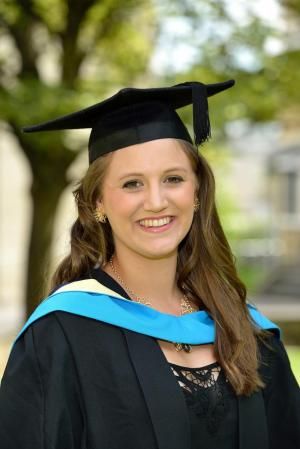 A breakthrough by a talented University of Huddersfield student has shown for the first time that people with psychopathic tendencies who have high IQs can mask their symptoms by manipulating tests designed to reveal their personalities.
It raises the possibility that large numbers of ruthless risk-takers are able to conceal their level of psychopathy as they rise to key managerial posts.
Carolyn Bate, aged 22, was still an undergraduate when she carried out her groundbreaking research into the links between psychopathy and
intelligence
, using a range of special tests and analysing the data. She wrote up her findings for the final-year project in her BSc Psychology degree. Not only was she awarded an exceptionally high mark of 85 per cent, her work has also been accepted for publication by the peer-reviewed
Journal of Forensic Psychiatry and Psychology
- an unusual distinction for an undergraduate.
Carolyn, who has now graduated with First Class Honours, said that her project was triggered when she read about research which showed that while one per cent of the population were categorised as psychopaths,
the figure rose to three per cent in the case of business managers
.
"I thought that intelligence could be an explanation for this, and it could be a problem if there are increased numbers of psychopaths at a high level in business. The figure could be more than three per cent, because if people are aware they are psychopathic they can also lie - they are quite manipulative and lack empathy. This could have a detrimental effect on our everyday lives," said Carolyn,
who added that some researchers have suggested that episodes such as the Wall Street Crash could be blamed on the numbers of psychopaths among decision makers.
She points out that, despite the media's invariably lurid use of the term, there are various categories of psychopath and they are not all prone to physical violence.
"The ones who are at the top of businesses are often charming and intelligent, but with emotional deficits, as opposed to psychopaths who are quite erratic and tend to commit gruesome crimes and are often caught and imprisoned."
Sufficient intelligence to fake their emotional response
To test her ideas, Carolyn assembled 50 participants, mostly from among students, who underwent a series of tests - conducted in strict confidence - beginning with an appraisal of IQ levels using a standard procedure. Then they completed the Levenson Self-Report Psychopathy Scale, which established which participants had either Factor One or Factor Two psychopathic tendencies.