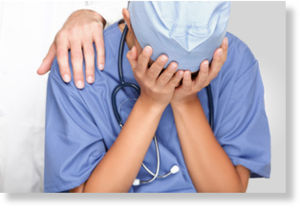 Nurses who are motivated primarily by the desire to help others, rather than by enjoyment of the work itself or the lifestyle it makes possible, are more likely to burn out on the job, University of Akron researchers say.
Nursing is still a female-dominated occupation, and being female is associated with being caring, nurturing, and altrustic. Therefore, the desire to help others is often assumed to be the "right" motivation for entering the field, the researchers say.
However, they found that nurses who pursue their career for reasons other than or in addition to the desire to help others find the job to be less stressful.
That results in less burnout, better personal health, and high job commitment.
Study authors, Janette Dill, an assistant professor of sociology, Rebecca Erickson, a professor of sociology, and James Diefendorff, an associate professor of psychology, all at the University of Akron, based their findings on survey data from more than 700 registered nurses in Northeast Ohio. About 90 percent were white females.
Dill will present the paper at the 109th Annual Meeting of the American Sociological Association.