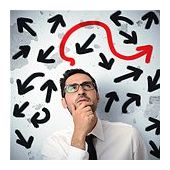 Information processed unconsciously can influence the accuracy of our decisions without us knowing it, new research has found.
"People tend to think the decisions they make are based on deliberation but there are elements in every type of decision we make that are unconscious -- a lot more than people think," says PhD candidate Alexandra Vlassova, of the
University of New South Wales
.
"Unconscious information could make your decisions better but it could also make them worse."
The idea that unconscious information can influence our decisions has been an intriguing but controversial idea in psychology, says Vlassova.
In a paper published today in the
Proceedings of the National Academy of Sciences
, she and colleagues report on a study designed to overcome the limitations of previous research into this question.
Participants were given the task of deciding whether a group of grey dots were moving left or right across a computer screen.
"The longer you look at the dots, the more evidence you get and at a certain point you have enough evidence to make your decision," says Vlassova.
"That's quite similar to how we make any type of decision. We accumulate information over time until we have enough to make a decision."