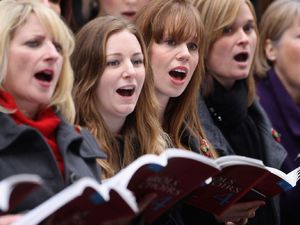 We have long known the power of a good sing-along. Now, research from the University of Oxford has shown that singing is a great ice-breaker and can get groups of people to bond together more quickly than other activities can.
The new study, published in the
Royal Society Open Science
journal, looked at how people attending adult education classes grew closer over seven months. The conclusion -
singing
groups bonded more quickly than creative writing or craft classes.
Dr Eiluned Pearce, from Oxford's Department of Experimental Psychology led the research. She said: "One of the key differences between humans and other primates is that we can exist in much larger social groups.
Singing is found in all human societies and can be performed to some extent by the vast majority of people. It's been suggested that singing is one of the ways in which we build social cohesion when there isn't enough time to establish one-to-one connections between everyone in a group.
"We wanted to explore whether there was something special about singing as a bonding behaviour or whether any group activity would build bonds between members."