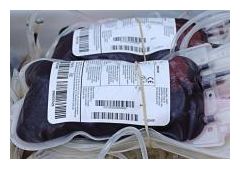 People with blood type AB may be more likely to develop memory loss in later years than people with other blood types, according to a study published in the September 10, 2014, online issue of
Neurology
, the medical journal of the American Academy of Neurology.
AB is the least common blood type, found in about 4 percent of the U.S. population. The study found that people with AB blood were 82 percent more likely to develop the thinking and memory problems that can lead to dementia than people with other blood types. Previous studies have shown that people with type O blood have a lower risk of heart disease and stroke, factors that can increase the risk of memory loss and dementia.
The study was part of a larger study (the REasons for Geographic And Racial Differences in Stroke, or REGARDS Study) of more than 30,000 people followed for an average of 3.4 years. In those who had no memory or thinking problems at the beginning, the study identified 495 participants who developed thinking and memory problems, or cognitive impairment, during the study. They were compared to 587 people with no cognitive problems.