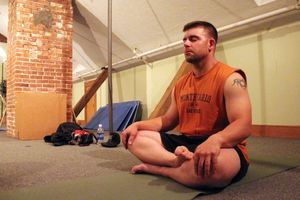 It is estimated that more than 20 percent of veterans returning from the wars in Iraq and Afghanistan have post-traumatic stress disorder (PTSD). Although,
PTSD
symptoms affect non-service people too - it can affect lots of different people who have survived trauma, hardship and extreme stress.
A new study from the Center for Investigating Healthy Minds at the Waisman Center of the University of Wisconsin-Madison offers hope for those suffering from the disorder. Researchers there have shown that a breathing-based meditation practice called Sudarshan Kriya Yoga can be an effective treatment for PTSD.