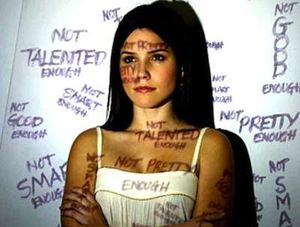 We often assume that in order to achieve our goals, we need to become more confident. We need to work through our deep-seated self-doubts and
then
take action. Because then we'll be ready. Then we'll be able to achieve what we want to achieve. We'll feel more secure with ourselves. We'll actually believe in ourselves.
While learning ways to be more confident can be valuable, you don't need to put your goals on hold until you do.
In fact, according to Tara Mohr in
Playing Big: Find Your Voice, Your Mission, Your Message, "
Self-doubt will always be a part of what we each work with as we take steps to play bigger."
Successful people deal with self-doubt all the time.
The people who write bestselling books, give brilliant talks, hold high positions and make breakthroughs in all sorts of ways still feel insecure. They still worry they don't measure up.