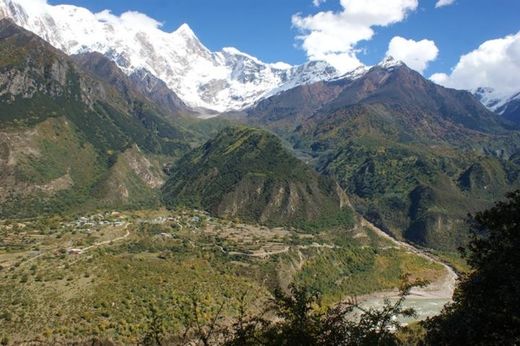 A team of researchers from Caltech and the China Earthquake Administration has discovered an ancient, deep canyon buried along the Yarlung Tsangpo River in south Tibet, north of the eastern end of the Himalayas.
The geologists say that the ancient canyon--thousands of feet deep in places--effectively rules out a popular model used to explain how the massive and picturesque gorges of the Himalayas became so steep, so fast.
"I was extremely surprised when my colleagues, Jing Liu-Zeng and Dirk Scherler, showed me the evidence for this canyon in southern Tibet," says Jean-Philippe Avouac, the Earle C. Anthony Professor of Geology at Caltech. "When I first saw the data, I said, 'Wow!' It was amazing to see that the river once cut quite deeply into the Tibetan Plateau because it does not today. That was a big discovery, in my opinion."
Geologists like Avouac and his colleagues, who are interested in tectonics--the study of the earth's surface and the way it changes--can use tools such as GPS and seismology to study crustal deformation that is taking place today. But if they are interested in studying changes that occurred millions of years ago, such tools are not useful because the activity has already happened. In those cases, rivers become a main source of information because they leave behind geomorphic signatures that geologists can interrogate to learn about the way those rivers once interacted with the land--helping them to pin down when the land changed and by how much, for example.
"In tectonics, we are always trying to use rivers to say something about uplift," Avouac says. "In this case, we used a paleocanyon that was carved by a river. It's a nice example where by recovering the geometry of the bottom of the canyon, we were able to say how much the range has moved up and when it started moving."