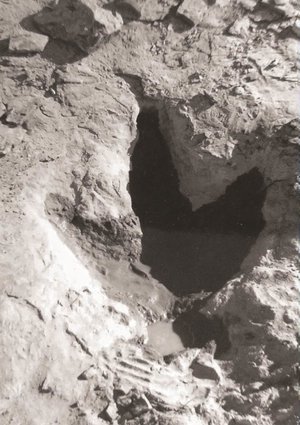 Just outside the tiny town of Glenrock, Wyoming the footprints of a 66 million-year-old monster are cemented in stone. This fossil trackway was brought to light with the help of University of Alberta paleontologist Scott Persons, who first viewed the tracks as a 13-year-old while visiting the Glenrock Paleon Museum.
"The Paleon is an unusual place. It's not a big museum, but it doesn't have to be because it's got the badlands for a backyard," explains Persons. The working museum has dinosaurs on display, but also provides opportunities to experience paleontology in action. "Before Glenrock, for me paleontology was dinosaurs in books and their skeletons in display halls and behind glass cases. This was the first time I got my hands dirty in the field and in a fossil preparation laboratory."
The museum's curator, Sean Smith, showed Scott another first: the fossil tracks of a tyrannosaur. "Sean led me out to a sandstone slope and started brushing away at an indented spot. At first, it looked like a prehistoric pothole," Persons recalls. "But soon, I could see the imprints of three big toes each with sharp claw tips. It was so cool my jaw dropped. Then, Sean pointed up slope, and there were two more!"
The Glenrock tracks, as it turns out, are one of a kind. Years after his initial visit to the Paleon, Persons—now a doctoral student in paleontology—reached out to the museum and urged them to pursue formal scientific description of the trackway. With his help, a research paper on the rare footprints has just been published in the peer-reviewed journal
Cretaceous Research
.