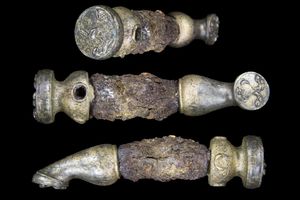 Team uncovers a matching set of decorated bronze parts from a 2nd or 3rd century BC Celtic chariot at Burrough Hill Iron Age hillfort
University of Leicester archaeologists have made a "once-in-a-career" discovery of the decorated bronze remains of an Iron Age chariot.
A team from the University's School of Archaeology and Ancient History has unearthed a hoard of rare bronze fittings from a 2nd or 3rd century BC chariot which appears to have been buried as a religious offering.
The archaeologists found the remains during their ongoing excavation of the Burrough Hill Iron Age hillfort, near Melton Mowbray, Leicestershire.
The School has led a 5-year project there since 2010, giving archaeology students and volunteers valuable experience of archaeological excavations.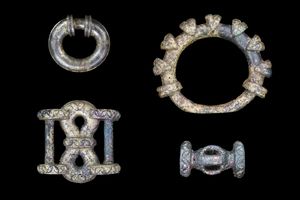 Burrough Hill is owned by the education charity, the Ernest Cook Trust, which has also funded site tours and school visits to the excavation.
While digging a large, deep pit near the remains of a house within the hillfort, a group of four students found a piece of bronze in the ground - before uncovering a concentration of further parts very nearby.
Taken together, the pieces are easily recognisable as a matching set of bronze fittings from a mid to late Iron Age chariot. As a group of two or more base metal prehistoric artefacts this assemblage is covered under the Treasure Act.
After careful cleaning, decorative patterns are clearly visible in the metalwork - including a triskele motif showing three waving lines, similar to the flag of the Isle of Man.