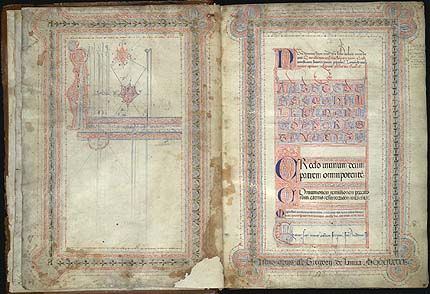 A researcher at the University of Glasgow has discovered the oldest surviving non-biblical manuscript from Scotland.
The find was made in the University of Glasgow's Special Collections by Dr Kylie Murray, a British Academy Postdoctoral Fellow from the English Faculty and Balliol College, Oxford, currently at Glasgow on a Visiting Fellowship.
The manuscript is a twelfth-century copy of the
Consolation of Philosophy
by Boethius, a statesman of the late Roman Empire. The
Consolation of Philosophy
, thought to have been written in 524 AD by Boethius while he was awaiting execution for a crime he did not commit, was Medieval Europe's best known intellectual text, second in influence only to the Bible.
It discusses free-will, fate, and the idea of the wheel of fortune in a meditation on how to cope with adversity and injustice.
Although the Boethius manuscript, which dates to c.1130-50, was known and had previously been catalogued, scholars had believed it to be English, with Durham being the most likely place of origin. However, closer inspection has revealed that the manuscript's handwriting and illustrations do not match those of Durham, or other English books, from this period.
Dr. Murray argues that instead the manuscript suggests a connection with the Scottish kingdom. Its unique illustrations more closely resemble the famous Kelso Charter, written at Kelso Abbey in 1159. This charter, which portrays an image of David I (1124-53) and Malcolm IV (1153-65), is the earliest illustrated documentary charter in the history of the British Isles.