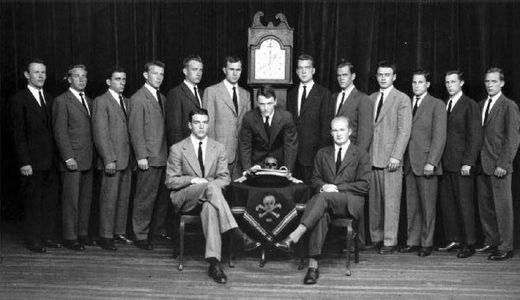 It's the primal scene of American power, of Bush family values.
For two centuries, the initiation rite of Skull and Bones has shaped the character of the men who have shaped the American character, including two Presidents named Bush
.
And last Saturday, April 14 - for the first time ever - that long-secret rite was witnessed by a team of outsiders, including this writer.
Using high-tech night-vision video equipment able to peer through the gloom into the inner courtyard of the Skull and Bones "Tomb" in New Haven,
The Observer
team witnessed:
The George W. effect: intoxicated by renewed proximity to Presidential power, a robed Bonesman posing as George W. harangued initiates in an eerily accurate Texas drawl: "I'm gonna ream you like I reamed Al Gore" and "I'm gonna kill you like I killed Al Gore."
Privileged Skull and Bones members mocked the assault on Abner Louima by crying out repeatedly, "Take that plunger out of my ass!"
Skull and Bones members hurled obscene sexual insults ("lick my bumhole") at initiates as they were forced to kneel and kiss a skull at the feet of the initiators.
Other members acted out the tableau of a throat-cutting ritual murder.
It's important to remember this is not some fraternity initiation.
It is an initiation far more secret - and far more significant, in terms of real power in the United States - than that of the Cosa Nostra
. If the Bushes are "the WASP Corleones" - as the ever more stingingly waspish Maureen Dowd has suggested - this is how their "made men" (and women) are made.
It's an initiation ceremony that has bonded diplomats, media moguls, bankers and spies into a lifelong, multi-generational fellowship far more influential than any fraternity. It was - and still remains - the heart of the heart of the American establishment.