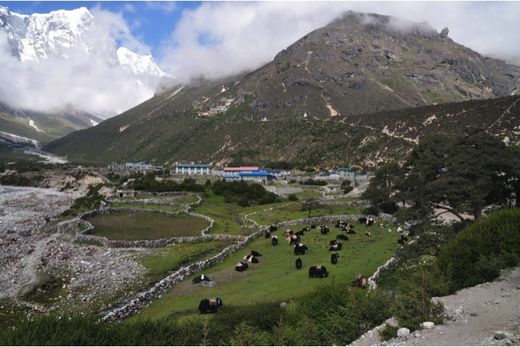 Genetic adaptations for life at high elevations found in residents of the Tibetan plateau likely originated around 30,000 years ago in peoples related to contemporary Sherpa. These genes were passed on to more recent migrants from lower elevations via population mixing, and then amplified by natural selection in the modern Tibetan gene pool, according to a new study by scientists from the University of Chicago and Case Western Reserve University, published in
Nature Communications
on February 10.
The transfer of beneficial mutations between human populations and selective enrichment of these genes in descendent generations represents a novel mechanism for adaptation to new environments.
"The Tibetan genome appears to arise from a mixture of two ancestral gene pools," said Anna Di Rienzo, PhD, professor of human genetics at the University of Chicago and corresponding author of the study. "One migrated early to high altitude and adapted to this environment. The other, which migrated more recently from low altitudes, acquired the advantageous alleles from the resident high-altitude population by interbreeding and forming what we refer to today as Tibetans."
High elevations are challenging for humans because of low oxygen levels but Tibetans are well adapted to life above 13,000 feet. Due to physiological traits such as relatively low hemoglobin concentrations at altitude, Tibetans have lower risk of complications, such as thrombosis, compared to short-term visitors from low altitude. Unique to Tibetans are variants of the EGLN1 and EPAS1 genes, key genes in the oxygen homeostasis system at all altitudes. These variants were hypothesized to have evolved around 3,000 years ago, a date which conflicts with much older archaeological evidence of human settlement in Tibet.