Stonehenge's outer ring is made up of 11 large dolerites called blue stones
A 1923 paper claimed the stones were from Carn Menyn in Pembrokeshire
For 90 years archaeologists have searched this location for human activity
Yet X-rays confirm the stones came from Carn Goedog - just a mile away
It's still not known how the stones travelled the 160 miles to Amesbury
Archaeologists trying to uncover the mystery of Stonehenge have been digging around the wrong hill for almost a century.
Teams of archaeologists have spent the past 90 years scouring the Preseli Hills in Pembrokeshire to find the source of the prehistoric monument's iconic 'blue stones'.
Scientists believed the 11 stones used to construct the ancient site came from a hill called Carn Menyn, but geologists have since discovered they actually came from another hill - just over a mile away - called Carn Goedog.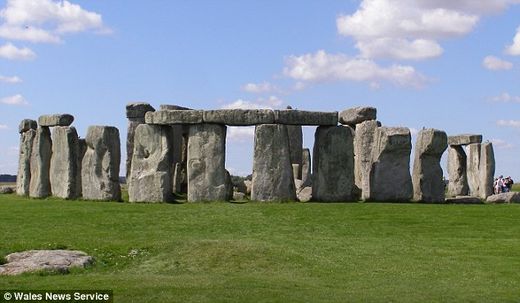 Now archaeologists are planning to move to the new site.
They can then start trying to discover if prehistoric man cut the 11 stone monoliths from the hill and transported them to the prehistoric site, or if they were carried there by glaciers during the last Ice Age.
Dr Richard Bevins from the National Museum of Wales is a leading authority on volcanic rocks and has been studying the Preseli Hills since he was a PhD student in the late 1970s.