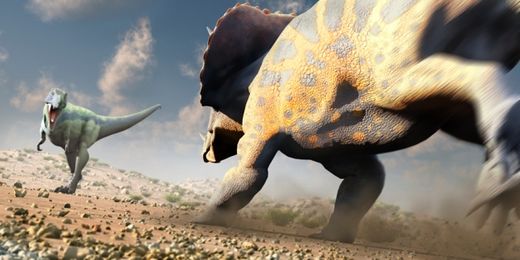 Animals might have survived if impact happened a few million years earlier or later.
Just before a large asteroid slammed into the Earth 66 million years ago,
the diversity of plant-eating dinosaur species declined slightly
, a new study suggests.
That minor shift may have been enough to doom all dinosaurs when the space rock hit
.
The scarcity of plant-eaters would have left them more vulnerable to starvation and population collapse after the impact, with consequences that rippled all the way up the food chain.
"
The asteroid hit at a particularly bad time
," says Stephen Brusatte, a palaeontologist at the University of Edinburgh, UK. "If it had hit a few million years earlier or later, dinosaurs probably would have been much better equipped to survive."
Brusatte and his colleagues describe this nuanced view of the famous extinction in
Biological Reviews
.
Palaeontologists have argued for decades about whether dinosaurs were doing well when the asteroid hit, or whether they were experiencing a worldwide drop in the number of species. To explore this question, the study pulled information from a database on global dinosaur diversity, including hundreds of fossils found in the past decade.