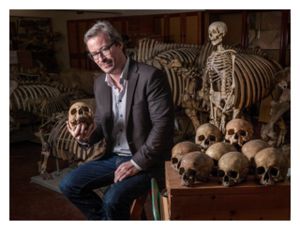 Europeans carry a motley mix of genes from at least three ancient sources: indigenous hunter-gatherers within Europe, people from the Middle East, and northwest Asians from near the Great Steppe of eastern Europe and central Asia.
One high-profile recent study
suggested that each genetic component entered Europe by way of a separate migration and that they only came together in most Europeans in the past 5000 years.
Now ancient DNA from the fossilized skeleton of a short, dark-skinned, dark-eyed man who lived at least 36,000 years ago along the Middle Don River in Russia presents a different view: This young man had DNA from all three of those migratory groups and so was already "pure European," says evolutionary biologist Eske Willerslev of the Natural History Museum of Denmark at the University of Copenhagen, who led the analysis.
In challenging the multiple migration model, the new genome data, published online today in
Science
, suggest that
Europeans today are the descendants of a very old, interconnected population of hunter-gatherers that had already spread throughout Europe and much of central and western Asia by 36,000 years ago
.
"What is surprising is this guy represents one of the earliest Europeans, but at the same time he basically contains all the genetic components that you find in contemporary Europeans - at 37,000 years ago," Willerslev says.
The origins of Europeans used to seem straightforward: The first modern humans moved into Europe 42,000 to 45,000 years ago, perhaps occasionally meeting the Neandertals whose ancestors had inhabited Europe for at least 400,000 years. Then, starting 10,000 years ago, farmers came from the Middle East and spread rapidly throughout Europe.
As researchers recently sequenced the genomes of more than a dozen ancient members of our species,
Homo sapiens
, in Europe and Asia in rapid succession, they added a third genetic component: a "ghost"
lineage of nomads who blew into northeast Europe from the steppes
of western Asia 4000 to 5000 years ago.