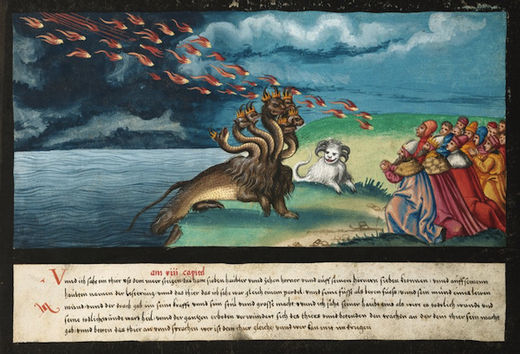 It's tempting to dismiss the mid-16th-century depictions of Biblical miracles, flaming comets, multi-headed beasts, and apocalyptic chaos that fill the pages of the "Augsburg Book of Miraculous Signs" as the superstitious vestiges of the post-Medieval mind. But according to the co-authors of Taschen's new, 568-page boxed volume called "
Book of Miracles
," the Protestant citizens of Augsburg, Germany, were enthusiastic and active collectors of portrayals of portentous signs, as well as written descriptions of ancient and astrological prophecies. Gathering the myriad broadsheets and pamphlets about the imminent apocalypse into so-called Books of Wonders, of which the privately commissioned "Augsburg Book of Miraculous Signs" is probably the most important surviving example, was a way for people to connect the dots between ancient prophecies, their contemporary fears, and unexplainable phenomena, especially in the skies.
In part, their passion stemmed from a collector's fascination with such topics, but Germany's 16th-century Protestants were also motivated by religious antipathy toward the Catholic Church, whose Pope they derided as the Antichrist. Some took the epithet for fact: For them, since the end was nigh, it behooved one to pay attention to the signs.