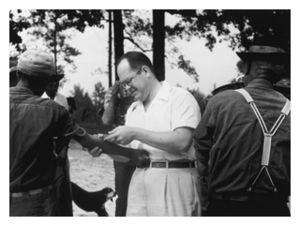 Controversial research programs, unethical experimentation, and human trials have been part of the medical field for centuries. It doesn't make it any less wrong, but certain scientists with questionable ethics have gotten away with a lot in the name of, well, science. The more (in)famous examples of wayward science include
eugenics sterilization
, electroshock therapy, ionizing radiation experiments, and
the CIA program MKULTRA
. But the government sponsored Tuskegee syphilis experiment, a program that ran for forty years in Macon County, Alabama during the mid-20th century, is one of the more appalling and deceitful of the bunch.
In 1932, the medical community still did not know a whole lot about treating syphilis. This was the case despite documentation of the disease dating all the way back to just after
Columbus made his famous jaunt across the big blue
.
According to the Oxford Journal, syphilis was a "cultural embarrassment" and had many different names that exemplified prejudices of different nationalities. The German and English called it the "French Pox." The Russians referred to it as the "Polish sickness" and the Poles as the "German sickness." The Japanese called it the "Chinese ulcer."
In the 16th century, Europe experienced a syphilis epidemic likely caused by the abundance of sailors traveling from sea port to sea port and doing what sailors do when they come into port. In fact, there is some evidence that points to
Columbus and his crew being the ones who brought syphilis back from the new world
. Either way, despite the disease being around for at least 450 years (and some evidence points to longer than that), there was no one, true, successful treatment for it. One popular remedy for several centuries was the use of mercury, which is quite poisonous in it's own right, either by ingestion or rubbing it on the skin. This led to the popular saying "a night in the arms of Venus leads to a lifetime on Mercury."
In 1908, Japanese scientist Sahachiro Hata (working in Germany) discovered the drug Salvarsan was somewhat effective as a treatment for syphilis. It was also quite toxic, as it came from the arsenic family. There were instances of patients losing limbs after taking the drug. Eventually, in 1912, Hata and Nobel Prize winner Paul Ehlric developed a easier-to-administer, but still toxic, drug called Neosalvarsan - which became the standard treatment for syphilis until the late 1940s.