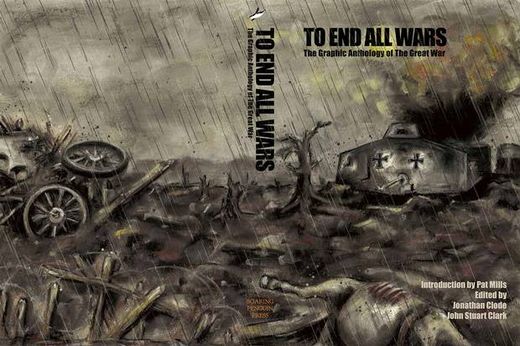 The architects of the First World War are put on trial in the Hague and deserting soldiers celebrated in a graphic novel produced by Britain's leading comic artists designed to undermine "jingoistic" commemorations of the conflict's centenary.
To End All Wars
, which includes 27 short stories based on real incidents, many told from a soldier's perspective, is intended as a corrective to Education Secretary Michael Gove's insistence that the conflict should be taught as a "just war" fought to halt German expansionism.
The anthology, illustrated in classic "war comic" style, includes
The Coward's War,
the story of Thomas Highgate, the first British soldier to be executed for desertion during the First World War. It concludes with the posthumous pardon awarded in 2006.
"Mud, Lice and Vice"
depicts the devastation in the ranks caused by sexually transmitted diseases picked up by young British soldiers taking advantage of French brothels.
In "
The Iron Dice
," Sir Edward Grey, Foreign Secretary at the outbreak of war, is placed on trial at the International Criminal Court in the Hague at a hearing which undermines the claim that war was "inevitable".