The Red Lady of Paviland is actually the skeleton of a man and got its name as it was dyed in red ochre, giving its bones the unusual colour
It is the oldest ceremonial burial of a human discovered in Western Europe
Byron Davies, the Assembly Member for South Wales, has asked Oxford University to return the remains of the man who was buried in Gower
A Welsh politician has picked a fight with Oxford University by asking for the return of one of Wales' oldest treasures.
The university is currently the custodian of a 33,000-year-old skeleton that received the oldest ceremonial burial in Western Europe.
But Byron Davies, the Assembly Member for South Wales, has asked the university to return the remains of the person known as the Red Lady of Paviland, who was buried in Gower, Wales.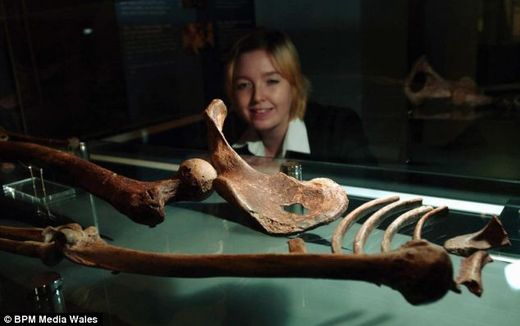 The skeleton, which is actually that of a man, got its name as it was dyed in red ochre, giving its bones the unusual colour.
It was discovered in a limestone cave in Gower in 1823 by a geology professor at the university, which is why the skeleton has been under lock and key in Oxford ever since.
It is still the oldest ceremonial burial of a human discovered in Western Europe.
Oxford University said the skeleton is one of the iconic relics of the British Palaeolithic, and a cast of the skeleton is on permanent display, along with related artefacts, at the Oxford University Museum of Natural History.