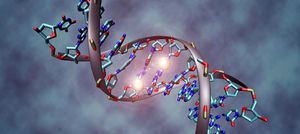 Adding to the number of unsolved mysteries regarding the ancient origins of humanity and the biology of our species, scientists have discovered that we have less DNA now than our ancient ancestors possessed. Are we de-evolving?
A
study
published this week in the journal
Science
has found that
modern humans lost DNA as we evolved after our split from apes. Our ancient ancestors, early humans, possessed substantially more amounts of genetic data than we do now.
This surprising discovery raises many questions, the most obvious one being: why did we lose all that genetic information? Also, what difference has the loss made?
The short answer is: we don't know yet.
According to news website
Gizmodo
, the team of researchers led by Professor Evan Eichler, geneticist at the
Department of Genome Sciences
, University of Washington, sequenced the genomes of 236 individuals from 125 distinct populations. They found that
Homo sapiens
have shed approximately 40.7 million base pairs of DNA after breaking from our closest living relatives, chimpanzees, around 13 million years ago.