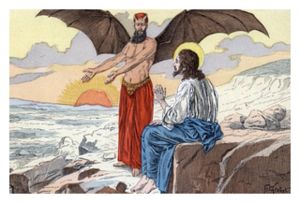 He is the serpent who tempts Eve to eat the forbidden fruit, the fallen angel who rebelled against God, the Dragon, Beelzebub, the Father of Lies, Lucifer, Satan, the Prince of Darkness.
A giant beast, he stood frozen to the waist in a lake of ice in Dante's Divine Commedy, chewed on the damned in early Renaissance paintings, made a pact with Faust as Mephistopheles, rode a tank and "held a general's rank when the blitzkrieg raged and the bodies stank" -- if you trust the Rolling Stones.
A popular icon in the past, the devil appears to be alive and kicking also in Pope Francis' modernizing church.
The pontiff has alluded to him ever since his first homily as Pope, when he boldly quoted the French author Léon Bloy: "Anyone who does not pray to the Lord prays to the devil."
This week, speaking at a massive gathering in Rome's Olympic Stadium, Francis warned about the "devil wanting to destroy the family" and told married couples to raise children rather than owning pets. He ended his much-criticized remarks by portraying a life of loneliness and bitterness to those who love pets like they would children.
"Families face attacks from the devil because Jesus grows in parent's love and children's lives," he said.
But who, or what, is the devil?