Former textile factory worker Valentina Tereshkova became the first woman in space, as well as the first civilian astronaut, when her spacecraft Vostok VI was launched on this day in 1963.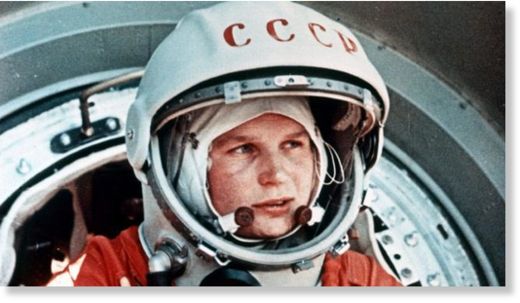 Ms Tereshkova began her historic journey blasting off from the Baikonur Cosmodrome in modern-day Kazakhstan. The launch took place just days after the take-off of Vostok V, piloted by Valery Bykovsky. The two craft would come within just over three miles of each other during their mission.
A camera in her cockpit transmitted pictures of Ms Tereshkova back to Russia, and she took part in a radio conversation with Soviet premier Nikita Khruschev (pictured with Tereshkova, below). She would spend nearly three days in space, orbiting the Earth 49 times.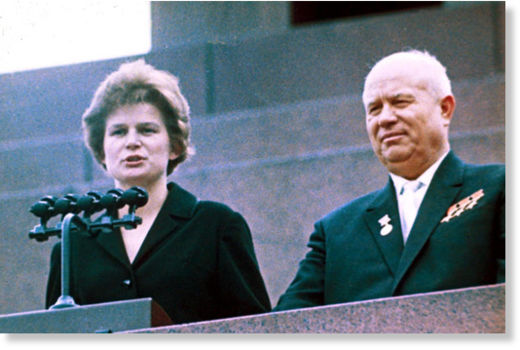 Her journey was the result of an initiative from Sergey Korolyov, the Soviet Union's chief rocket engineer, who believed that garnering information on the effects of space flight on the female body would be useful, as well as being a great public relations coup.
Five female trainee cosmonauts were chosen from over four hundred applicants; all were trained parachutists. They would undergo a year of weightless flights, isolation tests, centrifugal tests, engineering and rocket flight theory, as well as parachute jumps and pilot training.