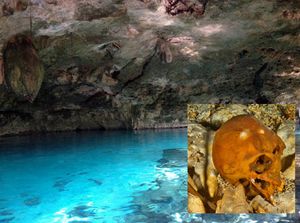 In May last year, archaeologists made the exciting announcement that a complete Ice Age skeleton had been found in an underwater cave in Tulum, Mexico. Since then, more than eight well-preserved skeletons, ranging in age from 9,000 to 13,000 years have been retrieved from cenotes in Mexico and now
scientists are beginning to unravel the secrets that they hold, remaining hopeful that the bones may eventually reveal how the Americas were first populated.
El Universal
reports that three skeletons were found in the Naharon cenote, Los Palmas cenote, and the Temple cenote. Out of the eight sets of human remains, at least one of the individuals is believed to have accidentally fallen in the cenote - a natural pit resulting from the collapse of limestone bedrock that exposes groundwater underneath, while at least two of the skeletons were intentionally deposited. Cenotes were later used by the ancient Maya for sacrificial offerings.