When 28 civilians were killed in Athens, it wasn't the Nazis who were to blame, it was the British. Ed Vulliamy and Helena Smith reveal how Churchill's shameful decision to turn on the partisans who had fought on our side in the war sowed the seeds for the rise of the far right in Greece today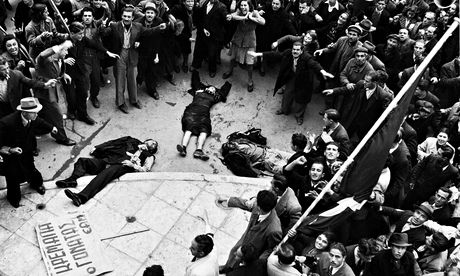 "I can still see it very clearly, I have not forgotten," says Títos Patríkios. "
The Athens police firing on the crowd from the roof of the parliament in Syntagma Square. The young men and women lying in pools of blood, everyone rushing down the stairs in total shock, total panic
."
And then came the defining moment: the recklessness of youth, the passion of belief in a justice burning bright: "I jumped up on the fountain in the middle of the square, the one that is still there, and I began to shout: "Comrades, don't disperse! Victory will be ours! Don't leave. The time has come. We will win!"
"I was," he says now, "profoundly sure, that we would win." But there was no winning that day; just as there was no pretending that what had happened would not change the history of a country that, liberated from Adolf Hitler's Reich barely six weeks earlier, was now surging headlong towards bloody civil war.
Even now, at 86, when Patríkios "laughs at and with myself that I have reached such an age", the poet can remember, scene-for-scene, shot for shot, what happened in the central square of Greek political life on the morning of 3 December 1944.
This was the day, those 70 years ago this week, when
the British army, still at war with Germany, opened fire upon - and gave locals who had collaborated with the Nazis the guns to fire upon - a civilian crowd demonstrating in support of the partisans with whom Britain had been allied for three years
.