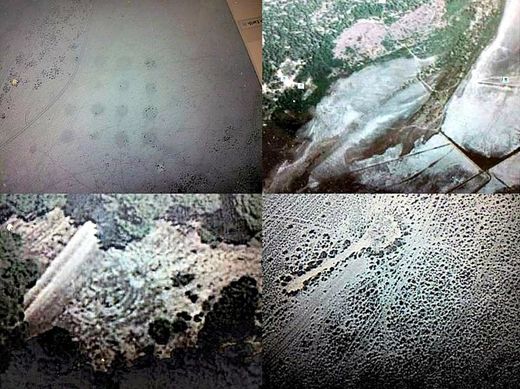 Manuel Cuevas is 52 years old and is not only an entrepreneur, but also a passionate independent researcher. A few days ago, this resident of
Sanlucar de Barrameda (Cadiz)
sprung into the Spanish media after presenting a report to the Register of the Ministry of Culture of Andalusia. This report provides the coordinates of what has been interpreted to be four large buildings and a town from at least 2,500 years ago. One of these structures, a building or square surrounded by buildings, has measured 360 by 180 meters (1181 by 591 feet), while another, according to information provided by
Antena3
, reaches a size of about 180 by 100 meters (591 by 328 feet): unusual measurements for such ancient buildings.
The ancient city would be located in the area of
Pinar de La Algaida
covering an area of about 8 square kilometers (5 square miles.) This is where Cuevas claims to have recognized structures of entire buildings, with the appearance of having been preserved under multiple layers of sediment after suffering a major flood. The researcher believes that the architectural structures are older than that of the great Pharaonic and Mesopotamia monuments. Moreover, some of these buildings, due to their depth, refer to the period in which the mouth of the Guadalquivir River was a huge estuary, when the sea water covered the present city of Seville. Thus, at least some of the buildings may correspond to a time in which the common technology available would not have been sufficient to build such structures - making the city the location of a possible lost civilization.