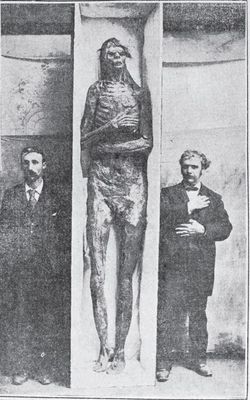 During the past few years a huge controversy has emerged accusing the Smithsonian (and a host of skeptics and archaeologists) of covering up the discovery of hundreds of giant skeletons from Native American Indian mounds. Jim Vieira is one of the key people who began uncovering hundreds of newspaper accounts of giant skeletons after he became intrigued by his visits to stone chambers found primarily in northeastern states. To date, Vieira has pulled together about
1,500 accounts from newspapers and books published in the 1800s and early 1900s
.
The newspaper stories relate that the
skeletons ranged in size from 7 feet to well over 18 feet in length
. Vieira began issuing the reports, one at a time, every day on a popular Facebook page called Your Daily Giant. Vieira was subsequently attacked by skeptical bloggers. One of the skeptics, Jason Colavito, related that the giant reports came from misidentified mastodon/mammoth bones to outright hoaxes. However, Colavito didn't cite a single example of a hoax or a giant skeleton found in America that turned out to be a mastodon or mammoth. Colavito also wrote that modern paleopathology textbooks could explain other reports because repeated freezing and thawing of buried bones would expand bones "enough to turn a slightly average body into a gigantic one." Both of Colavito's assertions are astonishing claims evaluated below.
In February 2014 Andrew Collins and I began a detailed investigation into many of the giant reports as well as the assertions by the skeptics. We visited a host of mound sites, spoke with several archaeologists, and ran many of the giant skeleton reports down to their source. What we found was intriguing to the extent that I wrote a book on the topic and Andrew wrote the Foreword and an extensive Afterword to it. The book is entitled
Path of Souls: The Native American Death Journey; Cygnus, Orion, the Milky Way, Giant Skeletons in Mounds, & the Smithsonian.
The main title reflects our original intent, which was to detail new information about the mysterious symbols found on artifacts excavated from mounds and what they mean with respect to Native American beliefs about death. We were essentially sidetracked by the "giant skeleton" issue and spent a great deal of time finding original sources of the stories. This article focuses only on the skeleton findings.