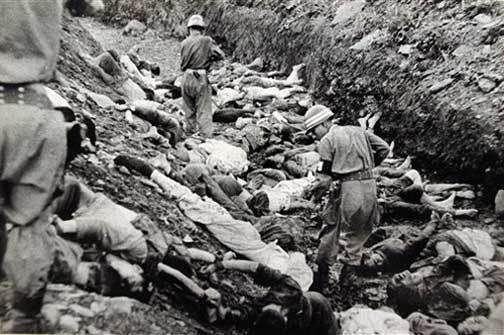 The recent spat between North and South Korea - sparked after two South Korean soldiers were severely wounded by landmines in the demilitarized zone - has been settled, but the 60 years-long stand-off clearly remains as volatile as ever. My ancestors are from 'North' Korea, but they emigrated to the Far East of Russia when there was no 'North' nor 'South' Korea, only Korea. My grandfather, who fought in the Korean War, was thus Russian though ethnic Korean. He was made Major-General of the DPRK Army towards the end of the war. His family, including my mother, lived in Pyongyang from 1947 until 1958, except for three years from 1951 when they took shelter in the Russian consulate in Manchuria.
My grandmother taught Russian at the Korean Russian Association. She was also an accountant at the Red Cross in Korea. My mother attended school in Pyongyang and at the Russian consulate in Manchuria. My grandfather was made commander of the tank division when its former commander (who was my grandfather's friend) died. In the front line, he fought with the 17th battalion division, and was awarded with a number of medals and orders of merit from the USSR, Korea and Mongolia.
While it was easy then, just as it is today, to ascribe Korea's frozen civil war to differences in ideology and regional ethnic tensions,
the giant elephant in the room was - and still is - the enormous American military presence in South Korea
. On June 27, 2003, an International War Crimes Tribunal in New York unanimously found the U.S. government and military guilty of 19 counts of war crimes committed against Korea from 1945 until 2001. Judges from 17 different countries heard Korean victims - represented by delegations from South Korea, Japan, Canada, Germany and the US. The US State Department refused visas to a delegation of 11 lawyers bringing evidence from the Democratic People's Republic of Korea (DPRK, or 'north' Korea). Despite the absence of the 'North' Korean delegation, the accumulated evidence was overwhelming.