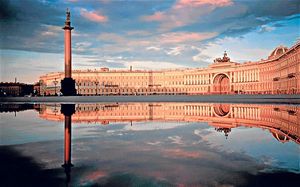 In early 1815, Nathan Rothschild approached Czar Alexander I (1801-25) at the Congress of Vienna with a proposal that he set up a central bank in Russia. Whether it was because he distrusted this shady banker or was aware of the perils of central banking is not known, but he prudently declined.
In 1860 The State Bank of the Russian Empire was founded with the aim of boosting trade turnovers and the strengthening of the monetary system. Up to 1894 it was an auxiliary institution under the direct control of the Ministry of Finance. In that year it was transformed into being the banker of the bankers and operated as an instrument of the government's economic policy. It minted and printed the nation's coins and notes, regulated the money supply and through commercial banks provided industry and commerce with very low interest rate loans. Its vast gold reserves, the largest in the world, except for the year 1906 exceeded the bank note issue by more than 100%.
Not unexpectedly Russia had the smallest national debt in the world. The following table reflects the number of rubles per inhabitant in 1908.