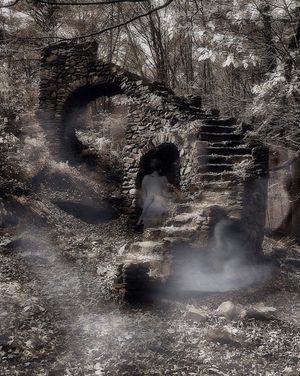 Ghosts and malevolent spirits haunted the ancients, and so they relied on careful rituals and exorcisms to keep the supernatural at bay.
T
he concept of a spiritual afterlife connects cultures across time and around the world. The idea of a ghost—the spirit or soul of a dead person that returns from the grave and connects the living—has been part of human belief systems from the beginning
. Ancient writings told of ghosts, ranging from deceased and beloved family members, to ominous harbingers, and the evil specters who terrorized or killed.
Known by countless names such as: phantom, wraith, spook, shade, and poltergeist, ghosts are thought to stem from the beliefs of animism (that all things possess a spirit) and ancestor worship in the earliest cultures.
The idea that the spirit survived death and the veneration of the dead, was a central part of ancient religions, no matter the society.
Reasons why a soul or corpse would wander depended upon the 'rules' of death and the afterlife as established by a culture.
Headache? Blindness? Mental Disorder? You've Seen a Mesopotamian Ghost
In the ancient religions of Sumer, Babylon and Assyria, ghost of the deceased were called
gidim
or
etemmu
. At death, the ghosts would retain their personality and memories of their lives, and travel to a netherword ruled over by the dark queen Ereshkigal. Mesopotamian gods, the Anunnaki, would decide the fate of the soul. While it was believed there were dangerous beasts and demons in the netherworld, ghosts could live peacefully in afterlife houses, greeting old friends and family. They would be allowed to return to the living if they needed to complete a mission or right a wrong.