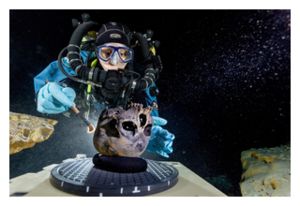 The ancient skeleton of a teenage girl found in an underwater cave in Mexico may be the missing link that solves the long-standing mystery behind the identity of the first Americans, researchers say.
These findings, the first time researchers have been able to connect an early American skeleton with modern Native American DNA, suggest the earliest Americans are indeed close relatives of
modern Native Americans
, scientists added.
The
newfound skeleton
was named "Naia," after Greek water spirits known as naiads. The bones are the nearly intact remains of a small, delicately built teenage girl who stood about 4 feet 10 inches (149 centimeters) tall and was about 15 or 16 years old at the time of her death, based on the development of her skeleton and teeth.
Naia reveals that despite any differences in the face and skull between the earliest Americans and modern Native Americans, they were, in fact, significantly related, probably deriving from the same gene pool.
"Naia is a missing link filling in a gap of knowledge we had about the earliest Americans and modern Native Americans,"lead study author James Chatters, owner of Applied Paleoscience, an archaeological and paleontological consulting firm in Bothell, Washington, told Live Science. Chatters is best known for his work on Kennewick Man, an ancient skeleton found in Kennewick, Washington, in 1996, whose origins were debated, because his skull was markedly different from those of modern Native Americans.