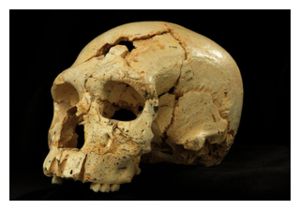 A key first step in Neanderthal evolution may have been the development of front teeth that could act like a "third hand," researchers now say.
These new findings are based on 17 hominin skulls showing a mix of traits from
Neanderthals
and more primitive human lineages, dating back some 430,000 years. The specimens likely belonged to a hominin group within the Neanderthal lineage but perhaps not direct Neanderthal ancestors. (Hominins include modern humans and extinct ancestors and close relatives of the human lineage.)
The mix of traits suggests the defining features of the Neanderthal body may have evolved separately in stages instead of evolving together gradually, scientists added.
These findings also reveal that, evolutionarily speaking, "Neanderthals have very deep roots, as deep as 430,000 years," lead study author Juan-Luis Arsuaga, a paleontologist at and director of the Joint Center for Evolution and Human Behavior in Madrid, told Live Science.
"Modern humans, on the contrary, have roots only 200,000 years deep. It seems that modern humans evolved later."