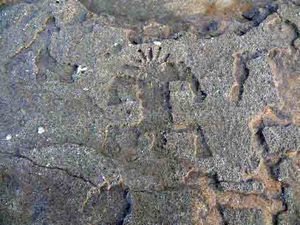 Epic winter swells just off of Oahu, Hawaii, have churned up monster waves more than 7 meters high, sent seawater surging around the foundations of beachfront homes, and gnawed away at sandy cliffs along the island's North Shore.
They've also exposed rare petroglyphs that have not been seen in years.
The unusually strong seasonal surf has washed away layers of sand all along Pupukea Beach, just east of the big-surf mecca of Waimea,
to reveal dozens of large glyphs carved into the bench of lava rock.
More than 70 carvings have been exposed, mostly depicting human-like figures and dogs, according to the
Historic Hawaii Foundation
, whose workers are documenting the images.
Read more here