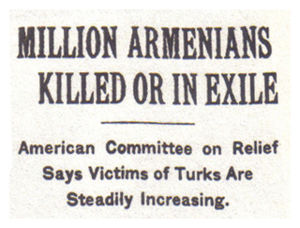 The Armenian Genocide was a systematic extermination that occurred during World War One, mostly in 1915. The killers were Ottoman Turks: agents and soldiers of that government, as well as eager civilians.
The slaughter took place in two phases. First was the wholesale killing of able-bodied Armenian males through massacre and forced labor. Afterward came the deportation of women, children, the elderly and the infirm, on death marches into the Syrian Desert.
All told, perhaps 1.5 million people were killed. The vast majority of these were Armenians, but the Turks also killed large numbers of Assyrian Christians, Greeks, and other minority groups.
In many ways - including that of medical experiments on victims - the Armenian Genocide was the direct forerunner of the Nazi Genocide against the Jews.
Here is one miniscule part of the slaughter - a photo taken by an American diplomat, to which he added a commentary: