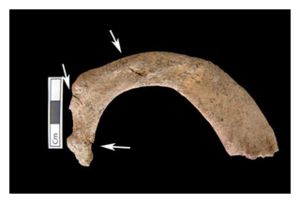 The surprise announcement on Monday that at least five corpses lay buried in the Alexander the Great era tomb in Amphipolis, in northern Greece, has deepened the mystery around the massive and lavishly decorated burial.
As expected, speculation is running wild about who the five people buried there are.
So far, forensic investigation has determined that 157 out of 550 bones found in Greece's largest ancient tomb belong to a woman who was older than 60 years, two men aged 35 and 45, a newborn baby and a cremated adult whose gender could not be verified.
According to Andrew Chugg, author of
The Quest for the Tomb of Alexander the Great,
the remains of the woman in her 60s should be considered the principal burial among those interred.
"It is stated that the skull and mandible and the majority of the larger bones are hers, that her skeleton is the most complete and that her bones were found mainly in the bottom of the cist burial," Chugg told Discovery News.
Chugg, the
first scholar who suggested Olympias, Alexander the Great's mother, as the tomb occupant,
believes the Persephone mosaic, the caryatids (female statues that serve as architectural support) and the female sphinxes found in the tomb all indicate the original burial was dedicated to a woman.
"A lady in her 60s is consistent with Olympias," Chugg said. "We do not know the year of her birth, but she died in 316 B.C., and she married Philip in about 357 B.C. She would have been 20 when she gave birth to Alexander in 356 BC, if she died at 60."
"There are no other historically prominent female members of the royal family who died in the time frame of the last quarter of the fourth century B.C. as far as we know," he added.
The Olympias hypothesis runs high also on Greek media, although several admit it's a rather puzzling one.
"If indeed the woman in the grave is Olympias and the tomb was erected in her honor, then Macedonians not only violated their customs, but they also did something that seems absurd and unthinkable: They built one of the largest and most elaborate tombs of the known world for a woman, honoring her as a demigoddess or hero," wrote the Greek Reporter, a news agency.