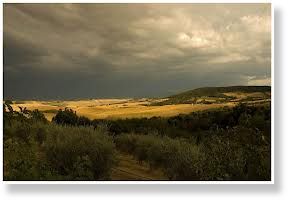 More than 2,500 years after tiny infant bones were scattered, perhaps offhandedly, amid animal remains on the floor of an Etruscan workshop, recently-discovered fragments of those bones are causing a stir far beyond Italy's Poggio Civitate Archaeological Project.
University of Massachusetts Amherst archaeologist Anthony Tuck recently told an Archaeological Institute America annual meeting in Seattle that the bones discovered in the ancient Etruscan town of Poggio Civitate were "simply either left on the floor of the workshop or ended up in an area with a heavy concentration of other discarded remains of butchered animals."
It is an image that has, in ensuing weeks, resonated powerfully, if not always accurately, in the international press as everyone from religious fundamentalists to luridly invasive tabloids has scrambled to assemble narratives for the baby bones that might be either more or less appalling to modern sensibilities - narratives, notes Tuck, that tell us more about ourselves than they do about perinatal death in ancient Italy.
"Romans may have dumped remains of dead kids with their rubbish," screamed an Asian News International headline; "Grisly discoveries reveal unsympathetic attitudes," wrote a
Daily Mail
reporter. Other news outlets placed the excavated site on a timeline that might have associated it either with BCE cave dwellers or alternatively in the path of seventh century CE invaders.