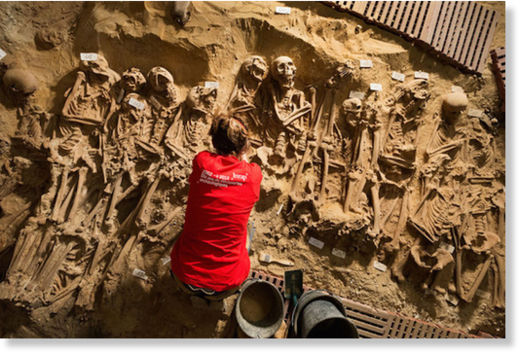 More than 200 bodies were recently unearthed in several mass burials beneath a Paris supermarket.
The bodies, which were lined up head to feet, were found at the site of an ancient cemetery attached to the Trinity Hospital, which was founded in the 13th century.
Though it's not clear exactly how these ancient people died, the trove of bodies could reveal insights into how people in the
Middle Ages buried their dead
during epidemics or famine, the researchers involved said.
Supermarket renovations
The burials were discovered during renovations to the basement of the Monoprix Réaumur-Sébastopol supermarket, located in the second-arrondissement neighborhood of Paris. As workers lowered the floor level of the basement, they found a shocking surprise: the bodies of men, women and children, neatly arranged in what looked to be mass graves.
The site was once the location of the Trinity Hospital, which was founded in 1202 by two German noblemen. The hospital was conceived not just as a place to provide care for the sick, but also as one where weary pilgrims and travelers could rest and enjoy themselves, according to a 1983
presentation given at the French Society on the History of Medicine
.