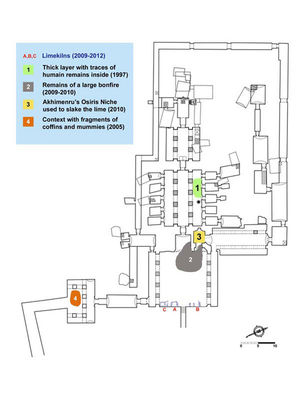 Archaeologists have uncovered the remains of an epidemic in Egypt so terrible that one ancient writer believed the world was coming to an end.
Working at the Funerary Complex of Harwa and Akhimenru in the west bank of the ancient city of Thebes (modern-day Luxor) in Egypt, the team of the Italian Archaeological Mission to Luxor (MAIL) found bodies covered with a thick layer of lime (historically used as a disinfectant). The researchers also found three kilns where the lime was produced, as well as a giant bonfire containing human remains, where many of the plague victims were incinerated.
Pottery remains found in the kilns allowed researchers to date the grisly operation to the third century A.D., a time when a series of epidemics now dubbed the "Plague of Cyprian" ravaged the Roman Empire, which included Egypt. Saint Cyprian was a bishop of Carthage (a city in Tunisia) who described the plague as signaling the end of the world.
Occurring between roughly A.D. 250-271, the plague "
according to some sources killed more than 5,000 people a day in Rome alone,
"
wrote Francesco Tiradritti, director of the MAIL, in the latest issue of
Egyptian Archaeology
, a magazine published by the Egypt Exploration Society.