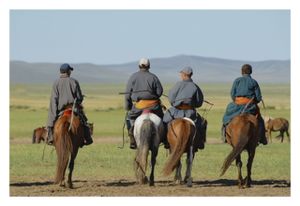 Nomadic pastoralists from the Great Steppe helped spread the large group of languages that includes English, an analysis of ancient DNA confirms.
The findings, reported today in
Nature
, gives weight to one of two competing hypotheses about where this language group came from.
"These results provide support for a steppe origin of at least some of the Indo-European languages of Europe," write the researchers in their paper.
Although English, Spanish, Russian, Urdu and Persian may sound very different, linguistic analysis suggests they all came from a common source, says lead author archaeo-geneticist Dr Wolfgang Haak of the
University of Adelaide
.
One idea is that this language group, now spoken throughout Europe, South Asia and the Middle East, spread with Neolithic farmers who migrated west from places like Turkey into Europe around 8000 years ago.
Another idea is that these languages must have emerged later because they include words for transport, such as wheel, a phenomenon that didn't emerge until later. Likely sources were the highly mobile cultures in the Great Steppe north of the Black Sea. These nomadic people were cattle herders who could have easily have brought language with them.
"They domesticated the horse in the Steppes around 5000 years ago and were probably using oxen-drawn carts to get around," says Haak.
But, he says, the subject has been controversial.
"The debate has been stuck for a while and has almost becomes a religious thing where you have believers of one side or the other," says Haak.
Archaeological evidence supports the 'Great Steppe' hypothesis, but until now, there has been a lack of evidence that herders migrated in large enough numbers to influence language, he says.