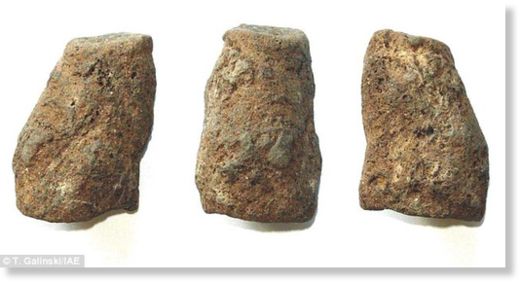 Archaeologists have found a meteorite fragment in a shaman's hut dating back 9,000 years that seems to have been worshipped as a magical object. The talisman was found alongside other objects that were considered sacred at the time including an amulet and a stick made of antler. It's thought it gained this status because the prehistoric stone age humans saw it fall from space, suggesting they may have known it came from another world.
Archaeologists from the Institute of Archaeology and Ethnology in Szczecin, in north west Poland, found the meteorite fragment inside the caveman house by lake Swidwe in Western Pomerania during excavations.The object was a natural pyrite meteorite fragment, pyrite being an iron sulfide mineral often referred to as fool's gold owing to its yellowish appearance.
This meteorite, which measured eight by 5.3 by 3.5 centimetres (3.1 x 2.1 x 1.4 inches) has a cylindrical shape and was porous, with a corrugated surface on its side.