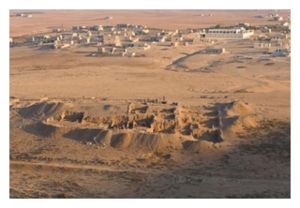 By sequencing the mitochondrial DNA of the first Near Eastern farmers for the first time, an international team of researchers have discovered evidence supporting an Early Neolithic pioneer maritime colonization of mainland Europe that involved expansion through Cyprus and the Aegean Islands.
Writing in the journal
PLOS Genetics
, the study authors explained their analysis of genetic samples obtained from three sites located in what has been dubbed the birthplace of Neolithic agricultural practices: the Middle Euphrates basin and the oasis of Damascus, which is located in modern-day Syria. Those samples date back to approximately 8,000 BC.
"The genetic impact associated to the Neolithic spread in Europe has been widely debated over the last 20 years," the researchers wrote. "Within this context, ancient DNA studies have provided a more reliable picture by directly analyzing the protagonist populations at different regions in Europe."
"However, the lack of available data from the original Near Eastern farmers has limited the achieved conclusions, preventing the formulation of continental models of Neolithic expansion," they added. "Here we address this issue by presenting mitochondrial DNA data of the original Near-Eastern Neolithic communities with the aim of providing the adequate background for the interpretation of Neolithic genetic data from European samples."
The research team looked at 63 skeletons from the Pre Pottery Neolithic B (PPNB) sites of Tell Halula, Tell Ramad and Dja'de El Mughara, which have been dated to between 8,700 BC and 6,600 BC. They recovered 15 validated mitochondrial DNA profiles, and compared them to available ancient genetic data from human remains belonging to the Linearbandkeramik-Alföldi Vonaldiszes Kerámia and Cardial/Epicardial cultures.