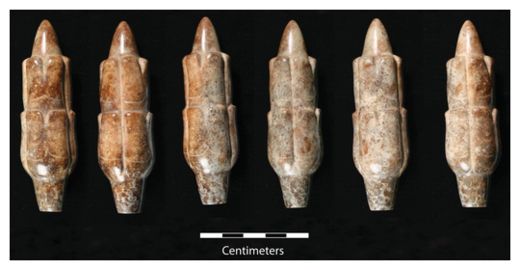 A mysterious corncob-shaped artifact, dating to somewhere between 900 B.C. and 400 B.C., has been discovered underwater at the site of Arroyo Pesquero in Veracruz, Mexico.
Made of
jadeite
, a material that is harder than steel, the artifact has designs on it that are difficult to put into words. It contains rectangular shapes, engraved lines and a cone that looks like it is emerging from the top. It looks like a corncob in an abstract way archaeologists say.
It's an
"extraordinary and unusual archaeological specimen made of mottled brown-and-white jadeite,"
the team wrote in an article published recently in the journal
Ancient Mesoamerica.
Jack Hunter, a diver with the Arroyo Pesquero archaeological project, discovered the artifact in 2012 while diving with Jeffery Delsescaux about 2 to 3 meters (6.6 to 9.8 feet) below the surface of a deep stream.