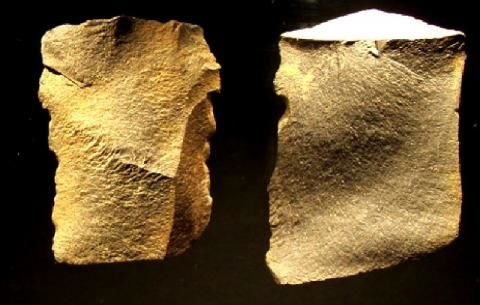 A recently unearthed stone tool kit consisting of hammer stones, anvils, worked cobblestones and other items dates to 3.3 million years ago, predating our genus
Homo
by over half a million years, according to a new study.
The items, described in the latest issue of the journal
Nature
, are now the oldest stone tools ever found.
They "show that early humans (essentially proto-humans) used and made stone tools 3.3 million years ago, which is about 700,000 years earlier than the previously earliest known date for early stone tools," Erella Hovers, who authored an accompanying "News & Views" article, told Discovery News.
Hovers, who is a senior member of the Institute of Archaeology at The Hebrew University of Jerusalem, added that the other more recent tools were attributed to
Homo habilis
, aka "Handy Man," whose culture is called the Oldowan. Now it looks like there was a much earlier culture--as of yet unnamed--and that stone tool making was not unique to our genus.
The approximately 149 stone artifacts tied to tool making were found at a site called Lomekwi 3 next to Lake Turkana in Kenya.