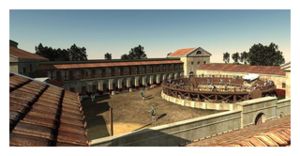 Ancient Rome's gladiators lived and trained in fortress prisons, according to an international team of archaeologists who mapped a school for the famed fighters.
Discovered at the site of
Carnuntum
outside Vienna, Austria, the gladiatorial school, or
ludus gladiatorius
, is the first one discovered outside the city of Rome. Now hidden beneath a pasture, the gladiator school was entirely mapped with noninvasive earth-sensing technologies. (See "
Gladiator Training Camp
.")
The discovery, reported Tuesday evening by the journal
Antiquity
, makes clear what sort of lives these famous
ancient warriors
led during the second century A.D. in the Roman Empire.
"It was a prison; they were prisoners," says University of Vienna archaeologist
Wolfgang Neubauer
, who led the study team. "They lived in cells, in a fortress with only one gate out."
The discovery shows that even outside Rome gladiators were "big business," Neubauer says. At least 80 gladiators, likely more, lived in the large, two-story facility equipped with a practice arena in its central courtyard. The site also included heated floors for winter training, baths, infirmaries, plumbing, and a nearby graveyard.