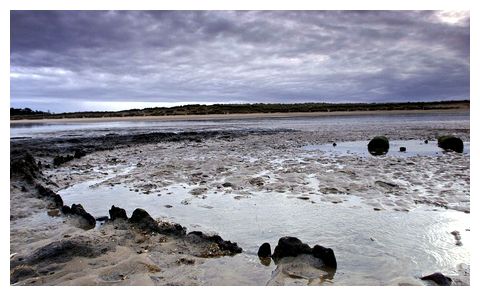 A second prehistoric circle on a Norfolk beach has been dated to the same summer more than 4,000 years ago as its famous neighbour, Seahenge.
Archaeologists believe the two circles, which originally stood inland in boggy freshwater but are now being eroded gradually by the tides, were part of the same monumental complex connected with rites to honour the dead.
Unlike the giant boulders of monuments such as Stonehenge, the only evidence for most prehistoric timber structures is post holes in the ground. However in Norfolk, because the salty silt preserved the wood, the two circles at Holme Beach are the only ones in Britain to have been dated precisely, to 2049BC.
In 1999, images went round the world of
druids and other protesters chanting, weeping and trying to block the diggers
from dragging the ancient timbers of Seahenge out of the silt and removing them from the beach.
It was the eerie beauty of Seahenge, with the posts half submerged in the waves surrounding the upended stump of a giant oak tree, which made it international news. But the protesters who demanded it be left on the beach missed the second Bronze Age circle, just visible at the lowest tides.