Scientists have uncovered a series of 19th century tunnels underneath Alcatraz prison in San Francisco, California. The tunnels are part of a military fortress that used to stand where Alcatraz Federal Penitentiary was built on an island in the San Francisco Bay. The fortress was built over and all remnants were thought to have been destroyed, until now, the BBC reported.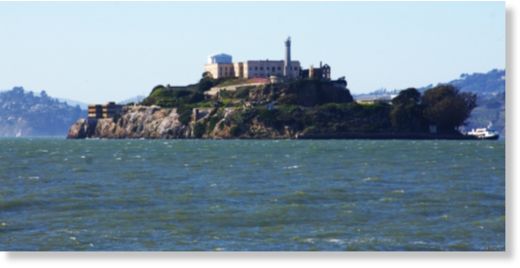 Using ground-penetrating technology, scientists from Texas A&M University found the fortress and tunnels under the ground in Alcatraz's recreation yard, where prison inmates would have spent a few minutes outdoors in the '30s. "(The tunnels) would have been used for the fortifications. There would have been movement of man and ammunition; it would have been bomb proof and covered with earth so it would have been protected," university professor Mark Everett told the BBC.
The team was able to use a ground-penetrating radar that scanned the ground under the yard, similar to how an X-ray scans the body, Everett told the BBC.