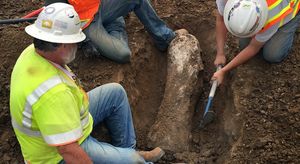 Fossils from the last Ice Age, including bones of ancient mammoths and a prehistoric bison, have been found at a Carlsbad construction site where hundreds of new homes are planned.
The fossils, 50,000 to 200,000 years old, were discovered earlier this summer during grading at Carlsbad's Quarry Creek, the
San Diego Union-Tribune
reported.
Work was halted while paleontologists carefully removed them.
"I said, 'Take your time, this is kind of cool,'" John Suster, the project superintendent for developer Cornerstone Communities of San Diego, told the newspaper in a story Thursday.