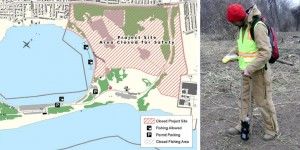 In August 2005, the New York Police Department, with the Department of Energy, conducted an anti-terrorism radiation flyover survey. The survey was intended to provide a baseline of radiological activity, in order to catch a suspicious construction of a dirty bomb.
They didn't find a dirty bomb—but there was plenty of radiological activity.
Surveyors found 80 radioactive locations in the city—one of them being
Great Kills Park in Staten Island
, one of the city's five boroughs. The Park is a popular place near a suburban enclave inhabited by cops, firefighters and other unsuspecting residents.
The Park, more than 500 acres of woods surrounding softball and soccer fields and a marina, was constructed from garbage dumped in the bay between 1944 and 1946. Unregulated and illegal dumping has a long history in New York City.
Children Are Especially Vulnerable
The radium is the legacy of nuclear weapons production coupled with a cavalier attitude towards the odorless, tasteless and invisible threat posed by radioactivity.
"This is potentially a very dangerous situation,"
said former Rep. Michael Grimm (R-NY) in 2013
, whose congressional district includes the park. "The last thing I want is to have anyone or their children get sick or hurt because of this contamination."