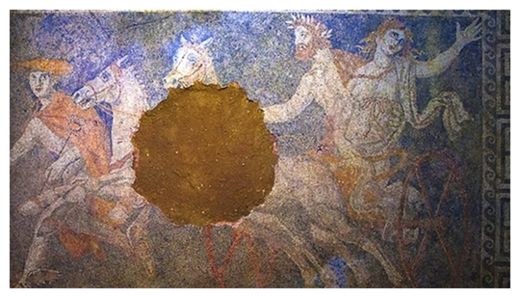 The imposing mosaic unearthed in the burial mound complex at Amphipolis in northern Greece might contain the best-ever portrait of Alexander the Great as a young man, according to a new interpretation of the stunning artwork, which depicts the abduction of Persephone.
It might also confirm previous speculation that the tomb belongs to Olympias, the mother of Alexander the Great.
The mosaic portrays the soul-escorting Hermes, Hades and Persephone. In reality, the mosaic most likely has human counterparts represented in the guise of the three mythological characters, said Andrew Chugg, author of
The Quest for the Tomb of Alexander the Great.
"I am thinking very much that Persephone should be an image of the occupant of the tomb being driven into the Underworld," Chugg told Discovery News.
"That means an important queen of Macedon that died between 325-300 B.C. possibly at Amphipolis. So we are exactly where we always were: Olympias or Roxane," Chugg said.