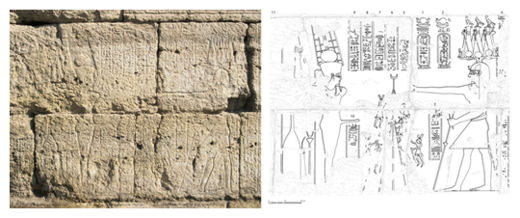 An ancient stone carving on the walls of an Egyptian temple depicts the Roman emperor Claudius dressed as an Egyptian pharaoh, wearing an elaborate crown, a team of researchers has discovered.
In the carving,
Emperor Claudius
, who reigned from A.D. 41 to 54, is shown erecting a giant pole with a lunar crescent at the top. Eight men, each wearing two feathers, are shown climbing the supporting poles, with their legs dangling in midair.
Egyptian hieroglyphs
in the carving call Claudius the "Son of Ra, Lord of the Crowns," and say he is "King of Upper and Lower Egypt, Lord of the Two Lands." The hieroglyphs say he is raising the pole of the tent (or cult chapel) of Min (an ancient Egyptian god of fertility and power) and notes a date indicating a ritual like this took place around the summertime researchers say. It would have taken place even though Claudius never visited Egypt. A cult chapel is a place of worship and a tent could also be used for this purpose.
The elaborate crown on Claudius consists of three rushes (plants) set on ram horns with three falcons sitting on top. Three solar discs representing the sun (one for each plant) are shown in front of the rushes.
Egyptian rulers
are shown wearing crowns like this relatively late in ancient Egyptian history, mainly after 332 B.C., and they were worn only in Egypt. The
Roman Empire
took over Egypt in 30 B.C., and while the Roman emperors were not Egyptian, they were still depicted as pharaohs Egyptologists have noted.