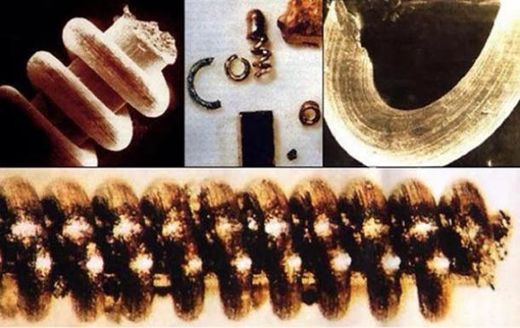 An Oopart (out of place artifact) is a term applied to dozens of prehistoric objects found in various places around the world that, given their level of technology, are completely at odds with their determined age based on physical, chemical, and/or geological evidence. Ooparts often are frustrating to conventional scientists and a delight to adventurous investigators and individuals interested in alternative scientific theories.
In 1991, the appearance of extremely tiny, coil-shaped artifacts found near the banks of Russia's Kozhim, Narada, and Balbanyu rivers brought about a debate that has continued to this day. These mysterious and minuscule structures suggest that there may have been a culture capable of developing nanotechnology 300,000 years ago.
These manufactured coils were initially discovered during geological research associated with the extraction of gold in the Ural mountains. These pieces include coils, spirals, shafts, and other unidentified components.