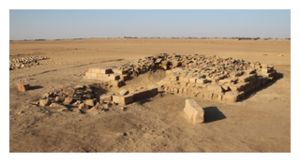 The remains of 16 pyramids with tombs underneath have been discovered in a cemetery near the ancient town of Gematon in Sudan.
They date back around 2,000 years, to a time when a kingdom called "
Kush
" flourished in Sudan.
Pyramid building was popular
among the Kushites. They built them until their kingdom collapsed in the fourth century AD.
Derek Welsby, a curator at the British Museum in London, and his team have been excavating at Gematon since 1998, uncovering the 16 pyramids, among many other finds, in that time.
"So far, we've excavated six made out of stone and 10 made out of mud brick," Welsby said. The pyramids are located in a large cemetery that was surveyed in 1993.
The largest pyramid found at Gematon was 10.6 meters (about 35 feet) long on each side and would have risen around 13 m (43 feet) off the ground. [
See Photos of 2,000-Year-Old Pyramids Discovered at Another Site in Sudan
]
Wealthy and powerful individuals built some of the pyramids, while people of more modest means built the others, Welsby said. "They're not just the upper-elite burials," he said.
In fact, not all the tombs in the cemetery have pyramids: Some are buried beneath simple rectangular structures called
mastaba
, whereas others are topped with piles of rocks called
tumuli
. Meanwhile, other tombs have no surviving burial markers at all.