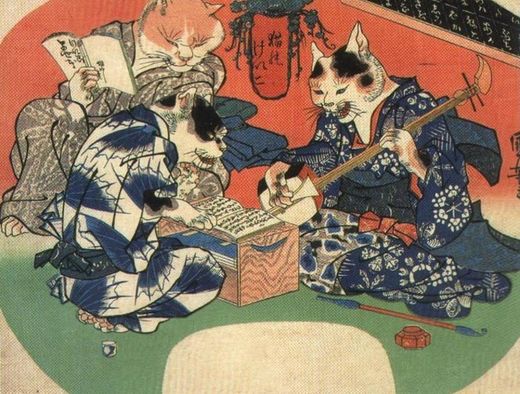 Who knew innocent little Fluffy could be so devious? Cats' reputations have often swayed from good to evil over the years as they have been both revered and feared around the world. One of the most famous malevolent associations cats have had is undoubtedly with witchcraft. Another, arguably lesser-known connection comes from Japan, in the form of the mythical and legendary Bakeneko and Nekomata creatures.
The Mythical Bakeneko
Bakeneko has sometimes been translated as "Monster Cat" or "Ghost Cat", but the best definition in English may simply be "Changing Cat". The mythological Bakeneko are
yōkai
(supernatural creatures) that allegedly begin as regular domestic cats. Legends say that as cats get older, they change. The process starts with them walking on their hind legs, although with time the cats gain more powers and grow larger (even to the size of a human), they then have the ability to change their forms and sometimes peak human languages.
Stories about Bakeneko suggest that the favorite form to shift into for these devious cats is their owners or other humans. This change reportedly makes the cats so happy that they put napkins on their heads and dance.
Other powers of the mythical Bakeneko include: summoning fireballs, their tails acting as torches to set fires, controlling the dead, and cursing (or killing) their previous owners, if they see fit.