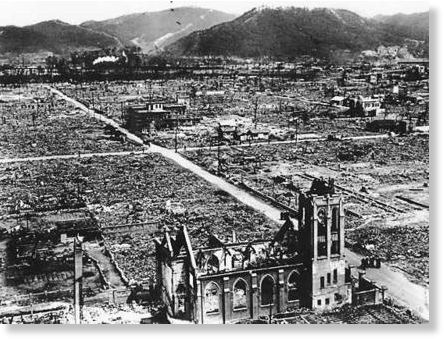 Even if we accept that there was a plausible military imperative to drop the atomic bombs on Hiroshima and Nagasaki - to bring about a swift defeat of Japan and thus an end to the Pacific War - the horror of civilian death toll from those two no-warning aerial attacks places a disturbing question over the supposed ends justifying the means.
But what if the official military rationale touted by US President Harry Truman and his administration turns out to be bogus?
That is, the real reason for dropping the A-bombs on Hiroshima and Nagasaki 70 years ago on August 6 and 9, 1945, had little to do with defeating imperial Japan and saving the lives of American troops. What if the real reason was the deliberate and cold-blooded demonstration of raw military power by Washington in order to warn the Soviet Union of America's postwar demarcation of global hegemony?
That leads to the most chilling conclusion - a conclusion far worse than the official American narrative would have us believe.
For it means that the act of obliterating up to 200,000 Japanese civilians was an event of premeditated mass murder whose intent was solely political. Or, in other words, an ineffable act of state terrorism committed by the United States.