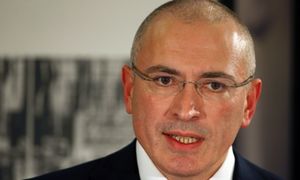 The former oil tycoon and adversary of president Vladimir Putin has launched a pro-European political platform from exile
The former tycoon Mikhail Khodorkovsky, who spent a decade in jail after challenging the Kremlin, says he would be ready to lead Russia if called upon.
Khodorkovsky's statement, at the launch of an online movement called Open Russia, appears to break his promise to steer clear of politics, which he made after being pardoned by president Vladimir Putin in December.
"I would not be interested in the idea of becoming president of Russia at a time when the country would be developing normally," he was quoted as saying by
Le Monde
newspaper.

Comment: Of course not. Psychopaths crave the opportunities created by chaotic situations. Khodorkovsky made his billions in the aftermath of the economic mess created by the fall of the Soviet Union.


"But if it appeared necessary to overcome the crisis and to carry out constitutional reform, the essence of which would be to redistribute presidential powers in favour of the judiciary, parliament and civil society, then I would be ready to take on this part of the task."
Open Russia is intended to unite pro-European Russians in a bid to challenge Putin's grip on power.
"A minority will be influential if it is organised," Khodorkovsky said during a ceremony broadcast online from Paris.
Khodorkovsky and his allies said political change could come quickly and insisted the time had come to think of Russia's future after Putin.
He stressed that his project - named after his charity that was shut down after his imprisonment - would be an online "platform" for like-minded people, not a political party.
But he did not anticipate Putin would approve.
"I expect him to be upset," Khodorkovsky said.
Russian activists and prominent emigres including Paris-based economist Sergei Guriyev and London-based businessman Yevgeny Chichvarkin - both of whom fled the country under pressure from security services - joined the online ceremony.
Khodorkovsky, who lives in Switzerland with his family, openly supported the Ukrainian uprising that ousted a Moscow-backed president in February, but indicated he did not want a bloody revolt for Russia.
The former head of the defunct Yukos oil firm said all those supporting a pro-European course for Russia should before parliamentary elections scheduled for 2016.
"We support what they call the European choice or a state governed by the rule of law," he said.
"We believe that the statement 'Russia is not Europe' is a lie that is being imposed on society on purpose.
"This is being done by those who want to rule the country for life, those who want to spit upon law and justice," Khodorkovsky said in a thinly veiled reference to Putin.

Comment: Psychopaths accuse others of what they do.


"We are Europe, both in terms of geography and culture.
"We are not simply Russian Europeans. We are patriots. And true patriots even during pitch-dark reactionary times should serve their country and their people."
Khodorkovsky's supporters expressed hopes his project would raise awareness among Russians and help them see through state propaganda.
"It is time to open our mouths," Chichvarkin said.
"We are ahead of a long, hard and dangerous path," the former deputy finance minister and economist Sergei Aleksashenko said.
Russian state media appeared to enforce a blackout on news coverage of Khodorkovky's project.
His spokeswoman Olga Pispanen said the project's website, openrussia.org, became the target of distributed denial of service attacks.
Attempts to prevent activists from joining the ceremony were reported in the central Russian cities of Nizhny Novgorod and Yaroslavl.
While many scoffed at Khodorkovsky's effort to rally Russians while in exile, some said the project could pay off in the long run.
"Such a project is sorely needed," political analyst Mark Urnov said, calling it an "antidote" to the country's grim reality.
Via Agence France-Presse