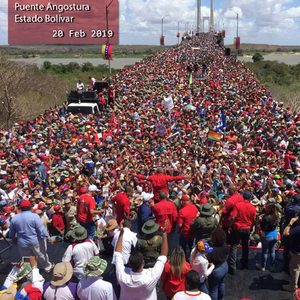 20 February 2019: Pro-Maduro demonstration on Angostura Bridge in Bolívar state, Venezuela
A man may die, nations may rise and fall, but an idea lives on.
- John F. Kennedy
Recent Comments
Woodsman, "Whatever rough beast the Democrats slouch up will have to be some kind of crazy Franken-monster if they want to satisfy all of that...
---
MSM is truly the excrement of the human race.
---
The French Interior Ministry estimates a total of 41,500 people marched in France this weekend. Ministry got those numbers out quick. Wonder if...
---
And when the Chinese Social Credit system kicks into full service, I wonder if there won't be another couple of mysterious icons and features...
---
And many of the common folk in my various circles live in high support of this kind of initiative. Rolling up their sleeves with pride! And people...