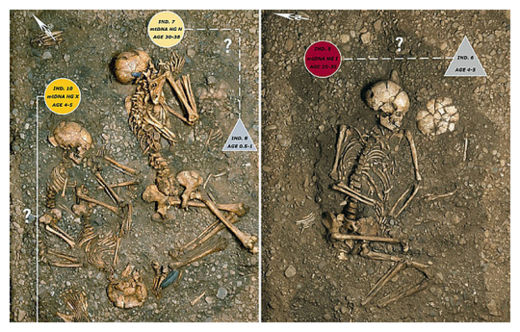 Prehistoric man may have been responsible for the first ever war crime, after
German archaeologists found a mass grave with evidence that the victims had been tortured and slain.
Researchers at the University of Mainz have been studying the remains of 26 people who were found dumped in a bit dating from the early Neolithic, around 4000BC.
Although mass graves have been found before from the stone age, it is the first time that skeletons have shown evidence of needless violence.
Most of the skull bones revealed that the victims had been hit over the head with a blunt instrument, while arrow heads nearby suggest they could have been killed by bowmen.
But for the first time there was evidence of deliberate and systematic smashing of the lower leg bones of a number of individuals suggesting that the victims were either tortured before or mutilated after death.
The grave was discovered at Schöneck-Kilianstädten, Darmstadt, in 2006, and archaeologist have been excavating the site and studying the bones ever since.