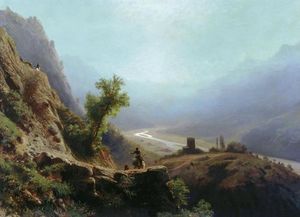 Populations of hunter-gatherers weathered the Ice Age in apparent isolation in Caucasus mountain region for millennia, later mixing with other ancestral populations, from which emerged the Yamnaya culture that would bring this Caucasus hunter-gatherer lineage to Western Europe.
The first sequencing of ancient genomes extracted from human remains that date back to the Late Upper Paleolithic period over 13,000 years ago has revealed a previously unknown "fourth strand" of ancient European ancestry.
This new lineage stems from populations of hunter-gatherers that split from western hunter-gatherers shortly after the 'out of Africa' expansion some 45,000 years ago and went on to settle in the Caucasus region, where southern Russia meets Georgia today.
Here these
hunter-gatherers largely remained for millennia, becoming increasingly isolated as the Ice Age culminated in the last 'Glacial Maximum' some 25,000 years ago, which they weathered in the relative shelter of the Caucasus mountains
until eventual thawing allowed movement and brought them into contact with other populations, likely from further east.