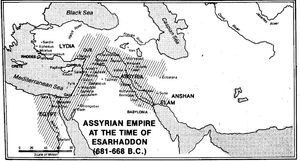 The Assyrian Empire once dominated the ancient Near East. At the start of the 7th century BC, it was a mighty military machine and the largest empire the Old World had yet seen.
But then, before the century was out, it had collapsed. Why? An international study now offers two new factors as possible contributors to the empire's sudden demise - overpopulation and drought.
Adam Schneider of the University of California, San Diego and Selim Adalı of Koç University in Istanbul, Turkey, have just published evidence for their novel claim.
"As far as we know, ours is the first study to put forward the hypothesis that climate change - specifically drought - helped to destroy the Assyrian Empire," said Schneider, doctoral candidate in anthropology at UC San Diego and first author on the paper in the Springer journal Climatic Change.