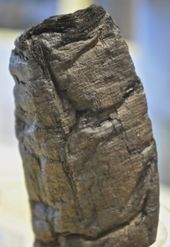 Scientists have read ancient scrolls not opened since they were carbonized by the eruption of Mount Vesuvius almost 2,000 years ago. Although only a few letters have been deciphered so far, classical scholars hope that the advance
could lead to the rediscovery of lost Greek or Roman works of literature in hundreds of papyri that are too fragile to unroll and read
.
"It is a revolution for papyrologists," says Vito Mocella, a physicist at the Institute of Microelectronics and Microsystems in Naples, Italy, and a co-author of the study, which is published in
Nature Communications
.
The eruption of Vesuvius in ad 79 obliterated the nearby towns of Pompeii and Herculaneum. But the volcanic ash preserved what it destroyed - including, in Herculaneum, a library in a lavish villa thought to have belonged to Julius Caesar's father-in-law.
The library contains hundreds of papyrus scrolls, dried and blasted by hot gases into what look like twisted logs of charcoal
, and then buried deep under the ash.