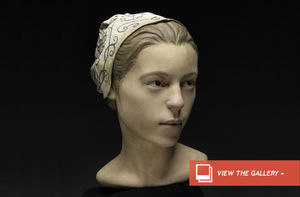 The first permanent British settlers in North America turned to cannibalism to survive harsh conditions, finds an analysis of human remains with sharp cuts and chopping blows.
Excavated last year from a dump at James Fort in Jamestown, Va., the fragmented remains belonged to a 14-year-old girl and date back to the "starving time" winter of 1609-1610, when three-quarters of the colonists died.
Found with several butchered horse and dog bones, the skeletal remains - a tibia (shin bone) and a skull - featured a series of marks that provide grisly evidence of the dead girl becoming food for the starving colonists.
The researchers were first struck by four shallow chops to the forehead which indicate a hesitant, failed attempt to open the skull.
"The bone fragments have unusually patterned cuts and chops that reflect tentativeness, trial and complete lack of experience in butchering animal remains," Doug Owsley, a forensic anthropologist at the Smithsonian National Museum of Natural History in Washington, D.C., said in a statement.
"Nevertheless, the clear intent was to dismember the body, removing the brain and flesh from the face for consumption," he added.