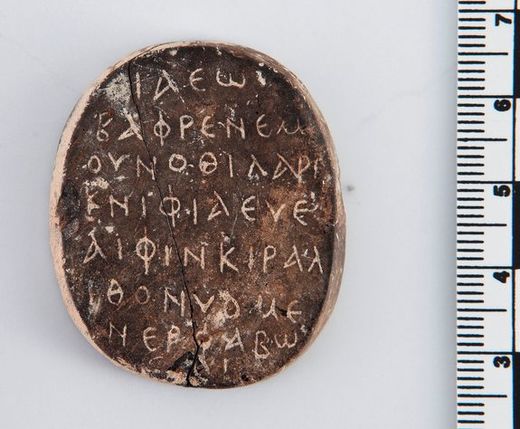 An ancient, two-sided amulet uncovered in Cyprus contains a 59-letter inscription that reads the same backward as it does forward.
Archaeologists discovered the amulet, which is roughly 1,500 years old, at the ancient city of Nea Paphos in southwest Cyprus.
One side of the amulet has several images, including a bandaged mummy (likely representing the
Egyptian god Osiris
) lying on a boat and an image of Harpocrates, the god of silence, who is shown sitting on a stool while holding his right hand up to his lips. Strangely, the amulet also displays a mythical dog-headed creature called a cynocephalus, which is shown holding a paw up to its lips, as if mimicking Harpocrates' gesture.