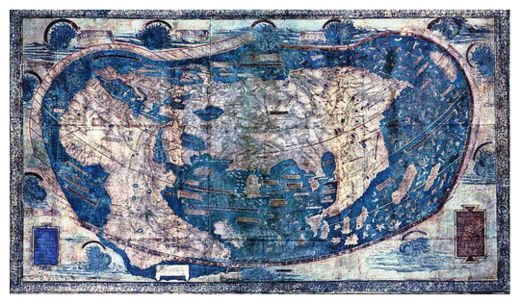 A map of the world produced in 1491 by Henricus Martellus has been subjected to multispectral imaging, which has
revealed hidden details on the map not previously visible, including numerous Latin descriptions of regions and people.
Henricus Martellus is also known as
Heinrich Hammer
. He was a German cartographer who lived in Florence from 1480 to 1496. His 1491 world map is one of two (an earlier version was produced in 1489). It is similar to the terrestrial globe, called the
Erdapfel
, produced by the later mariner, artist, astronomer, philosopher and explorer
Martin Behaim
in 1492, which may actually have been influenced by Martellus.
Both of these incorporate variations of the Ptolemaic model in that they show an opening to the Indian Ocean beneath the horn of Africa and they include the continent of Malaysia. Both may also derive from earlier maps produced by Bartolomeo Columbus, created around 1485 in Lisbon, Portugal. Some historians believe that the Martellus map may also have been used by Christopher Columbus prior to his voyage to circumnavigate the globe.