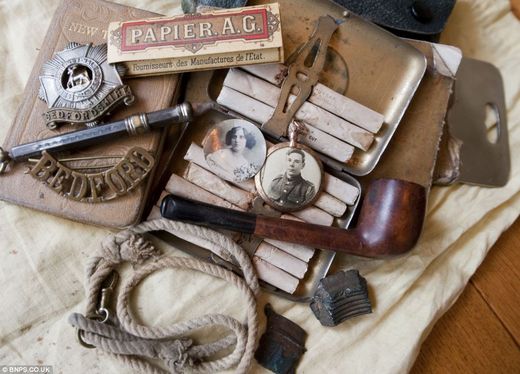 Private Edward Ambrose, from Hertfordshire, was killed on the Somme, just days he arrived at the front in 1916
After a telegram telling of his death, his last belongings were sent back from the trenches to his heartbroken parents
But the family left the case unopened, finding its contents too painful to look at, and it was placed in an attic for years
After visiting a local historical exhibition, Private Ambrose's nephew has now opened the package for the first time
The case includes black and white photos of his family, letters from his parents, a half-smoked pipe and cigarettes
The items, including a locket with photos of Private Ambrose and his sweetheart, Gladys, will go display later this year
Paralysed by grief, Sarah Ambrose could not bear to look at her son's belongings after he was killed at the Battle of the Somme.
So 18-year-old Edward Ambrose's possessions were packed in a leather suitcase and stored away in the attic of the family home.
And there they stayed for more than 90 years - until curiosity finally got the better of Edward's nephew John, 82, who retrieved the case after reading about an appeal for untold stories for a First World War exhibition.