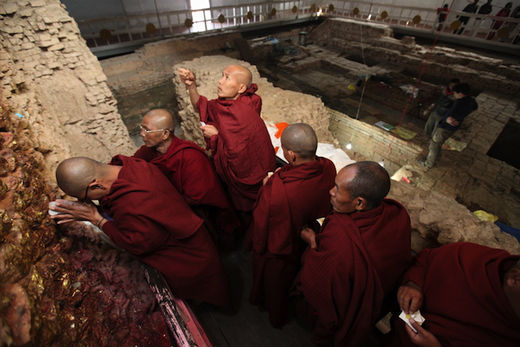 The birthplace of the
Buddha
has been found in Nepal, revealing that the origins of Buddhism date to the sixth century B.C., according to archaeologists. What's more, evidence of tree roots at the birth site reinforce the mythology of Buddha's birth under a tree.
The excavations took place within the already sacred Maya Devi Temple at
Lumbini
, Nepal, a UNESCO World Heritage site long thought to have been the Buddha's birthplace.
The archaeological team dug under a series of brick temples at the site and unearthed a previously unknown sixth-century B.C. timber structure. It is described in the latest issue of the journal
Antiquity
.
The timber structure contains an open space in the center that links to the nativity story of the Buddha himself.
"By placing the life of the Gautama Buddha firmly into the sixth century B.C. we can understand the exact character of the social and economic context in which he taught - it was a time of dramatic change with the introduction of coinage, the concept of the state, urbanization, the growth of merchants and the middle classes," Robin Coningham, co-leader of the project, told Discovery News.
"The discovery of evidence of tree roots in the center of the earliest shrines at Lumbini - the presence of a tree shrine - add a real physical perspective to the Buddhist traditions of his life story, which associated Lumbini with the Buddha's birth under a tree," added Coningham, who is an archaeologist at Durham University.