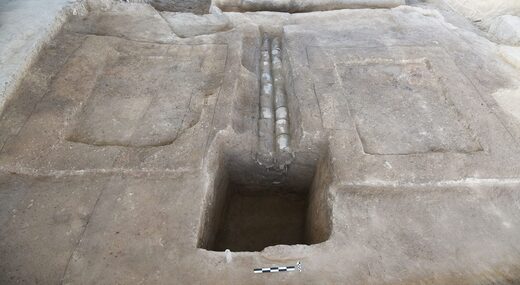 According to a study published in the journal
Nature Water
, Neolithic people living in China were capable of complex engineering feats without the need for a centralised state authority.
The discovery of
a network of ceramic water pipes and drainage ditches at the walled site of Pingliangtai
, has revealed new insights into how people during the Neolithic period were able to manage and redirect water.
Pingliangtai is located in the southwest corner of Dazhu Village in Huaiyang County, central China. The site dates from around 4,300 during the Longshan period, emerging into
one of China's earliest major population centres that was inhabited by around 500 inhabitants
.
Situated on the Upper Huai River Plain on the vast Huanghuaihai Plain,
the area's climate 4,000 years ago was marked by big seasonal climate shifts, where summer monsoons would commonly dump half a metre of rain on the region monthly
.
The people of Pingliangtai constructed an advanced drainage system with interconnected ceramic water pipes -
strategically positioned along roads and walls to redirect the rainwater. The sophisticated arrangement of these pipes showcases an advanced level of central planning,

despite archaeologists finding little evidence of social hierarchy
.
Dr Yijie Zhuang (UCL Institute of Archaeology), senior and corresponding author on the paper, said: "The discovery of this ceramic water pipe network is remarkable because the people of Pingliangtai were able to build and maintain this advanced water management system with stone age tools and without the organisation of a central power structure. This system would have required
a significant level of community-wide planning and coordination, and it was all done communally."
Co-author Dr Hai Zhang of Peking University said: "Pingliangtai is an extraordinary site. The network of water pipes shows an advanced understanding of engineering and hydrology that was previously only thought possible in more hierarchical societies."