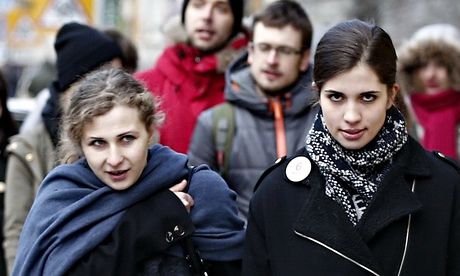 Video shows men attacking Nadezhda Tolokonnikova and Maria Alyokhina in McDonald's restaurant in Nizhny Novgorod
Two members of the Russian protest group
Pussy Riot
were attacked by a group of men who poured rubbish and bright green paint over them and shouted obscenities at them at a McDonald's restaurant.
A
video, uploaded by the group on Thursday
, shows at least three men attacking Nadezhda Tolokonnikova and Maria Alyokhina, shouting "[Go] to America!" and shooting paint into their faces from syringes in the city of Nizhny Novgorod.
"It hurts! Why are you doing this?" Tolokonnikova says, with green stains on her face and hands. "You don't have the right to hurt me. Please don't do that to anyone anymore."
)