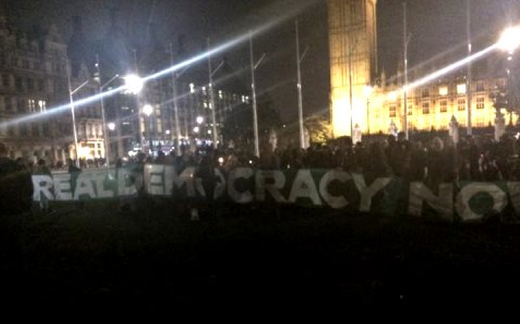 Donnachadh McCarthy went to Parliament Square yesterday to address a peaceful rally about the failings of British democracy. The intimidatory, violent and inflammatory police reaction only confirmed everything he had to say - as did the dignified restraint of the Occupy Democracy protestors.
Yesterday I was invited to speak about 'The Prostitute State - How Britain's Democracy Has Been Bought' - at the
Occupy Democracy Rally
in Parliament Square.
The plan was to give the talk (which went well - despite being nervous) and meet up with a friend later for dinner.
Instead I ended up being threatened with arrest not once, not twice but six times and ended up sleeping rough in the open all night in Parliament Square with the amazing people seeking to establish the week-long democracy Occupy Democracy forum!