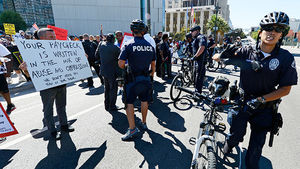 Those waiting for the preliminary autopsy report regarding the officer-involved death of a young, unarmed black man in Los Angeles are going to have to wait a little longer, as officials have delayed its release.
According to the
Huffington Post
, the Los Angeles Police Department (LAPD) have placed an "investigative hold" on the report detailing Ezell Ford's cause of death in order to preserve the integrity of witness testimony, which is still being gathered.
"Pending further investigative and forensic analysis, the LAPD Force Investigation Division investigators have requested that The Los Angeles County Coroner place an investigative hold on the pending autopsy report," the police department said on Monday.
Speaking
with NBC Los Angeles, LAPD Chief Charlie Beck said the department is looking for additional witnesses before the report is out in the public eye, adding that its release could potentially influence any statements given.