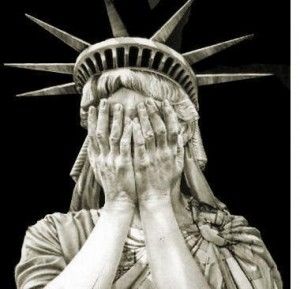 The fourth of July. This is the day for Americans to go down to the beach with a picnic basket loaded up with ham sandwiches and to drink more beer than can possibly be recommended during the work week. This is the day to gather with friends and family and to ooh and aah at pyrotechnics dazzling the sky. It is a day, if we stop to think, to be grateful that we are not living in a country which produces lock-step conformity and fear in its citizenry. It is a day, traditionally, to be thankful for our freedoms.
This July 4th, it would be useful to take a look at what we have lost, in terms of freedoms, and what we still stand to lose
. Like some other institutions in America, the July 4th celebration of freedom has become something of an obligatory exercise of patriotic fervor. And given the developments of the last few years, it may now be relatively empty of meaning.
For the first time in US history, we have a President who has created—and invoked — the executive privilege of ordering the murders of US citizens without due process
. While this has only been exercised a few times (to our knowledge), most notably with the 2011 assassination by drone strike of US born Muslim cleric Anwar al -Awlaki and subsequently of his son, Abdulrahman al-Awlaki, the precedent now exists. This is not a privilege generally granted to a President in a free society. In fact, it is an action that is more redolent of a dictator, a Hitler or a Pol Pot whose purges of not only "enemies of the state," but also of whomever pissed off the dictator, became part of our collective awareness that we, as Americans, were very fortunate not to live under these sorts of rulers.