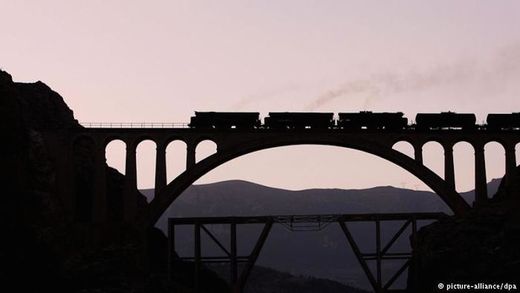 Iran and Russia have signed an agreement worth $1.2B euros to electrify a train line, linking north-central Iran to the northeastern border with Turkmenistan, an official says. The agreement signed between Russian Railways and the Islamic Republic of Iran Railways (RAI) envisages constructing power stations and overhead power lines along the Garmsar-Sari-Gorgan-Inche Burun route in Iran.
"The implementation of the contract will improve the capacity of passenger trains and raise transit to 8 million tons," said RAI Managing Director Mohsen Poursaeed-Aqaei who signed the document. The train line, among the first in Iran with a history of 80 years, extends to Turkmenistan and Kazakhstan and links the Central Asia to the Persian Gulf and beyond.
The project will be financed by the Russian government and will be implemented in 36 months,
which includes manufacturing all electric locomotives inside Iran, electrifying 495 kilometers of railway and building 32 stations and 95 tunnels.
"With the implementation of this contract, besides the electrification of the line, tunnels on the way will be enlarged, enabling Russian and other transit wagons to ply conveniently on it," Poursaeed-Aqaei said. "Overall, we will witness the establishment of an electrified and modern train line in the country's north," he added.
The signing came as President Vladimir Putin visited Tehran on Monday to attend a summit of the Gas Exporting Countries Forum (GECF).