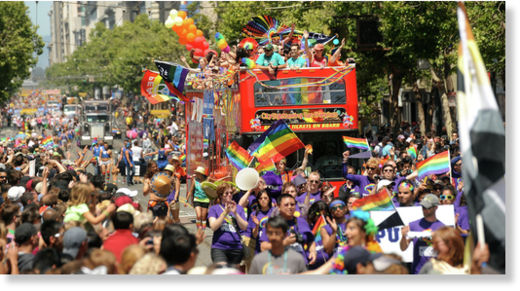 A recent Gallup poll has exposed that Americans' estimates of the proportion of homosexuals in the United States are "many times higher" than the actual percentage, indicating a distorted perception of this demographic group among the US population.
"The American public estimates on average that 23% of Americans are gay or lesbian, little changed from Americans' 25% estimate in 2011...These estimates are many times higher than the 3.8% of the adult population who identified themselves as lesbian, gay, bisexual or transgender," the Gallup Poll revealed.
Remarkably, the National health Interview Survey released by the Center for Disease Control and Prevention (CDC) in July, 2014 found that less than three percent of the American civilians labeled themselves as gay, lesbian or bisexual.
Only 1.6 percent of adults said they were homosexual, and 0.7 percent self-identified as bisexuals. The overwhelming majority - more than 96 percent - classified themselves as straight.