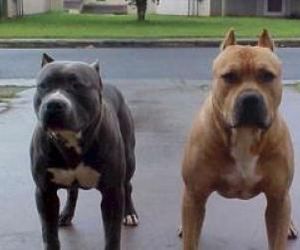 On Friday afternoon, Maria McKay of Valencia Park notified local San Diego Station 10News that two Pit Bulls belonging to a neighbor attacked and killed her daughter's little pug, Suki, at about 11 a.m. that morning. She said the attack occurred in front of a house where Deborah Kirby runs a daycare and also just across the street from an elementary school. (Valencia Park is a community in the southeast area of the city of San Diego.)
Kirby confirmed that her own children were almost attacked by the same Pit Bulls about two months ago while they were walking home.
She said she screamed and told the kids to run.
Another neighbor, Nancy Marquez, told 10News that she lives only a couple of doors away from the pit bulls and they killed her Chihuahua several years ago in her own backyard. Marquez' father, Cipriano Marquez, said the owners of the Pit Bulls had never even apologized.
Lieutenant Dan DeSouza of San Diego County Department of Animal Services told 10News later that
both pit bulls have been impounded four times while running loose and each time they were returned to the owners.
The 10News team went to the home and tried to talk to the couple who owns the Pit Bulls, who said their dogs were locked up all day in their backyard on Friday. However, a neighbor told a different story.