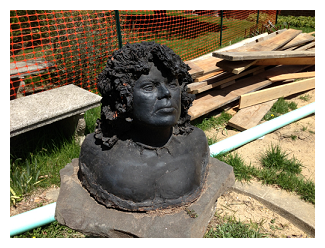 Do you know anything about this statue head?
Granted, this is not the kind of question you normally hear, but the statue head that was left at the East Hampton Library this weekend begs the question.
Dennis Fabiszak, the library director, tells Patch that some time between Saturday afternoon and Monday morning a statue of the head of a woman, attached to a piece of slate, was left inside the library construction site on top of an old fountain. The back of the statue has a piece broken out of it, where it appears birds made a nest inside of it at some point. Weighing about 50 pounds, it looks like it was made out of a thick red or orange clay that was then painted black. There's an inscription on the back (see photo below).
Where did this statue come from? Who left it at the library? Why was it left at the library? Who is the woman depicted in the statue?