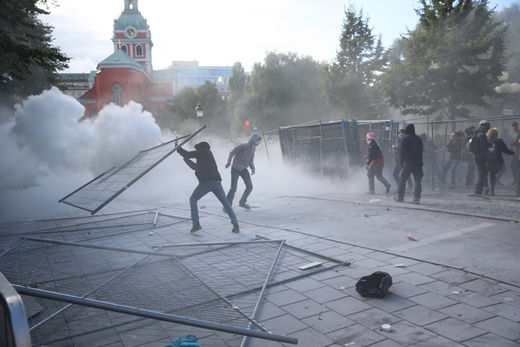 Seven people suffered injuries after riot police clashed with anti-fascists at a neo-Nazi rally in Stockholm. Police say four law enforcement officers needed treatment, along with three civilians.
The march was organized by the Party of Swedes, a far-right organization, and attracted around 150 members. They were far outnumbered by those protesting against the gathering, with thousands gathering in the city center.
The vast majority of protesters were well-behaved, but a minority attacked the police with firecrackers, bottles, eggs and panels from a security fence
.
"We have had violent riots with people throwing objects at police," police spokesman Lars Bystrom said, according to AP. He also mentioned that two arrests were made, one for "preparation of aggravated assault," and another for climbing onto the roof of the Royal Opera House, where the neo-Nazi group started and ended their march.
The rally took place with Swedish parliamentary elections set to take place in two weeks. Just last week, on August 23, violence broke out at another march held by the Party of Swedes in
Malmo
, which has a high immigrant population with 31 percent of the city's residents having been born abroad, according to the city's official website.
The trouble started after anti-fascists tried to block the neo-Nazi march and clashed with the police ahead of a speech by Stefan Jacobsson, the leader of the Party of Swedes. Ten people were injured during the clashes, with many of the demonstrators critical of the heavy-handed tactics used by the police, which includeda charge by officers mounted on horseback at the participants.