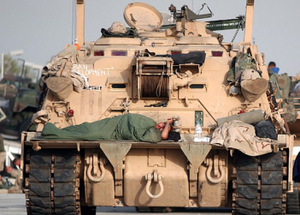 The University of Texas recently acquired an
armored mine-resistant vehicle
from the U.S. Department of Defense even though
there are no reports of land mines on any of the school's campuses.
There are more than a dozen University of Texas campuses, which University of Texas police protect (along with local police and federal authorities).
"The turret has been removed, so there's no weapons systems associated with it," University of Texas System Director of Police Michael Heidingsfield told
CBS News
.
"That vehicle will be used solely in response to an active shooter or armed intruder events, or perhaps in anticipation of a major natural catastrophic event," added Heidingsfield.