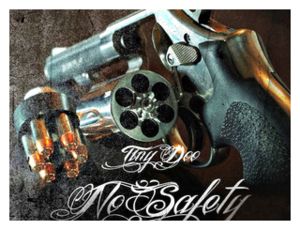 Like
c
ountless artists before him, San Diego-based rapper Brandon Duncan's new album features a picture of a gun and bullets on its front cover. However Duncan, who raps under the name Tiny Doo, could be the first artist to go to jail for his choice of album art.
Duncan faces 25-years-to-life on gang conspiracy charges brought against him this week, according to the
Los Angeles Times
.
Prosecutors will reportedly look to prove that the album art "willfully promotes, furthers, or assists in any felonious criminal conduct by members of that gang."
"That gang" refers to the San Diego Lincoln Park gang, of which Duncan is a member, according to San Diego police. According to the
Times
, at least 15 Lincoln Park gang members have been charged in a recent string of shootings in the city.
Yet Duncan's attorney, Brian Watkins, told the paper that his client is innocent and the evidence against him insufficient.
"It's no different than Snoop Dogg or Tupac," Watkins said.
"It's telling the story of street life. If we are trying to criminalize artistic expression, what's next, Brian DePalma and Al Pacino?"