"The Christmas hope for peace and good will toward all men can no longer be dismissed as a kind of pious dream of some utopian. If we don't have good will toward men in this world, we will destroy ourselves by the misuse of our own instruments and our own power. Wisdom born of experience should tell us that war is obsolete. We must either learn to live together as brothers or we are going to perish together as fools." - Reverend Martin Luther King, Jr., Christmas Eve sermon, 1967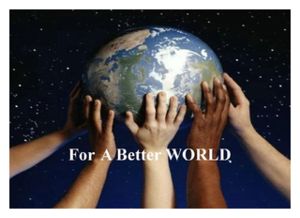 As a child, my Christmas wish list came right out of the Sears and Roebuck catalogue - toys, board games, bikes, action figures, etc. My parents, like so many in their day, belonged to the working-class poor, so while I never lacked for the necessities of life, many of the items on my wish list never came to be. Even so, I was no worse off for it.
I wish the same could be said of those still unfulfilled items on my adult Christmas wish list.
Each year, I wish for the same things - an end to war, poverty, hunger, violence and disease - and each year, I find the world relatively unchanged. Millions continue to die every year, casualties of a world that places greater value on war machines and profit margins than human life.
I've seen enough of the world in my 68 years to know that wishing is not enough. We need to be
doing
. It's not possible to solve all of the world's problems right away. For most people, putting an end to world hunger, poverty, disease and the police state may seem too insurmountable a task to even tackle. But as I point out in my book
A Government of Wolves: The Emerging American Police State
, there are practical steps each of us can take to hopefully get things moving in the right direction. Here's what I would suggest for a start:
Tone down the partisan rhetoric, the "us" vs. "them" mentality.
Politicians frequently perpetuate a "good" versus "evil," "us" versus "them" rhetoric which pits citizen against citizen and allows the politicians to advance their personal, political agendas. Instead of wasting time and resources on political infighting, which gets us nowhere, it's time Americans learned to work together to solve the problems before us. The best place to start is in your own communities, neighbor to neighbor. After all, at the end of the day, it makes no difference what politician you voted for - Republican, Democrat or otherwise -
politics will never be the answer.
Politicians have mastered the art of creating dissension, but they're all the same. Grassroots activism is the only kind of change you can count on.
Turn off the TV and tune into what's happening in your family, in your community and your world.
Read your local newspaper. Attend a school board or city council meeting. Get involved with a nonprofit that works in your community. Whatever you do, reduce your intake of mindless television and entertainment news. The only reality programming worth taking notice of is the one playing in your home and community