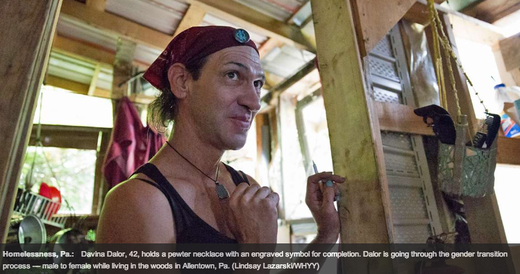 You'd never know it from the road, but in the woods in Allentown, there's a small monument to just how resourceful people can be, when they have to be. Weeds and wildflowers obscure the path leading to Davina Delor's shelter. She built it herself after landing here in April - her fourth campsite since 2010. That's when Delor, 42, lost her job, quickly followed by her apartment and car. "I'm still looking for work. I get little odd jobs here and there, but nothing that pays. Nothing that will get you an apartment or anything like that," Delor says.
Experts say
her situation isn't uncommon.
The homeless population has increased three of the past four years in Pennsylvania, despite
trending downward nationally
for the better part of the past decade. Eighty-one percent of last year's increase was driven by unsheltered homeless people like Delor. They gravitate toward the urban settings near wooded and otherwise secluded areas of Allentown, Harrisburg, Scranton and Reading - even though poverty and unemployment rates there are skyrocketing compared to national norms.
City officials in Allentown and Reading, ranked the nation's poorest city last year, have shut down homeless encampments as they try to redevelop their downtown areas. But in other cities, including the Commonwealth's capital of Harrisburg, officials aren't doing that. Harrisburg's solicitor Neil Grover says they take action only if public safety is at risk: "What do you do? Move them? Where?"