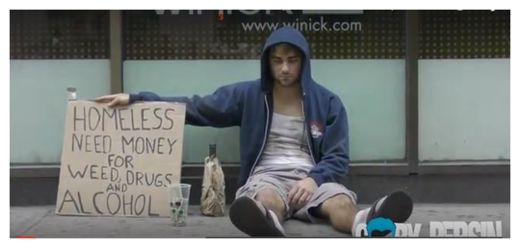 A prankster has carried out a social experiment in New York to find out who would be granted more charity - a homeless single father or a drug user - and received a truly surprising result.
In a hidden cam video, prankster Coby Persin dressed up as a homeless guy and pretended to be begging. He first displayed a sign, reading:
"Homeless need money for drugs, weed and alcohol,"
and managed to raise a decent sum of money across just an hour.
The homeless addict was mainly assisted by young men, who encouraged him by saying
"stay high, man, stay high"
or "
make sure you get a big bottle."
However, things changed when the prankster put up a different sign, reading:
"Homeless single father need money for charity"
and was joined by a small girl, sitting on the pavement next to him.
He was left without any donations for almost the whole hour as people walked by, completely ignoring the
"troubled pair".