A veterinarian in Brenham, Texas lost her job and has allegedly received death threats after posting a picture online of herself with a cat she killed with a bow and arrow,
KBTX-TV reported on Friday.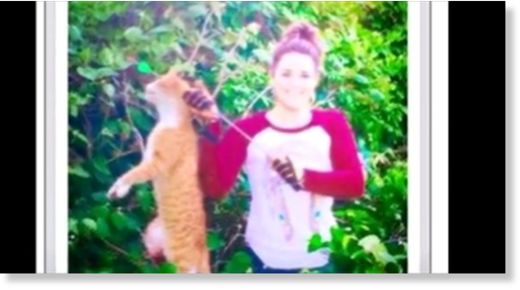 Officials at the Washington Animal Clinic terminated Kristen Lindsey's employment after the picture from her Facebook page surfaced on Thursday. Lindsey can be seen holding the arrow, which is stuck inside the animal's head.
"My first bow kill, lol," she wrote. "The only good feral tomcat is one with an arrow through it's
[sic]
head! Vet of the year award ... Gladly accepted."
Lindsey took down her page after criticism began flooding in, but at one point she bragged that she would not lose her job over killing the cat, stating,
"Like someone would get rid of me. I'm awesome!"
Instead, her name was covered up on the facility's sign by Friday afternoon. The clinic reportedly received more than 500 phone calls denouncing Lindsey's actions.