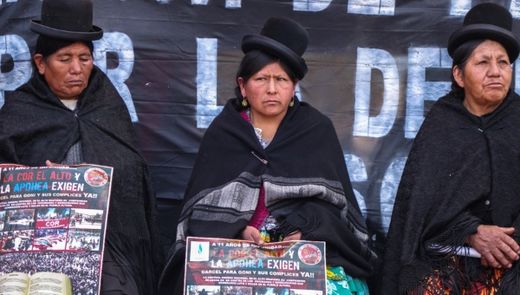 Residents of El Alto, protagonists of 2003 "Gas War," Demand Extradition of Gonzalo Sanchez de Lozada from U.S.
Every year, thousands of Bolivians march in the month of October to remember the
2003 "Gas War
," also known as the "Black October" massacre. Eleven years ago on October 17, 2003 Bolivian President Gonzalo "Goni" Sanchez de Lozada fled Bolivia on a commercial jet, leaving behind a trail of blood.
More than 60 people including men, women, and children were indiscriminately mowed down by the military's bullets under Sanchez de Lozada's command
. Protests that began in the countryside quickly spread to the bustling city of El Alto, perched 4,100 meters above sea level overlooking Bolivia's administrative capital of La Paz, and the deadly response of the military was swift.
Demonstrators were opposed to a plan to export Bolivia's
then privatized natural gas
through neighboring Chile, perceived by many Bolivians to be a historical national enemy due to the loss of their coastline to British-backed Chile in the War of the Pacific.
The residents of El Alto risked life and limb in the streets demanding the nationalization of Bolivia's natural gas reserves so that all Bolivians would benefit from the country's natural resources rather than a small and privileged class of businessmen.
As the death toll mounted, Sanchez de Lozada's key supporters resigned one by one, and he narrowly escaped by helicopter to the airport of El Alto where he then flew to the eastern city of Santa Cruz before fleeing to the United States.