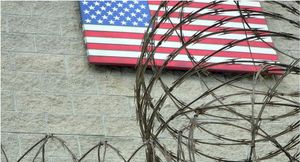 A complaint stating that civilian and military lawyers are being diagnosed with cancer at alarming rates is calling for the Guantanamo Bay detention camp to be tested for carcinogens and have personnel from the facilities evacuated.
The United States Navy is now investigating the claims of a cancer cluster.
According to the report, at least seven lawyers working on detainee trials have been diagnosed with cancer, Reuters reported. It does not indicate whether they were all found to have the same type of cancer.
The complaint, filed with the US Defense Department's Office of the Inspector General, asserts that staff may have been exposed to carcinogens while living and working at a location previously used to dispose of jet fuel.
"We have been telling our chain-of-command for years that we don't feel safe living and working in the temporary facilities the government has erected for military commissions,"
Air Force Capt. Michael Schwartz, a military defense lawyer who has worked at Guantanamo Bay for years, told Reuters.
"But, along with the Constitution, the government seems to want to sweep this under the rug."
The report also alleges that the lawyers may have been exposed to asbestos and other toxins in the old building that previously hosted military trials.