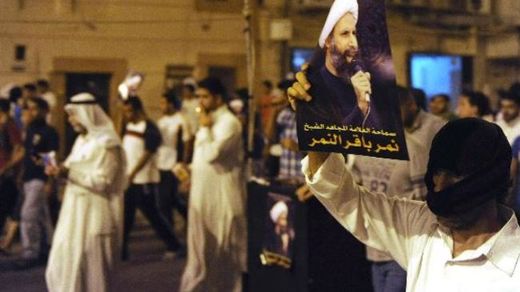 The sentencing to death this week of Saudi pro-democracy leader Sheikh Nimr al-Nimr illustrates at least two things.
The utter barbaric nature of Saudi Arabia under the rule of the House of Saud's absolute monarchy; and, secondly, the utter fraudulence of the US-backed military coalition bombing Syria and Iraq in the name of eradicating extremism.

Comment: The whole U.S. led coalition is a lie. They suppress freedom in their own countries while pretending to be fighting terrorist of their own creation abroad to restore democracy.


Within hours of US President Barack Obama hosting military leaders from 21 countries, including favoured client state Saudi Arabia, allegedly to improve bombing tactics to defeat the IS terror network, a Saudi court announced the death penalty on Sheikh al-Nimr.
Saudi prosecutors have called for al-Nimr to be "crucified" - which means death by public beheading.
His crime? Al-Nimr is one of Saudi Arabia's most prominent and respected Shia clerics, who for the past 10 years has been an ardent critic of the kingdom's autocratic rulers. He has consistently championed the democratic rights of ordinary Saudis, defended the thousands of political prisoners rotting away in Saudi dungeons, and has called for the end of absolute rule under the self-styled House of Saud monarchy.
In particular, Sheikh al-Nimr has highlighted the chronic injustice against the Saudi Shia population, who form a majority in the country's oil-rich Eastern Province but who have endured decades of poverty and oppression under the Wahhabi House of Saud.
At no time in his years of campaigning for justice has Sheikh Al-Nimr advocated violence. He is on record for explicitly condemning violence and has urged followers to use the "roar of the word" to challenge Saudi despotism.
In other words, his only "crime" is that Sheikh al-Nimr has eloquently exposed the oppression and corruption of Saudi rule under a dynastic, backward family.