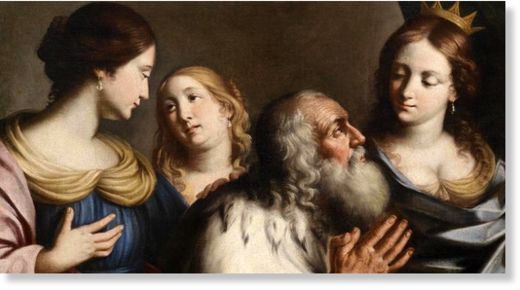 Bible believers are
beside themselves
about the prospect that marriage norms and laws are changing, but let me tell you a secret about Bible believers that I know because I was one. Most don't actually read their Bibles.
If they did, they would know that
the biblical model of sex and marriage
has little to do with the one they so loudly defend. Sex in the Bible includes rape, incest, master-slave sexual relations, captive virgins, and more.
Of course, just because a story is told in the Bible doesn't mean it is intended as a model for moral behavior. Does God forbid or command the behavior? Is it punished or rewarded? In the New Testament stories, does Jesus change the rules or leave them alone? By these criteria, the Bible not only describes many forms of sexual relationships (including sexually coercive relationships), it gives them the divine thumbs up.
Not One Man, One Woman
The God of the Bible explicitly endorses polygamy and sexual slavery and coerced marriage of young virgins along with monogamy. In fact, he endorses all three to the point of providing detailed regulations. Based on stories of sex and marriage that God rewards and appears to approve one might add incest to the mix of sexual contact that receives divine sanction.