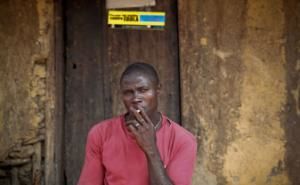 A charred kapok tree and around a dozen graves scattered amongst the mud brick houses of Meliandou are painful reminders of the toll Ebola has taken on this village in southeast Guinea.
Scientists traced the source of the worst-ever outbreak of Ebola to two-year-old Emile Ouamouno, who they believe contracted the disease while playing near the tree, home to hundreds of bats that may have been hosting the deadly virus.
The boy's father, Etienne Ouamouno, said Emile fell ill in December 2013, and infected his sister and mother who was eight months pregnant at the time. Over a year later, having lost all his immediate family, Etienne Ouamouno has difficulty in finding words to describe his grief.