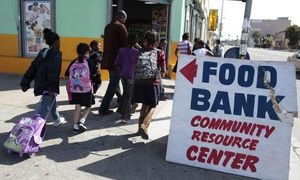 The economy expanded much faster than first thought in the third quarter, as the government on Thursday revised its estimate of growth in the period to a 3.6 percent annual rate from 2.8 percent.
That was significantly better than the 3.1 percent pace economists had been expecting, and it marked the best quarter for growth since the first quarter of 2012, when output jumped by 3.7 percent. It also marked the first time since then that growth had exceeded 3 percent.
Much of the improvement came from additional stocking up on inventory by businesses as well as a slightly improved trade picture.
Inventory changes are notoriously volatile, so while the healthier signals would be welcomed by economists, inventory gains can essentially pull growth forward into the third quarter, causing fourth-quarter gains to slacken.
Indeed, Wall Street was already estimating that the fourth quarter of 2013 would be much weaker than the third quarter, with growth estimated to run at just below 2 percent, according to Bloomberg News.