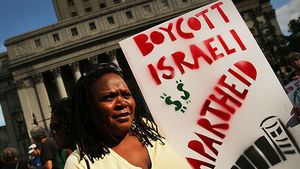 New York was awash with protesters on Friday, as thousands came out in support of more than 880 Palestinians killed in Israel's Gaza offensive. There are increasingly deep fault lines between pro-Palestinian and pro-Israel supporters worldwide.
Anywhere from
2,000 to 3,000 demonstrators flooded the streets around Times Square
, with the police keeping a watchful eye on the crowds, who waved Palestinian flags and signs condemning Israel and criticizing US aid to the Jewish state, Reuters reported.
"We're trying to break the siege and end the killing in Palestine
.
We just want them to live like human beings," said Ramsay Jamal, an American of Palestinian descent, who protested with his eight-year-old son on his shoulders. The child held a banner with the words - 'Israel, I'm just a kid. Please don't kill me', with a child's hand prints in red paint around the words.