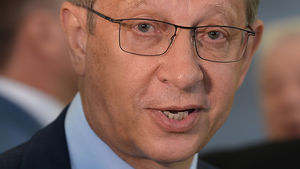 The main stockholder in the Russian conglomerate AFK Sistema and the country's 15th richest man according to Forbes, Vladimir Yevtushenkov, has been placed under house arrest on charges of money laundering.
The billionaire is accused of acquiring shares in oil producer Bashneft, in the Russian province of Bashkiria, by "criminal means."
"Investigators have reasonable grounds to believe that Sistema Board Chairman Vladimir Yevtushenkov is involved in the l
egalization of property acquired by criminal means
. Today he was accused of money laundering," the Russian Investigative Committee said in a statement on its website.
The alleged crime carries a possible penalty of seven years in prison and a fine of one million rubles (US$26,000).
Yevtushenkov must stay under house arrest until November 16. His lawyers have three days to appeal against the Moscow Court decision.
The accusations against Yevtushenkov follow months of investigation.