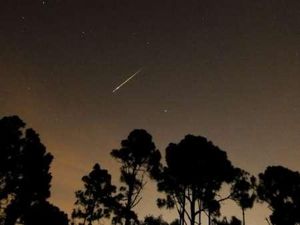 On Tuesday, Sep. 2, a lot of people in Colorado said they saw a fireball streak across the sky at about 10.30 p.m.
Director of the Sommers-Bausch Observatory at the University of Colorado, Seth Hornstein, said that the bright ones were rare and they see only three or so of them that get significantly brighter every year.
A man sent an email to
9news
stating that he and several members of his family had seen the fireball from their home. Reports on sightings can be done on the website of the
American Meteor Society
and these reports showed that the family wasn't the only one.
The website shows that people from eighteen different cities near Colorado like Fountain, Evergreen, Boulder, Pueblo, Estes Park Littleton, Aurora and Arvada had also seen the meteor.
Hornstein said that the meteor was approximately the size of a sports ball, either a baseball or a volleyball.
Though that doesn't seem like it is too big, he explained that usually the size of the fireball would be the size of a pebble or a grain of sand.