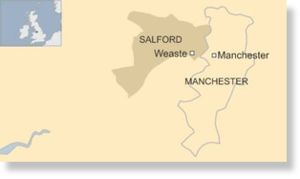 A mysterious explosion heard across parts of Manchester and Salford remains unexplained.
Hundreds of people took to social media to describe hearing a "loud bang" at about 22:30 GMT on Monday.
Firefighters were called after a report in the Weaste area of Salford but later admitted they could find no evidence of a fire, or any other disturbance.
Shinydan Howell
posted on Twitter:
"Everyone in Manchester ok? Loud bang in Salford could be anything."