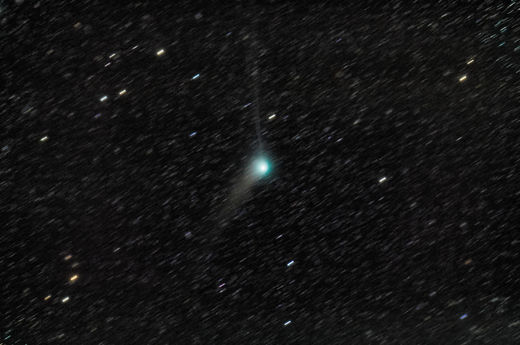 Comet C/2012 K1 PanSTARRS, one of the most dependable comets of 2014,
may put on its encore performance over the coming weeks for southern hemisphere observers
.
First, the story thus far. Discovered as a +19th magnitude smudge along the borders of the constellations Ophiuchus and Hercules in mid-May 2012 courtesy of the Panoramic Survey Telescope And Rapid Response System (PanSTARRS) based atop Haleakala on the Hawaiian island of Maui, astronomers soon realized that comet
C/2012 K1 PanSTARRS
would be something special.
The comet broke +10
th
magnitude to become a visible binocular object in early 2014, and
wowed northern hemisphere observers
as it vaulted across the constellations of Boötes and Ursa Major
this past spring
.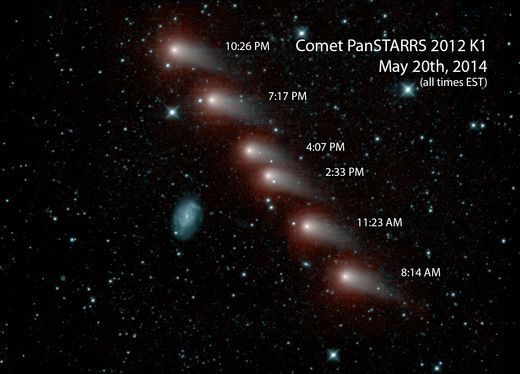 The comet is approaching the inner solar system on a retrograde, highly-inclined orbit tilted 142 degrees relative the ecliptic. This bizarre orbit also assures that the comet will actually reach opposition
twice
in 2014 as seen from our earthly vantage point: once on April 15
th
, and another opposition coming right up on November 7
th
.
As was the case with comet Hale-Bopp way back in 1997, had C/2012 K1 PanSTARRS arrived six months earlier or later, we would've been in for a truly spectacular show, as the comet reached perihelion on August 27
th
, 2014, only 0.05 A.U.s (4.6 million miles or 7.7 million kilometres) outside the orbit of the Earth! But such a spectacle was not to be... back in '97, Hale-Bopp's enormous size - featuring a nucleus estimated 40 to 60 kilometres across - made for a grand show regardless... fast forward to 2014, and the tinier nucleus of K1 PanSTARRS has been relegated to binocular status only.