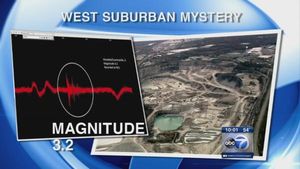 People in the western suburbs who felt the earth move Monday weren't imagining it. But the cause remains a mystery.
The U.S. Geological Survey assigned the tremor that occurred about 12:35 p.m. near Countryside a preliminary magnitude of 3.7. Soon after, they downgraded the tremor to 3.2 and said it wasn't an earthquake, but likely was caused by work at a nearby quarry.
"Based on what they've looked at, we're pretty sure it's from a blast," said Paul Caruso, a geophysicist with the Survey. "It is not an earthquake."
The website Did You Feel It?, which is operated by the agency, reported that by midafternoon more than 700 people had contacted the site to say they had, indeed, felt it. Police departments in Hinsdale, Elmhurst and elsewhere said residents called to report the tremor.