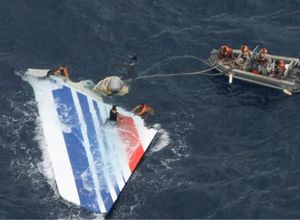 Air France flight 447 did not break up in the air but plunged vertically into the Atlantic Ocean, according to the French head investigator of last month's crash, which killed all 228 people on board.
Alain Bouillard said life vests found among the wreckage were not inflated, indicating
the accident happened so quickly that the passengers had no time to react.
Speed sensors on the Airbus A330 flying from Rio de Janeiro to Paris were not to blame, he said, though "we are far from understanding the cause of the crash".
"The plane seems to have hit the surface of the water on its flight trajectory with a strong vertical acceleration,"
he said, adding that investigators have found "neither traces of fire nor traces of explosives."