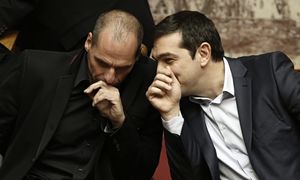 The member-states of the Eurasian Economic Union as well as India and China are displaying sizable growth and are playing a greater role in global economy
Whether western European countries want it or not, the center of economic gravity is shifting eastwards, and the member-states of the Eurasian Economic Union as well as India and China are displaying sizable growth and are playing a greater role in global economy, the President of the Greek-Eurasian Business Council, Dr. Spyros Kouvelis said
on Thursday.
He said it at a ceremony devoted to the start of the organization's activity.
"
We're making steps towards an expansion of cooperative ties with the Eurasian Economic Union
," he said adding that unless Greece took account of the persistently growing role of the region in the world economy it might lose a big part of this important market.
Dr. Kouvelis voiced the conviction that business ties should be untied from politics.