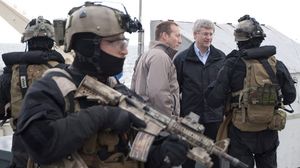 In 1968 the government of Canada decided to openly admit Americans seeking to avoid being drafted into the US war on Vietnam. Before, would-be immigrants were technically required to prove that they had been discharged from US military service. This move made it easier for Americans to escape President Johnson's war machine by heading north.
Although a founding member of NATO, Canada did not join the United States in its war against Vietnam. The Canadian government did not see a conflict 7,000 miles away as vital to Canada's national interest so Canada pursued its own foreign policy course, independent of the United States.
How the world has changed. Canada's wise caution about military adventurism even at the height of the Cold War has given way to a Canada of the 21st century literally joined at Washington's hip and eager to participate in any bombing mission initiated by the D.C. interventionists.
Considering Canada's peaceful past, the interventionist Canada that has emerged at the end of the Cold War is a genuine disappointment. Who would doubt that today's Canada would, should a draft be reinstated in the US, send each and every American resister back home to face prison and worse?
As Glenn Greenwald
pointed
out this past week:
Canada has spent the last 13 years proclaiming itself a nation at war. It actively participated in the invasion and occupation of Afghanistan and was an enthusiastic partner in some of the most extremist War on Terror abuses perpetrated by the U.S.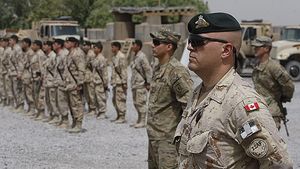 Canada has also enthusiastically joined President Obama's latest war on Iraq and Syria, pledging to send fighter jets to participate in the bombing of ISIS (and likely many civilians in the process).
But Canada's wars abroad came back home to Canada last week.
Though horrific, it should not be a complete surprise that Canada found itself hit by blowback last week, as two attacks on Canadian soil left two Canadian military members dead.