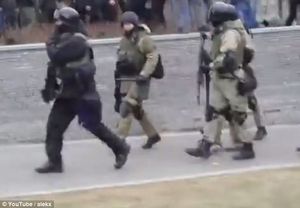 Unidentified armed men seen on the streets of Donetsk in east Ukraine
Russian diplomat claims 300 mercenaries had arrived in Kiev this week
Mercenaries in the region could give Putin pretext for military action
Donetsk has been the scene of big pro-Russian demonstrations this week
Speculation was growing last night that American mercenaries had been deployed to Donetsk after videos emerged of unidentified armed men in the streets of the eastern Ukrainian city.
At least two videos published on YouTube earlier this week show burly, heavily armed soldiers with no insignia in the city, which has been gripped by pro-Moscow protests.
In one of the videos onlookers can be heard shouting 'Blackwater! Blackwater!' as the armed men, who wear no insignia, jog through the streets.
Donetsk was this week the scene of civil unrest as pro-Russian elements among its citizens seized control of the regional administration headquarters and another government building.
Yesterday thousands of people gathered in the city centre waving Russian flags and calling for a referendum to determine the status of the strategically important coal-mining region.
Both the videos which purport to show 'Blackwater' mercenaries in Donetsk were uploaded last Monday, with their descriptions written in Russian.