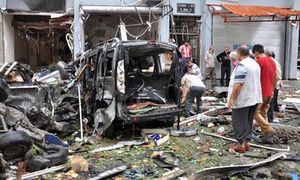 Since early 2011, Obama's been waging proxy war on Syria. Imported death squads masquerade as freedom fighters. The scheme's familiar. It repeats. It reflects US imperialism's dark side.
In the 1980s, CIA-recruited Mujahideen fighters battled Afghanistan's Soviet occupiers. Ronald Reagan called them "the moral equivalent of our founding fathers." He characterized Contra killers the same way.
Naked aggression is called humanitarian intervention. New wars follow earlier ones. Ravaging humanity is called liberation. Propaganda convinces people that America is threatened. Truth is turned on its head.
Syria is Washington's latest target. Plans haven't gone as expected. Ousting another government was supposed to be easy. US-enlisted terrorists are no match against Syria's military superiority.
Implementing Plan B looms. It could come any time. Obama's heading toward full-scale intervention. Pretexts are easy to create. Assad's been falsely blamed for numerous insurgent massacres. Evidence showed he had nothing to do with them.
More recently, he was unjustifiably accused of using chemical weapons. Insurgents used them several times. A previous article said Pentagon contractors trained them in their use. This is how imperial America operates.