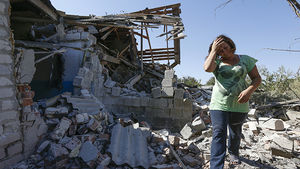 The Ukrainian parliament has approved a regulation removing the obligation to protect certain human rights in the eastern Donetsk and Lugansk regions.
An note accompanying the regulation states that the conduct of what Kiev calls"anti-terrorist operations" in the Donetsk and Lugansk regions is not in compliance with the country's obligations for the protection of human rights. The document, cited by Tass, also mentions an "objective necessity to take measures to repel armed aggression of the Russian Federation"prompting Ukraine"to implement a temporary derogation from its obligations to ensure certain human rights to the extent permitted by relevant international agreements."
Among the articles of the International Covenant on Civil and Political Rights and the European Convention on Human Rights the Ukrainian authorities can now refuse to fulfill in Eastern Ukraine are those stipulating the obligations to protect the security of citizens and their right to a fair trial, freedom of movement, choice of residence and guarantee the inviolability of people's homes.