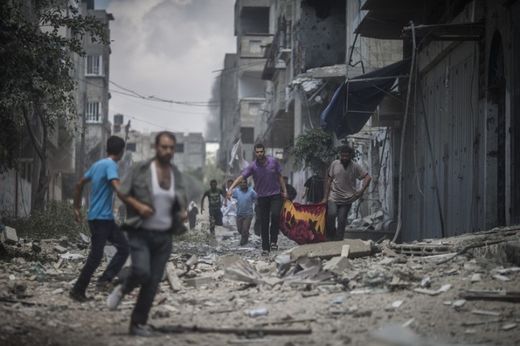 65-year-old Ahmed Suleiman Akram al-'Atawai and his 10-year-old grandchild Tala were running from Israel's onslaught on Shuja'iyya. As they fled, they were hit by Israeli artillery shells, and died.
They were among the
dozens of victims
Sunday, when Israeli forces pulverised the Gaza City district. Some, like Ahmed and Tala, were cut down in the streets; others were killed when shells hit their homes. A paramedic, killed as he attempted to rescue the wounded. The 'Ayad family, hit by a missile from an Israeli warplane, killing ten, including three children.
Palestinians
and
reporters
who visited the scene reported scenes of total devastation. An estimated 72 were killed Sunday in Shuja'iyya, including "
at least 17 children
". Amnesty International described the impact of "intense Israeli bombardment", with "more than 200" wounded as "
civilians were forced to flee under fire
". A man who went back to look for his family was shot dead by Israeli forces in front of human rights observers.
Médecins Sans Frontières (MSF) doctors working in Al Shifa hospital in Gaza City
reported that "women and children comprised most of the wounded"
arriving Sunday morning. Audrey Landmann, MSF medical coordinator in Gaza, said Israel's ground offensive has meant "indiscriminate" bombing, and noted that "those who die are civilians".
The shocking fact is that these dozens, hundreds, of personal horror stories are the result of deliberate decisions taken by the Israeli army.
On the day of the attack, IDF officers boasted that they were "
taking off the gloves
". Even as the ground offensive got underway late Thursday, Israeli tanks had "
received an order to open fire at anything that moved
".