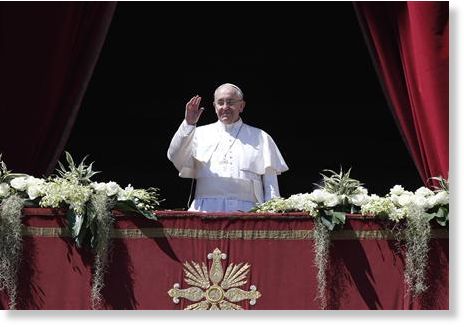 Pope Francis, in his Easter address before a huge crowd, on Sunday denounced the "immense wastefulness" in the world while many go hungry and called for an end to conflicts in Syria, Ukraine and Africa.
"We ask you, Lord Jesus, to put an end to all war and every conflict, whether great or small, ancient or recent," he said in his "Urbi et Orbi" (to the city and the world) message.
Francis, marking the second Easter season of his pontificate, celebrated a Mass to an overflowing crowd of at least 150,000 in St. Peter's Square and beyond.
The crowd stretched back along all of Via della Conciliazione, the boulevard between the Vatican and the Tiber River.
Speaking under a sunny sky after a midnight rainstorm soaked the tens of thousands of flowers that bedecked the square, Francis weaved his message around the suffering of people across the globe.