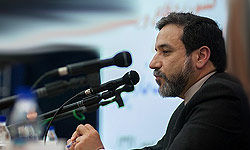 Senior Islamic Republic officials are still pursuing the case with the last year US accusations that Tehran aimed to assassinate the Saudi envoy to Washington in 2011.
"To us, he (Arbabsiar) is a US citizen with Iranian origin who has been victim of a plot in which suspicious foreign and Zionist elements are involved," Iranian Foreign Ministry Spokesman Seyed Abbas Araqchi said in Tehran on Tuesday.
He said that there are many doubts and questions on the judicial process in which Arbabsiar was tried in the US, and said, "Anyway, we pursue the developments related to his case closely."
The Iranian government has denied any connection to Manssor Arbabsiar, the man arrested in the alleged plot to assassinate the Saudi envoy to Washington, and derided the claims, saying US officials have offered no proof. Arbabsiar is a 56-year-old naturalized US citizen who also had an Iranian passport.