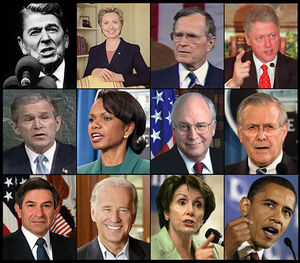 America's neoconservatives, by stirring up trouble in the Middle East and Eastern Europe, are creating risks for the world's economy that are surfacing now in the turbulent stock markets, threatening another global recession, writes Robert Parry.
If you're nervously watching the stock market gyrations and worrying about your declining portfolio or pension fund, part of the blame should go to America's neocons who continue to be masters of chaos, endangering the world's economy by instigating geopolitical confrontations in the Middle East and Eastern Europe.
Of course, there are other factors pushing Europe's economy to the brink of a triple-dip recession and threatening to stop America's fragile recovery, too. But
the neocons' "regime change" strategies, which have unleashed violence and confrontations across Iraq, Syria, Libya, Iran and most recently Ukraine, have added to the economic uncertainty.