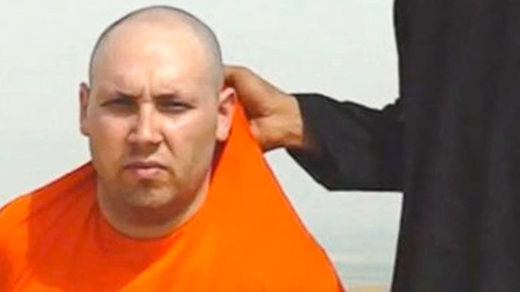 A new video has been posted on the internet purported to show Islamic State militants beheading American journalist Steven Sotloff.
The Associated Press and the SITE Intel Group, an organization that tracks the online activity of terrorist groups, both reported on Tuesday that the Islamic State has posted a video of the execution barely two weeks after the group formerly known as ISIS published a similar clip of American photojournalist James Foley suffering the same fate.
"
I'm back, Obama, and I'm back because of your arrogant foreign policy towards the Islamic State,
"
a masked militant believed to be the same who executed Foley addresses the president in the latest video.
Kneeling in an orange jump suit, Sotloff is seen in the clip reading a statement to the president as Foley did before him.
"
Obama, your foreign policy of intervention in Iraq was supposed to be for preservation of American lives and interests, so why is it that I am paying the price of your interference with my life?
"
Sotloff asks.
"
As your missiles continue to strike our people, our knife will continue to strike necks of your people," the masked man says before killing Sotloff. Another captured civilian - David Cawthorne Haines of the UK - will be the next murdered unless
"
this evil alliance of America against the Islamic State
"
ends, militants warn in the video.