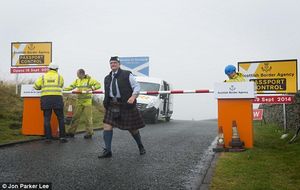 I heard of a possible unilateral declaration of Scottish Independence from the late Robin Cook MP in 1983 at the Labour Party Conference in Perth City Hall. I asked Robin about Labour's prospects at the election. We will win Scotland, we agreed but it looked like another Thatcher victory due to English dominance of seat numbers.
He then said 'How can we let the Scottish people suffer another Tory government hell-bent on union destruction and driving down living standards? I am seriously considering leading all Scottish Labour MP's over the burning bridge to join with the SNP and declare UDI'.
Robin Cook contemplated UDI but clearly forces within the Scottish party stopped him. Labour has tended to make the mistake of equating their own jobs-worth interests in Scotland as the national interest of the Scottish people and by 1983 Gordon Brown had forgotten his statement of principle in the Red Book for Scotland that if the Union of 1707 stopped serving the interests of the working people of Scotland it should end. Labour do not serve the interests of the people of Scotland otherwise they would acknowledge that there has never been equality between England and Scotland since the Union of 1707. As the McCrone reports of 1974 and 1975 show all the cream of profit from North Sea Oil has been taken from Scotland and spent on England, with projects such as upgrading the north and south circular road in London, the M25 and the Channel Tunnel also paid for from the 'bonanza' of NSO. Economically, Scotland has been robbed and impoverished by subsequent Westminster governments.