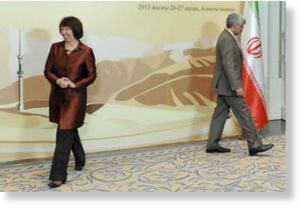 In the past half-century, earthquakes have directly contributed to the overthrow of at least two authoritarian regimes in Nicaragua and Iran. By exposing government corruption and incompetency, earthquakes wield the ability to inflict political damage to the world's most ironclad regimes with a level of potency matched only by their unpredictability. As EU foreign policy chief
Catherine Ashton
and Iran's chief negotiator
Saeed Jalili
meet in Turkey today to continue working toward an agreement on Iran's nuclear program, the Iranian leadership should heed history's warning: No nuclear program can save a regime from a toppling earthquake.
In 1972, a powerful earthquake devastated Nicaragua's capital, Managua, setting off a chain reaction of public discontent that eventually led to the ousting of the notoriously corrupt Somoza dynasty. For the Nicaraguan people, President Somoza's squandering of international emergency aid following the earthquake was the last straw in a series of blatantly corrupt moves that showed little regard for their wellbeing.
The second instance occurred in September 1978 in Iran, when a 7.7 magnitude earthquake killed more than 26,000 near the eastern city of Tabas. The dismal response of the equally corrupt shah pushed Iran's already bubbling popular uprising to a boiling point, one month after the CIA made its historically erroneous assessment that the country was "not in a revolutionary or even pre-revolutionary situation."
As the Somozas and the shah can attest from their resting place in history's dustbin, earthquakes are much more than nature's most destructive physical force.