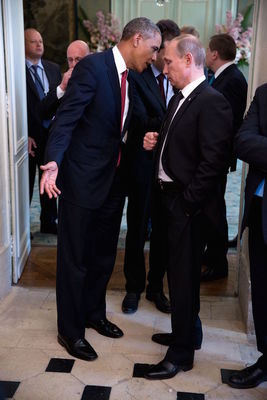 The intensity of the Ukrainian conflict continues to rise. There's a non-stop flow of statements by high-level U.S. government officials suggesting Russia is the top threat to American national security
or portraying Vladimir Putin as Saddam Hussein, Moammar Gadhafi and Osama bin Laden all rolled into one. (Some like Hillary Clinton also add Hitler to this pack.)
And Russian bombers buzz American airspace with growing frequency.
For those of us who lived through the hardships of the Cold War, there is an uneasy feeling that the United States and Russia are quickly edging towards direct military confrontation.
This is why it is important to make brief historical excursion into the not-so-distant past.
Those who witnessed - and especially those who helped bring about - the momentous changes in the Soviet Union in the late 1980s and in
Russia
in the early 1990s, remember only too well the overwhelming euphoria of those times.
The dark years of totalitarian communism were receding into the past, and the Russian people were ready and eager to join the great family of Western civilization and enjoy its basic values like human rights, the rule of law, democracy, freedom, a market economy and other real
or imaginary
benefits associated with them.
That was the time when fresh from the yoke of communism, the Russians were eager to embrace all of these ideals,
and confidently expected them to materialize with the help, first and foremost, of the United States
.