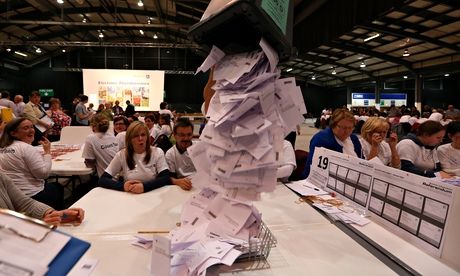 Russia has said the conduct of the Scottish referendum
"did not meet international standards"
, with its observers complaining the count took place in rooms that were too big and that the procedure was badly flawed.
In an apparent attempt to mirror persistent western criticism of Russia's own elections, Igor Borisov - an accredited observer - said the poll failed to meet basic international norms.
Borisov and three other Russians arrived in Edinburgh on Wednesday evening,
the state news agency Ria Novosti reported.
The team from Moscow's Public Institute of Suffrage watched voting take place in the Scottish capital and the surrounding area. It also met with Scottish politicians, voters and representatives from non-governmental organisations, Ria said.
Borisov said he was unimpressed by what he saw.
He said the room where he watched the count on Thursday night was a cavernous "aircraft hangar" next to an airfield. It was difficult to see what was going on, he said, adding: "The hangar is approximately 100m by 300m. There are tables, with voting papers stacked upon them, but the observers are stuck around the perimeter. Even if you want to, it's impossible to tell what's happening. It's also unclear where the boxes with ballot papers come from.
"