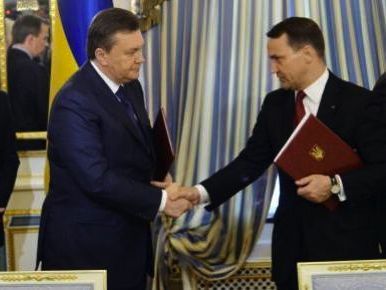 Lies have shorter and shorter legs. Two months after the change of regime in Kiev, the Polish press has disclosed the role of Donald Tusk's government in preparing the coup. The new revelations belie Western discourse and demonstrate that the current interim government of Oleksandr Tourtchynov was imposed by NATO in violation of international law.
This article is based on information obtained by the Polish opposition. I erroneously cited as my source the satirical weekly Nie, which published a pastiche mixing truths and non-truths. The data it provides needs to be verified.
In any case, the matter concerning the training of Pravy Sector members has in the meantime been brought before the Attorney General of Poland.
Thierry Meyssan, April 22, 2014.
The Polish left-wing weekly
Nie
(No) published a startling witness account of the training given to the most violent of the EuroMaidan [
1
] activists.
According to this source, in September 2013, Polish Foreign Minister Radosław Sikorski invited 86 members of the Right Sector (Sector Pravy), allegedly in the context of a university exchange program. In reality, the guests were not students, and many were over 40. Contrary to their official schedule, they did not go to the Warsaw University of Technology, but headed instead for the police training center in Legionowo, an hour's drive from the capital. There, they received four weeks of intensive training in crowd management, person recognition, combat tactics, command skills, behavior in crisis situations, protection against gases used by police, erecting barricades, and especially shooting, including the handling of sniper rifles.