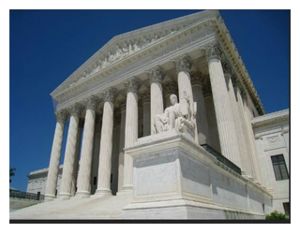 U.S. pundits decry countries like
Iran
as undemocratic for having a screening process for candidates to high office. But U.S. politicians must pass muster with wealthy donors to be considered serious candidates, a system that the Supreme Court just made worse.
On April 2, the U.S. Supreme took
another step
toward the destruction of campaign finance reform with a five-to-four decision known as
McCutcheon v. Federal Elections Commission
.
One gets the feeling that this is part of a general campaign, waged by class-biased, ideologically committed conservatives, against government regulation, which they see as somehow a violation of their constitutional rights. As if to suggest that this is so, the Court majority rationalized its decision in the name of "free speech."
What does this ruling do? First, the ruling removes limitations on overall campaign donations given in an election cycle. The wealthy can now sit down and write checks to unlimited numbers of candidates and political organizations and thereby make themselves indispensable in an electoral process dependent on the raising of large sums, particularly for television advertising.