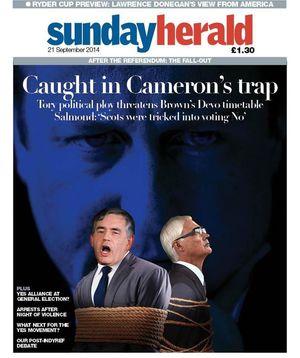 London politicians gulled Scottish voters out of independence by making a false "vow" to grant Glasgow extra powers, First Minister Alex Salmond has said. He also raised the prospect of another referendum, saying the break-up is inevitable.
Alex Salmond, leader of the 'Yes' campaign and the outgoing head of the Scottish National Party (SNP), told the BBC's Sunday Politics program that the UK government won last Thursday's referendum vote by 55-45 percent by deceiving the people ahead the referendum and promising to rapidly expand Scottish autonomy.
"I think
the vow was something cooked up in desperation for the last few days of the campaign
and I think everyone in Scotland now realizes that," said Salmond.
"
It is the people who were persuaded to vote no, who were misled, who were gulled, who were tricked effectively
," he added. "
They are the ones who are really angry
."