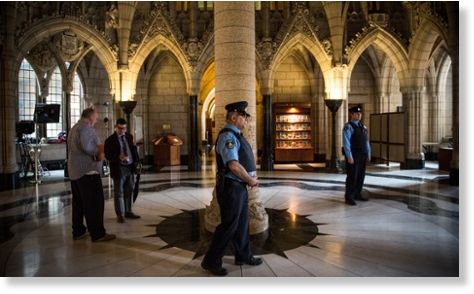 Prime minister Stephen Harper says he plans to strengthen counter-terrorism efforts as parliament returns day after shooting
The Canadian government indicated on Thursday that it intends to speed up proposals to toughen the country's anti-terror laws in the wake of the
attack on parliament in Ottawa
, including a measure that would allow "preventative detention".
As the House of Commons opened to rapturous applause for the sergeant-at-arms, the
ceremonial security chief who prevented further tragedy
by apparently killing the perpetrator of Wednesday's brazen assault, prime minister Stephen Harper indicated that his government was resolved to toughen the country's security legislation.
The governing Conservatives have made no secret of their plan to
install new anti-terror powers
, giving the Canadian Security Intelligence Service (CSIS) more powers to track, investigative and detain would-be homegrown terrorists. Harper promised the proposals would be brought forward.
Comment:
Here we see the true purpose for the
likely false-flag attack
that occurred in Ottawa. Harper previously had no good reason to remove freedoms and introduce "anti-terror" legislation. This attack gives him just the opportunity to do so, and he hasn't wasted any time.
"They need to be much strengthened, and I assure you, Mr Speaker, that work which is already under way will be expedited," Mr Harper said.
Details of those new powers have yet to be released, but justice minister Peter MacKay indicated to reporters that they will include measures to allow the preventive detention of suspected would-be terrorists.
"We're examining all those sections of the criminal code, and all measures under the law that will allow us, in some instances, to take pre-emptive measures," he said.

Comment: How long before Canadians are being detained for being friends with the wrong person, or saying the wrong thing online? If Canadians are willing to give up a little liberty for security, they will receive neither.