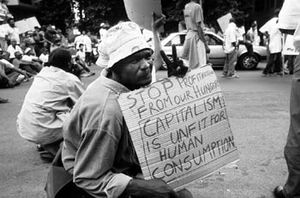 On Saturday night, I found myself at a party honouring Nelson Mandela and raising money for his children's fund (I'm still trying to figure out how I ended there). It was a lovely affair and only a very rude person would have pointed out that the party was packed with many of the banking and mining executives who refused to pull their investments out of apartheid-run South Africa for decades.
Mr. Mandela was in Canada this week to receive the highest honour my country has to offer: he was the second person in our history to be made an honorary citizen. So only someone with no sense of timing would have mentioned that, as the Liberal government was honouring Mr. Mandela, it is ramming through an anti-terrorism bill that would have sabotaged the anti-apartheid movement on several fronts had it been in place at the time. (Many other countries are passing similar laws.)
The anti-apartheid movement here in Canada and elsewhere actively raised money for the African National Congress, which would easily have fit most anti-terrorism bills' sloppy definitions of a terrorist organization. Furthermore, anti-apartheid activists deliberately caused "serious disruption" to the activities of companies invested in South Africa, eventually forcing many to pull out. These disruptions would also have been illegal under most proposed anti-terrorism laws.