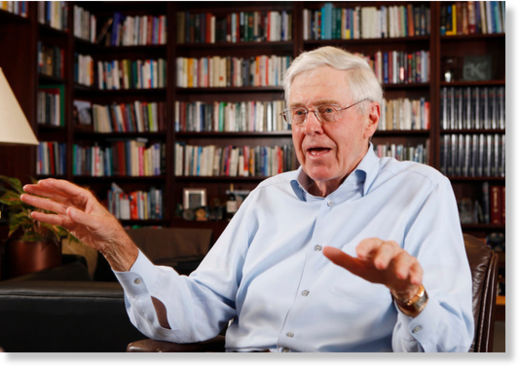 The political network overseen by the conservative billionaires Charles G. and David H. Koch plans to spend close to $900 million on the 2016 campaign, an unparalleled effort by coordinated outside groups to shape a presidential election that is already on track to be the most expensive in history.
The spending goal, revealed Monday at the Kochs' annual winter donor retreat near Palm Springs, Calif., would allow their political organization to operate at the same financial scale as the Democratic and Republican Parties. It would require a significant financial commitment from the Kochs and roughly 300 other donors they have recruited over the years, and covers both the presidential and congressional races.
In the last presidential election, the Republican National Committee and the party's two congressional campaign committees spent a total of $657 million.
Hundreds of conservative donors recruited by the Kochs gathered over the weekend for three days of issue seminars, strategy sessions and mingling with rising elected officials.
These donors represent the largest concentration of political money outside the party establishment, one that has achieved enormous power in Republican circles in recent years.
Comment:
The money and power of the Koch brothers has been welded previously to buy politicians and influence political policy: