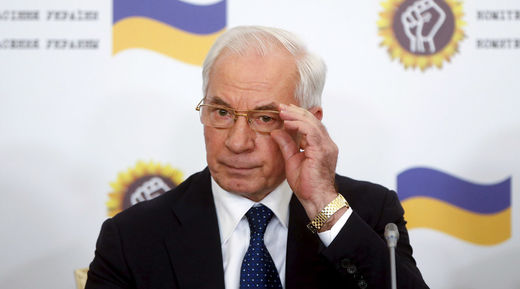 Bloody clashes near the Ukrainian parliament in Kiev are no different from other violent skirmishes which became commonplace under the new regime, former PM Nikolai Azarov told RT, also criticizing constitutional amendments as having nothing to do with real decentralization.
"The developments near the Verkhovna Rada [Ukrainian parliament] show that
Ukraine has eventually plunged into a state of permanent chaos
, accompanied by 'absolutely natural' - from the participants' point of view - event," Azarov said.
"The extremist who threw the grenade at policemen is a participant of the so-called anti-terrorist operation [Kiev's military operation in Donbass region].
Just imagine what he had been doing in eastern Ukraine
," he added.

Comment: Indeed. But isn't it convenient that this crazy serves to make Poroshenko look like he actually gives a damn about the Minsk agreements? He doesn't. All he has to do is appear to follow some of them, even though he never quite actually does so (e.g., the latest 'law' that doesn't actually give Donbass any independence, or the 'weapons withdrawal' that saw more weapons sent to the front). Then the Ukrainian nazis throw a hissy fit, and Poroshenko can say, "See? My hands are tied! It's either me or the nazis!" Nice choice: full nazi or nazi 'lite'.


While some Western countries condemned the violence in Kiev, Azarov wondered
why they turned a blind eye to similar events last year
. He was referring to the Maidan uprising and subsequent violent coup in February 2014, which brought down the previous president and government.
Monday's events were, according to the former prime minister, a logical result of the West's policies.