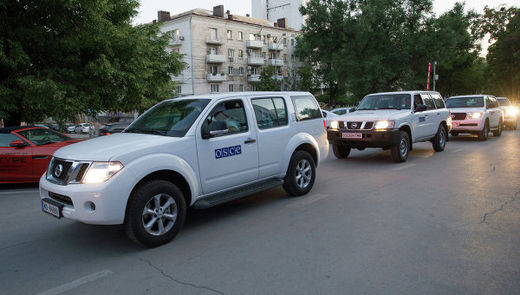 A group of OSCE observers will start round-the-clock monitoring of Russia's Gukovo and Donetsk crossing points on the border with Ukraine on Wednesday, the mission's head Paul Picard said at the
meeting
with the Rostov's regional authorities.
"Our mission is to observe the activity at two border crossing points, namely the border crossing point of Gukovo and the border crossing point. This is what we will be starting from today," Picard said, stressing that the work as the decision was made only last Thursday.
Picard added that the observers would be divided into small groups that will be constantly present at the
checkpoints
. Picard also said that the mission would assess the transfer of people across the border, as well as the events happening there. The mission will stay in the region for at least three months.
Rostov Region's Deputy Governor Vadim Artyomov told the members of the mission that during the conflict in Donbas region, Rostov came under fire from Ukraine 16 times and that 208 Ukrainians are in the region's hospitals.
"Over this year, more than 250,000 people arrived from Ukraine, 41,000 of them are accommodated in Rostov region, including 13,000
children
," Artyomov said.