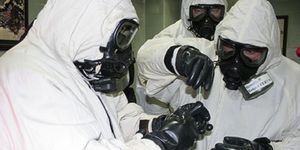 In yet another curious coincidence surrounding the recent Ebola crisis, it appears that FEMA has been preparing for the appearance of a pandemic of deadly disease in the near future all along.
As part of the
FEMA Pandemic Exercise Series: PANDEMIC ACCORD: 2013-14 Pandemic Influenza Continuity Exercise Strategy
, the Sifma.org website states that,
The Federal Executive Boards in New York City and Northern New Jersey in partnership with FEMA Region II, The Department of Health and Human Services Region II, NYC Department of Health and Mental Hygiene, Securities Industry and Financial Markets Association (SIFMA) and the Clearing House Association are sponsoring a two year series of pandemic influenza continuity exercises - tabletop exercise 2013 (complete), full scale exercise 2014 - to increase readiness for a pandemic event amongst Federal Executive Departments and Agencies, US Court, State, tribal, local jurisdictional and private sector continuity.
The exercise, having been underway since 2013 is scheduled to continue to December 4th 2014. The exercise will involve eight scheduled events and/or webinars which will discuss questions surrounding continuity of operations for essential services, transportation impacts, disruption in communications and internet connectivity, disruptions to power sources and other related possible damages to the normal function of societal life. The exercises also deal with the aftermath of the pandemic including "coping with the deaths of multiple coworkers/loved ones," "replacing staff," and "replacing personal protective equipment for a potential next wave."