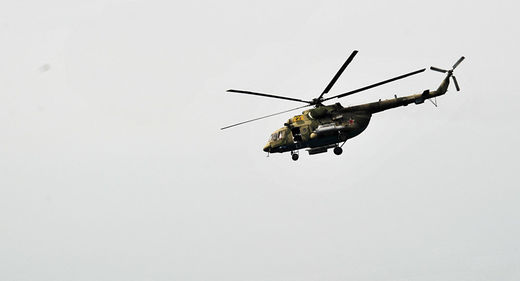 A Russian Mi-8 helicopter came under attack while conducting a search and rescue operation, searching for the crew of the downed Su-24 in Syria.
One naval infantry soldier was reported killed, the helicopter destroyed by mortar fire.
The Russian General Staff said that two Mi-8s were involved in the operation to save the crew of the downed Su-24.
One helicopter was been shot down, its crew evacuated to the Russian base at Hmeymim.
"A search and rescue operation involving two Mi-8 helicopters was carried out, charged with evacuating the pilots from the landing site. During the operation, as a result of small-arms fire, one of the helicopters was damaged, and forced to make a landing on neutral territory. One naval infantry soldier was killed," Lieutenant-General Sergei Rudskoi, the head of the Main Operations Directorate of the General Staff of the Russian Armed Forces, told reporters on Tuesday.