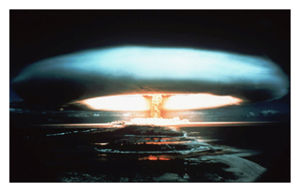 "The threat is serious, the time short. The Bulletin of the Atomic Scientists does not move the hands of the Doomsday Clock for light or transient reasons. The clock ticks now at just three minutes to midnight because international leaders are failing to perform their most important duty - ensuring and preserving the health and vitality of human civilization." (Bulletin of the Atomic Scientists, January 2015.)
When Barack Hussein Obama was presented with the Nobel Peace Prize on 10
th
December 2009, just eight months in to his Presidency, the motivation was: " for his extraordinary efforts to strengthen international diplomacy and co-operation between peoples."
The Nobel Committee: " ... attached special importance to Obama's vision of and work for a world without nuclear weapons ... as President he (had) created a new climate in international politics."
"Only very rarely has a person to the same extent as Obama captured the world's attention and given its people hope for a better future."
In his presentation speech, Nobel Committee Chairman, Thorbjørn Jagland said that Obama had, from the first moments of his Presidency strived against confrontation and had already: "lowered the temperature in the world."
In his acceptance speech the President Obama stated that: "Our actions matter, and can bend history in the direction of justice."
He was also committed to: "upholding the (Strategic Arms Reduction Treaty.) It is a centerpiece of my foreign policy. And I'm working with President Medvedev to reduce America and Russia's nuclear stockpiles."
In conclusion, to applause, he appealed: "Let us reach for the world that ought to be - that spark of the divine that still stirs within each of our souls."
Since then the myriad mass graves of America's victims have become silent witness to the hypocrisy and insincerity of his address at Oslo City Hall
on the 113th Anniversary of Alfred Nobel's death in acceptance of an Award which Nobel's will had specified should be presented: " ... to the person who shall have done the most or the best work for fraternity between nations, for the abolition or reduction of standing armies and for the holding and promotion of peace congresses."