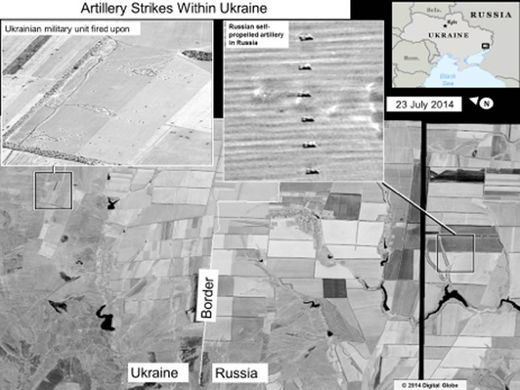 Satellite images released by the US allegedly "proving" that Russia fired rockets at Ukrainian troops across the border cannot be considered evidence, according to a Russian MP.
The imagery was
released via email
, along with a four-page document titled 'Evidence of Russian Shelling into Ukraine.' Four satellite images were included, all dating between July 21 and July 25/26.
They were all
posted on Twitter
by the US ambassador to Ukraine, Geoffrey Pyatt, on Sunday.
The US "lies about obvious things," said Franz Klintsevich, deputy chairman of the State Duma Defense Committee, as quoted by RIA Novosti.
He stated that the satellite images are not enough to point fingers at Russia and accuse it of shelling Ukraine. In order to confirm such claims,
the data must be backed by other sources as well
.
"The American dialogue today is simply unsubstantiated," Klintsevich said, adding that he is not aware of Russia firing from its own territory into Ukraine.