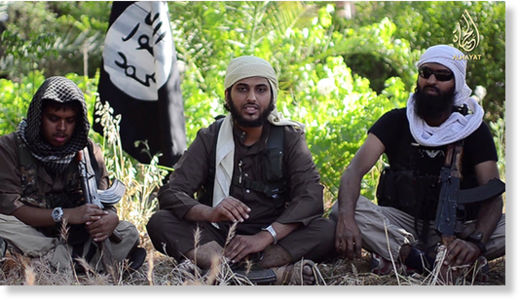 British extremists are among the "most vicious and vociferous fighters" in the Islamic State ranks, a jihadism expert says. This comes as a brutal video emerged in which an IS fighter with a British accent beheads a US journalist.
Shiraz Maher, a senior research fellow at the International Centre for the Study of Radicalisation (ICSR) at King's College London, said in an interview on BBC Radio 4's Today program that British fighters had been operating as suicide bombers and executioners.
"Foreign fighters going out to Syria are not going out there to be backseat riders. They are going out to be full participants in the war, to be at the forefront of the conflict," he said.
Maher said he and his colleagues are going through databases of fighters in Syria, trying to identify the executioner, who he believes is British.
UK Prime Minister David Cameron canceled his vacation and returned to Downing Street on Wednesday in light of the video and reports that the IS (formerly ISIS/ISIL) fighter in the video could be a British national.
"He will meet with the foreign secretary and senior officials from the Home Office, Foreign Office and the agencies to discuss the situation in Iraq and Syria and the threat posed by ISIL terrorists," a spokesperson said.
If true, the murder of James Foley is shocking and depraved. I will today chair meetings on the situation in Iraq/Syria.

- David Cameron (@David_Cameron) August 20, 2014
Over the weekend, the PM wrote in the
Sunday Times
that if the UK did not act to "stem the onslaught of this exceptionally dangerous terrorist movement, it will only grow stronger until it can target us on the streets of Britain." He added that, "We already know that it has the murderous intent."