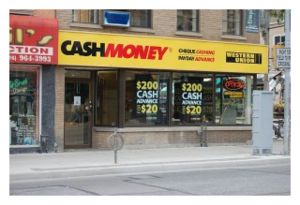 Would you take out a loan that has an annual percentage rate of 391 percent? Yes, I know that sounds absolutely crazy, but millions of Americans do it every single year. The typical payday loan requires borrowers to pay about 15 dollars for every $100 that they borrow for two weeks. That comes out to a yearly rate of about
391 percent
. And the payday loan companies know exactly who to target.
They have set up thousands of shops in the poorest communities all over the nation over the last several decades. Each year, approximately 12 million Americans take out payday loans and they pay approximately
7.4 billion dollars
in interest and fees on those loans. Sadly, once you get hooked on payday loans they are very hard to stop. In fact, one study found that only
13 percent
of payday borrowers get two loans or less per year.
All other borrowers take out more loans than that. In fact, more than a third of all payday borrowers take out between 11 and 19 loans during the course of a single year. And as was mentioned earlier, the interest rates on these loans are beyond exorbitant. Payday loans are estimated to be about
20 times more expensive
than bank loans, with annual interest rates that are sometimes as high as
500 percent
.
The payday loan companies circle the poor like vultures, because they know that the poor are the only ones desperate enough to agree to such terms. This is why we need to shut them down. The payday loan companies are making billions preying on the misery of the poor and it needs to be stopped.