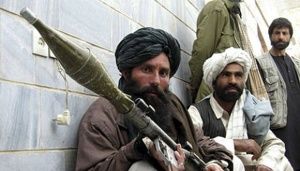 A few days ago, Brussels served notice that NATO refuses to cooperate with Russia on Afghanistan. Furthermore, the alliance is shunting aside any opportunity to return to the level of cooperation with Russia that it had before.
The causes are obvious. The deep divisions concerning the matters of Syria and Ukraine have brought about a freeze. Regardless of that, however, the NATO demarche is not promoting regional stability. On the contrary, it fits with the view of many experts that
NATO is deliberately trying to surround Russia's southern flank in an arc of instability.
The United States has decided to begin a new war on international terrorism in Iraq, Syria, Afghanistan and parts of Pakistan. At the NATO summit in Wales, the American plan received the full support of the alliance. The primary enemy in this war is the terrorist group called the Islamic State.
Incidentally, they're the rebels Washington nurtured, the ones who got military aid and were trained by American instructors in Turkey and the Gulf countries.
Having firmly established their presence, they are now freewheeling independent operators marching to the beat of their own drum. Now Washington is fighting against them.
"The United States underestimated the religious motivations of the rebels," Alexander Sobianin, the director of strategic planning at the Association for Cross-Border Cooperation, said in an interview with the author. "The special forces of the Gulf states, which invested far less in these groups than the United States did, could have redirected their objectives very quickly. The outcome left even cynical American intelligence services in a state of shock: videotaped beheadings of dozens of Americans and Europeans, the mass rape of women and children... The actions of Islamists in the broader Middle East, including Afghanistan, have become a direct threat to the strategic interests of the United States."
But characteristic is the fact that when Syrian President Bashar Assad consented to the bombing of the "caliphate's" positions in Syria, Turkey, which had previously taken great pains to distance itself from its NATO allies and their anti-terrorism operations, sprang back to life instantaneously. Taking advantage of the extremely complex Kurdish refugee situation, Ankara needed little time to decide that Turkish troops could be inserted into Syria. Turkey was acting on the Syrian Kurds' request for help and safety in response to the Islamists' capture of the tomb of Shah Suleyman, who was the grandfather of Osman I, the founder of the Ottoman Empire. This Syrian exclave is considered Turkish soil. Damascus, naturally, is dead-set against the Turkish course of action.
It is becoming clear to everyone that the so-called "anti-terrorist operation" is just another attempt to overthrow the Assad government.