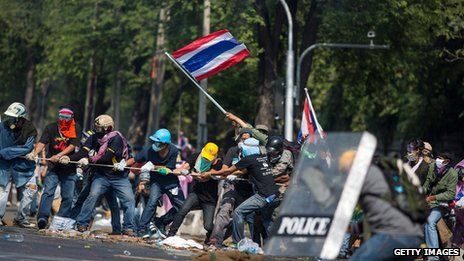 Thai Prime Minister Yingluck Shinawatra has rejected protesters' demands that she step down, amid ongoing clashes in Bangkok.
Ms Yingluck said the demands were not possible under the constitution, but that she remained open to talks.
More clashes broke out on Monday as protesters tried to storm the prime minister's office, Government House.
Four people have died in Thailand's worst political turmoil since the 2010 rallies that ended in violence.
"Anything I can do to make people happy, I am willing to do... but as prime minister, what I can do must be under the constitution," Ms Yingluck said in a televised address.
Anti-government demonstrators have been calling on Ms Yingluck to step down, with protest leader and former opposition politician Suthep Thaugsuban saying on Sunday that Ms Yingluck should resign within the next "two days".