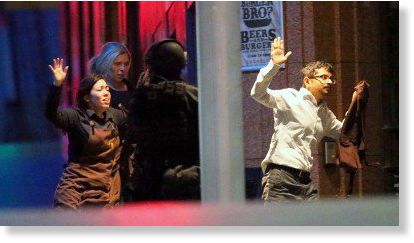 In the aftermath of yet another highly publicized terror attack (or at least the potential for a high profile attack) in Australia by foreign-born jihadists, the Western public is once again experiencing a variety of emotional reactions that they have carefully been trained to experience whenever such events take place at home or abroad.
The xenophobic pro-war right is predictably using the attack as an example of how all Muslims are terrorists and how their total annihilation and implementation of police state tactics are the only solution. The pathetic left-wing is attempting to portray the gunman as a "lone nut" with no political motives as a justification for more "anti-terror" laws. The vast majority in the middle, however, believe the official mainstream version of events, quake in their boots, and move on to the next form of entertainment provided to them by the culture creators without a second thought.
Yet, as is almost always the case, there is much more to the story than is being reported by mainstream outlets. There exists a number of unanswered questions and unexplained inconsistencies with the story of "Man Haron Monis" and his hostage taking escapade in Sydney.