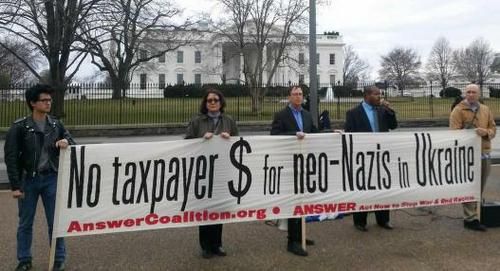 Here is some
detailed background information
on the Ukrainian neo-fascists and
a good overall write-up on the situation
. Eight neo-fascists now hold ministerial posts within the new, US-supported Ukrainian government. The following quote illustrates their ideology:
To create a truly Ukrainian Ukraine in the cities of the East and South, only one lustration will not be enough, we will need to cancel parliamentarism, ban all political parties, nationalize the entire industry, all media, prohibit the importation of any literature to Ukraine from Russia... completely replace the leaders of the civil service, education management, military (especially in the East), physically liquidate all Russian-speaking intellectuals and all Ukrainophobes... execute all members of the anti-Ukrainian political parties...
It's hard to tell how far they'll get with this ambitious program, but they've already outlawed the use of Russian language and are busy shutting out Russian television. Book-burnings may be next. To understand what this means, consider the following:
The population in the core Russian-speaking regions of Ukraine outnumbers the population in the core Ukrainian-speaking regions by almost two to one. Of the country's ten largest cities, only one, Lviv, is predominantly Ukrainian-speaking. Russian is, by a wide margin, the language of choice in education, commerce, and entertainment. A 2012 study found that over 60% of newspapers, 83% of journals and 87% of books, and 72% of television programs in Ukraine are still in Russian. Even more troubling, from the western Ukrainian perspective, is that the internet has only reinforced this cultural dominance. Russian is by far the preferred language on web sites in Ukraine (80.1%), followed by English (10.1%), then Ukrainian (9.5%), while the Russian version of Wikipedia remains five times more popular in Ukraine than the Ukrainian one. [source]
By banning Russian, Ukraine is effectively lobotomizing itself.