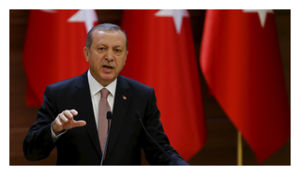 In the space of a few hours, Turkish President Recep Tayyip Erdogan went from running scared to defiant belligerence over the shooting down of the Russian fighter jet. It would appear that someone had a stiff word in his ear.
Tough-talking Turkish President? No. More like somebody's message boy.
When the news first broke on Tuesday that Turkish F-16s had downed a Russian Su-24 bomber near the Syrian border, the Erdogan government in Ankara immediately called for an emergency NATO summit.
Ankara rushed to explain that it was the party that had incurred an act of aggression from Russia. Erdogan was running scared because the facts were such that it was the Turks who had actually carried out an act of aggression against Russia, not the other way around.
And they knew it.
Suspiciously, Ankara did not contact Moscow about the incident, which would have seemed a normal thing to do
in the aftermath of a serious incident in which a Russian aircrew was forced to eject and one of the pilots was subsequently killed.
Recall that Turkey claimed that it did not know the identity of the Russian warplane as it allegedly approached Turkish airspace. So if, as it turned out, the Turks shot down a Russian jet in a rapid encounter of uncertainty about its "national security", then why didn't Ankara make subsequent attempts to resolve the matter with the Russians as an urgent matter when the circumstances soon became clear? That would have been the expected behavior if the incident was simply an unfortunate, unforeseen confrontation.
Again, the inference is that Ankara knew full well that it was committing a sinister deed.