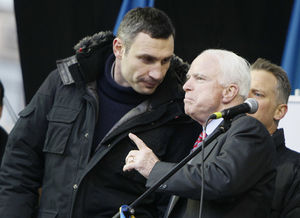 In Ukraine, the West supported an unconstitutional putsch against an elected government perpetrated, among others, by fascist/neo-nazi storm troopers (Svoboda, Right Sector) instrumentalized by US intelligence. After a Russian counterpunch, US President Barack Obama proclaimed that any referendum in Crimea would "violate the Ukrainian constitution and violate international law."
This is just the latest instance in the serial rape of "international law". The rap sheet is humongous, including; NATO bombing Serbia for 78 days in 1999 to allow Kosovo to secede; the 2003 US invasion and subsequent trillion-dollar occupation and civil war creation in Iraq; NATO/AFRICOM bombing Libya in 2011 invoking R2P ("responsibility to protect") as a cover to provoking regime change; US investment in the secession of oil-wealthy South Sudan, so China has to deal with an extra geopolitical headache; and US investment in perennial civil war in Syria.
Yet Moscow still (foolishly?) believes international law should be respected - presenting to the UN Security Council classified information on all Western intel/psy-ops moves leading to the coup in Kiev, including "training" provided by Poland and Lithuania, not to mention Turkish intelligence involvement in setting up a second coup in Crimea. Russian diplomats called for an unbiased international investigation. That will never happen; Washington's narrative would be completely debunked. Thus a US veto at the UN.
Russian Foreign Minister Sergei Lavrov also called for the Organization for Security and Co-operation in Europe to objectively investigate those snipers shooting everyone on sight in Kiev, as revealed by Estonia's foreign minister to EU foreign policy supremo Catherine "I love Yats" Ashton. According to Russia's ambassador to the UN Vitaly Churkin, "a completely different picture would be drawn compared to what is being depicted by American media and, unfortunately, by some American and European politicians." Needless to say, there will be no investigation.