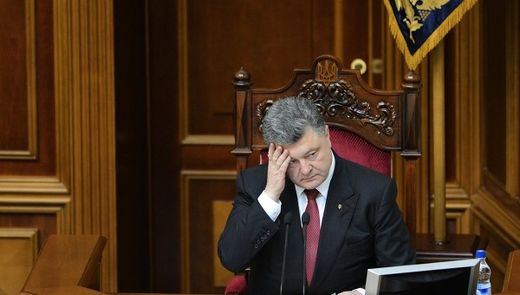 Ukraine's President Petro Poroshenko requests the supreme court of Ukraine to declare that his predecessor, Viktor Yanukovych, was overthrown by an illegal operation; in other words, that the post-Yanukovych government, including Poroshenko's own Presidency, came into power from a coup, not from something democratic, not from any authentic constitutional process at all.
In a remarkable
document
, which is not posted at the English version of the
website of the Constitutional Court of Ukraine,
but which is widely
reported
outside the United States,
including Russia,
Poroshenko, in Ukrainian (not in English), has petitioned the Constitutional Court of Ukraine (as it is being widely quoted in English):
"I ask the court to acknowledge that the law 'on the removal of the presidential title from Viktor Yanukovych' as unconstitutional."
I had
previously reported
, and here will excerpt, Poroshenko's having himself admitted prior to 26 February 2014, to the EU's investigator, and right after the February 22nd overthrow of Yanukovych, that the overthrow was a coup, and that it was even a false-flag operation, in which the snipers, who were dressed as if they were Ukrainian Security Bureau troops, were actually not, and that, as the EU's investigator put his finding to the EU's chief of foreign affairs Catherine Ashton [and with my explanatory annotations here]:
"the same oligarch [Poroshenko — and so when he became President he already knew this] told that well, all the evidence shows that the people who were killed by snipers, from both sides, among policemen and people from the streets, [this will shock Ashton, who had just said that Yanukovych had masterminded the killings] that they were the same snipers, killing people from both sides [so, Poroshenko himself knows that his regime is based on a false-flag U.S.-controlled coup d'etat against his predecessor]. ... Behind the snipers, it was not Yanukovych, but it was somebody from the new coalition."