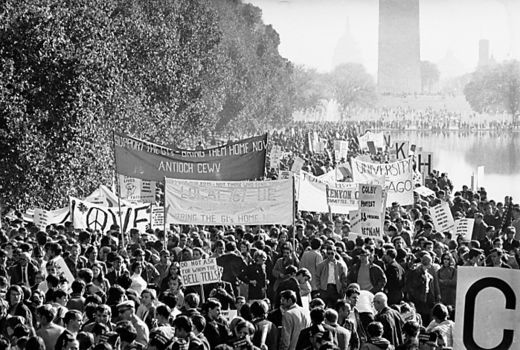 I.F. Stone, the urge to serve, and remembrance of wars past
Well, it's one, two, three, look at that amputee,
At least it's below the knee,
Could have been worse, you see.
Well, it's true your kids look at you differently,
But you came in an ambulance instead of a hearse,
That's the phrase of the trade,
It could have been worse.

-- First verse of a Vietnam-era song written by U.S. Air Force medic Bob Boardman off Country Joe McDonald's "I-Feel-Like-I'm-Fixin'-to-Die Rag"
There was the old American lefty paper, the
Guardian
, and the
Village Voice,
which beat the Sixties into the world, and its later imitators like the
Boston Phoenix
. There was
Liberation News Service
, the
Rat
in New York, the
Great Speckled Bird
in Atlanta, the
Old Mole
in Boston, the distinctly psychedelic
Chicago Seed
,
Leviathan
,
Viet-Report
, and the
L.A. Free Press
, as well as that Texas paper whose name I long ago forgot that was partial to armadillo cartoons. And they existed, in the 1960s and early 1970s, amid a jostling crowd of hundreds of "underground" newspapers -- all quite aboveground but the word sounded so romantic in that political moment. There were G.I. antiwar papers by the score and high school rags by the hundreds in an "alternate" universe of opposition that somehow made the rounds by mail or got passed on hand-to-hand in a now almost unimaginable world of interpersonal social networking that preceded the Internet by decades. And then, of course, there was
I.F. Stone's Weekly
(1953-1971): one dedicated journalist, 19 years, every word his own (except, of course, for the endless foolishness he mined from the reams of official documentation produced in Washington, Vietnam, and elsewhere).
"What's missing is any sense of connection to the government, any sense that it's 'ours' or that we the people matter.
"
I can remember the arrival of that newsletter, though I no longer know whether I subscribed myself or simply shared someone else's copy. In a time when being young was supposed to be glorious, Stone was old -- my parents' age -- but still we waited on his words. It helped to have someone from a previous generation confirm in nuts and bolts ways that the issue that swept so many of us away,
the Vietnam War, was indeed an American atrocity.