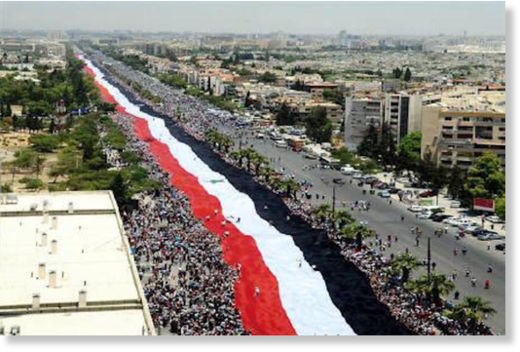 Over the past five years, the increasingly ridiculous propaganda against President al-Assad and the Syrian Arab Army (SAA) has ranged from the scripted (OTPOR fomented -"
revolution
") "peaceful protesters under fire" rhetoric, to other deceitful lexicon like "civil war," and "moderate rebels."
As the intervention campaigns continue with new terrorist and "humanitarian" actors (literally) constantly emerging in the NATO-alliance's theatre of death squads, it is worth reviewing some of the important points regarding the war on Syria.
Million Person Marches
On March 29, 2011 (less than two weeks into the fantasy "revolution")
over 6 million people
across Syria took to the streets in support of President al-Assad. In June, a reported hundreds of thousands marched in Damascus in support of the president, with a
2.3 km long Syrian flag
. In November, 2011 (9 months into the chaos), masses again
held demonstrations
supporting President al-Assad, notably in Homs (the so-called "capital of the 'revolution'"), Dara'a (the so-called "birthplace of the 'revolution'"), Deir ez-Zour, Raqqa, Latakia, and Damascus.
Mass
demonstrations
like this have occurred repeatedly since, including in
March 2012
, in
May 2014
in the lead-up to Presidential elections, and in
June 2015
, to note just some of the larger rallies.
In May 2013, it was
reported
that even NATO recognized the Syrian president's increased popularity. "The data, relayed to NATO over the last month, asserted that 70 percent of Syrians support" the Assad government. At present, the number is now at least 80 percent.