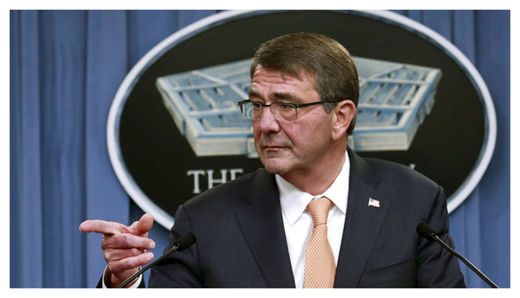 Donald "known unknowns" Rumsfeld was a nasty piece of work ("iron-ass," as Daddy Bush would have it). Fellow neocon and current Pentagon supremo Ash Carter - whose job will last shortly over a year - now runs the risk of forging a reputation as a discount diva on the lam.
After eight days traveling in Asia, Ash hit the Ronald Reagan Presidential Library in Simi Valley, California sounding like a stray ballistic whining missile.
And he hit where it hurts: the Russia-China strategic partnership. How dare they? Don't you step on my blue Pentagon shoes.
So Russia is guilty of undertaking "challenging activities" at sea, in the air, in space and in cyberspace. Not to mention "nuclear saber-rattling."
Ash once again enumerated all those "pillars of the international order" that Russia-China are allegedly violating; peaceful resolution of disputes, freedom from coercion, respect for state sovereignty and freedom of navigation.
Considering Exceptionalistan's recent record in Afghanistan, Pakistan, Iraq, Libya, Syria and myriad assorted latitudes, one can always count on the Pentagon to bolster the annals of hyper-unrealism.
Dr. Strangelove, sorry, NATO supremo Gen. Philip Breedlove, had already blurted out on the record he has no clue what Putin is up to in Syria. Ash, his boss, doubled down; Putin "hasn't thought through very thoroughly" his objectives in Syria, and his approach is "way off track".
Certainly because one month of Russian air strikes did way more to debilitate ISIS/ISIL/Daesh than over a year of the "track" followed by the Coalition of the Dodgy Opportunists (CDO) led by the US and featuring Salafi-jihadi/"moderate rebel" enablers such as Turkey and Saudi Arabia.