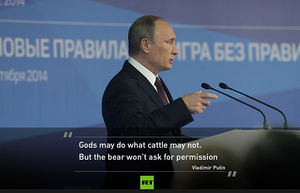 Last Friday, Vladimir Putin delivered the single most important
speech
on foreign policy since he became President of Russia in 2000. Mikhail Gorbachev said he thought it was the best, and most significant speech Putin has ever made.
In it he charted a clear course for Russia, defining its place in international affairs and setting out the principles and objectives of its foreign policy.
The response of the western political and media elite has been pitifully inadequate. The speech has attracted surprisingly little attention. The emphasis has been not on what Putin said about Russia or international relations in general but on what he specifically said about the US.
Western commentary wrongly but overwhelmingly treats the speech as simply a critique of US foreign policy (a "
diatribe
") with Putin hypocritically condemning a US foreign policy he feels is targeted against him. Behind this is the assumption that the speech is Putin's defiant response to the US sanctions policy imposed on Russia since the start of the Ukrainian crisis even though the actual speech barely touches on this question.
Putin did have a lot to say about US foreign policy and what he said was very critical. However to focus purely on that part of the speech is to fail to do it justice and to ignore its very coherent intellectual framework.