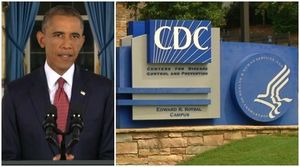 For a Nobel Peace Prize President,
Barack Obama seems destined to go down in history books as the President who presided over one of the most aggressive series of wars ever waged by a bellicose Washington Administration
. Not even George Bush and Dick Cheney came close.
First, before the ink was even dry on his Nobel Prize certificate, Obama announced the Afghanistan "surge", pouring another 30,000 US military into that destroyed part of the world. Then came Obama's war against Libya's Qaddafi, followed rapidly by his war to try to topple Syria's Bashar al Assad. Soon after came Obama's "war for democracy in Ukraine," otherwise better called Obama's attempt to provoke Russia into a new war confrontation with NATO by backing a gaggle of Ukrainian oligarchs, criminals and outright neo-nazis in Kiev. In July of this year, Obama's Administration was pushing the President to launch a second try at bombing Syria back to the Stone Age, allegedly to destroy ISIS, a looney Jihadist Sunni sect that was said to be a joint venture of the CIA and Israeli intelligence.
Now Obama's advisers, no doubt led by the blood-thirsty National Security Adviser, Susan Rice, have come up with a new war. This is the War Against Ebola
. On September 16, President Obama solemnly declared the war. He announced, to the surprise of most sane citizens, that he had ordered 3,000 American troops, the so-called "boots on the ground" that the Pentagon refuses to agree to in Syria, to wage a war against....a virus?