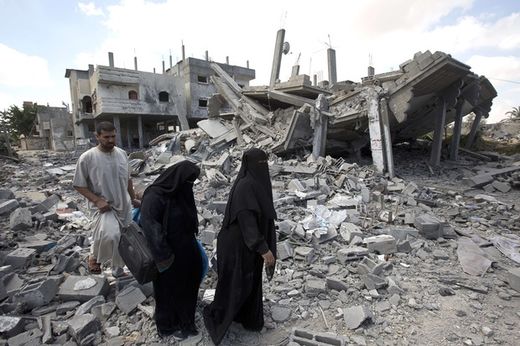 Israeli forces have been accused of carrying out war crimes during a day of "carnage" in the Gaza Strip that has been called Black Friday.
A report by Amnesty International on alleged atrocities in Rafah during last year's conflict with Hamas claims
Israeli forces killed at least 135 Palestinian civilians, including 75 children
,
following the capture of a soldier.
Lieutenant Hadar Goldin, 23, was with a unit searching for tunnels between Gaza and Israel when a fight started with militants and he
disappeared on 1 August 2014.
Philip Luther, director of Amnesty International's Middle East programme, claimed that
the "relentless and massive bombardment" that ensured in residential areas of Rafah was a direct response to the capture and displayed a "shocking disregard for civilian lives".

Comment: That's right. A 'direct response' to a capture that had not even been investigated, had not gone through any process remotely resembling a process of justice - just brute aggression that was grossly disproportionate using the 'capture' of Goldin as a pretext for mass murder.


"They carried out a series of
disproportionate or otherwise indiscriminate attacks
, which they have completely failed to investigate independently," he added.
"This report presents an urgent call for justice that must not be ignored.
"The combined analysis of hundreds of photos and videos, as well as satellite imagery and testimony from eyewitnesses, provides
compelling evidence of serious violations of international humanitarian law
by Israeli forces which must be investigated."

Comment: Business as usual for the terrorist 'state'. For them, humanitarian law exists to be broken.