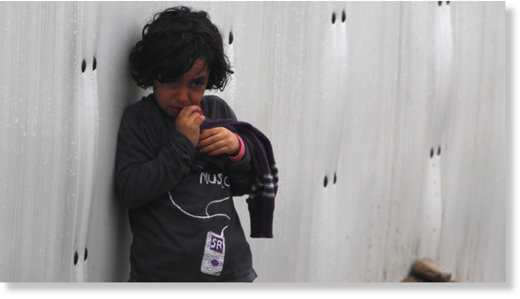 Europe is on a dangerous, slippery slope of increasing xenophobia and racism engendered by the influx of refugees. Denmark's new confiscation law is a sign of the brooding, baleful climate.
But the real answer to the problem is dealing with Europe's support for Washington's criminal wars. In other words, citizens of Europe should be addressing the root cause of the problem, not reacting to the symptoms. We should be shaming the villains, not blaming the victims.
We should be demanding legal sanctions and prosecution of government leaders over what are gross violations of international law.
European governments stand accused of war crimes, yet we allow them to get away with mass murder. Then when we incur secondary problems such as the massive displacement of refugees from wars and conflicts - that our governments have fomented -
we illogically and cravenly focus on blaming the victims of our governments' criminality
.
Part of the public shaming of the villains would involve holding those European members of the US-led NATO military alliance accountable to international law. Individual government and military leaders should be prosecuted for war crimes and crimes against peace. The inculpating evidence is out there.
The fact that European governments have waged dubious overseas wars - with impunity - is the real shame and root of the problem.