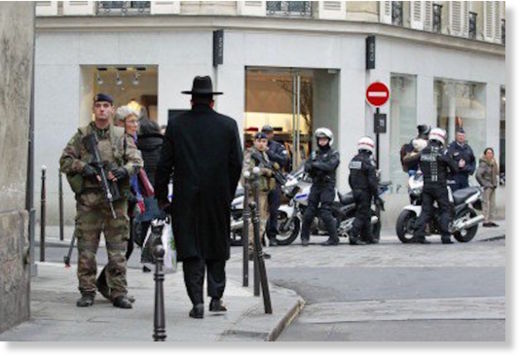 Governments throughout Europe have responded to the attacks on
Charlie Hebdo
in France by moving quickly to push through a raft of anti-democratic measures.
They are exploiting the shock and confusion generated by the event in Paris to take actions that have long been prepared, but that have so far encountered resistance.
Immediately after the attacks, the police presence at airports, in front of embassies, government buildings, newspaper offices and public places was reinforced by thousands of security forces in European capitals and major cities.
Heavily armed and camouflaged military troops have been deployed throughout Paris and elsewhere in France, including at the Eiffel Tower and in all public places. Parts of the city resemble a war zone.
On Monday, the Ministry of Defence in Paris announced the deployment of 10,000 troops to maintain peace and order and protect public buildings. In addition, the government has provided 4,700 police officers and gendarmes to guard Jewish schools and synagogues that are considered particularly vulnerable.
After a cabinet meeting on Monday, Defence Minister Jean-Yves Le Drian spoke of a permanent threat. Prime Minister Manuel Valls promised more money for the secret services and more effective surveillance.
At a security summit last weekend in Brussels, the European powers agreed that a European-wide passenger data system must be adopted as soon as possible.
Airlines will be obliged to retain the records of their passengers for up to five years. US General Michael Hayden, the former director of the CIA and chief of the NSA, also took part in the meeting. Hayden has been responsible for implementing and expanding much of the illegal and unconstitutional spying programs developed in the United States.