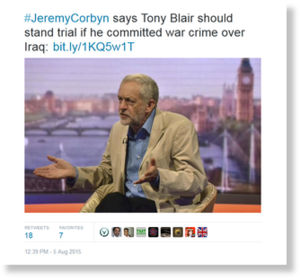 The big political story in the UK this summer is undoubtedly 'Corbynmania'. How a 66-year-old antiwar activist and socialist has gone from being the rank 200-1 outsider in the Labour leadership contest election to be the red-hot favorite.
Jeremy Corbyn, a modest, unassuming man who wears an open necked shirt and slacks instead of the usual politician's suit and tie, has really proved a big hit with the public, who have grown tired of slick politicians who are always 'on message', and who don't seem at all sincere in what they're saying. Large crowds have turned out to hear Corbyn speak: last week he had to give his speech from the top of a fire engine as an election rally spilled out into the street.
Not everyone though has welcomed Corbyn's advance. One man who has made repeated warnings about the 'dangers' of Jeremy Corbyn is Cyril Waugh-Monger, a 'Very Important' newspaper columnist for the NeoCon Daily, a patron of the Senator Joe McCarthy Appreciation Society and the author of 'Why the Iraq War was a Brilliant Idea', as well as 'The Humanitarian Case for Bombing Syria'.