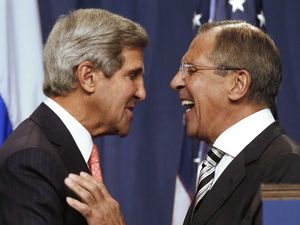 By the time you read this Russia will have invaded Ukraine. Well, that's what the Supreme Allied Commander of the North Atlantic Treaty Organization, US Air Force General Philip Breedlove, is spinning. Breedlove Supreme says the Russians are "ready to go" and could easily take over eastern Ukraine. Western corporate media have already dusted off their Kevlar vests.
Now compare Breedlove Supreme with a grown-up diplomat, Russian Foreign Minister Sergei Lavrov, who has called on NATO to please de-escalate the "unreasonable" warmongering rhetoric, which also includes officially ending all civilian and military cooperation with Russia and planning more military moves in Eastern Europe.
While
NATO - shorthand for the Pentagon's European division
- freaks out, especially via its outgoing secretary-general, Danish patsy Anders Fogh Rasmussen, let's see where we really stand on the ground, based on leaks from both Lavrov's and US Secretary of State John Kerry's camps.
The heart of the matter - obscured by a rainbow bridge of hysteria - is that neither Washington nor Moscow want Ukraine to become a festering wound. Moscow told Washington, officially, it has no intention of "invading" Ukraine. And Washington told Moscow that, for all the demented rhetoric, it does not want to expand NATO to either Ukraine or Georgia.