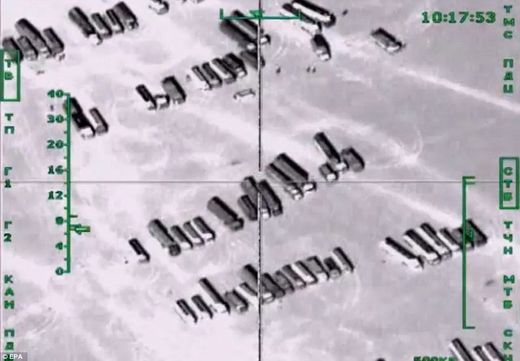 U.S. media can not agree with itself if
Russia is giving ISIS an airforce
or if
Russia pounds ISIS with the biggest bomber raid in decades
. Such confusion occurs when propaganda fantasies collide with the observable reality.
To bridge such divide requires some fudging.
So when the U.S. claims to act against the finances of the Islamic State while not doing much,
the U.S Public Broadcasting Service has to use footage of Russian airstrikes against the Islamic State while reporting claimed U.S. airstrike successes
.
The U.S. recently
claimed to have hit
Islamic State oil tankers in Syria. This
only after Putin
embarrassed
Obama at the G-20 meeting in Turkey
. Putin showed satellite pictures of ridiculously long tanker lines waiting for days and weeks to load oil from the Islamic State without any U.S. interference.
The U.S. then claimed to have hit 116 oil tankers while the Russian air force claims to have hit 500. But there is an important difference between these claims.
The Russians
provided videos
showing
how their airstrikes hit at least two different very large oil tanker assembly areas with hundreds of tankers in each. They also provided
video
of several hits on oil storage sites and refinery infrastructure.
I have found no video of U.S. hits on Islamic State oil tanker assemblies.