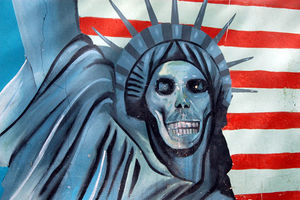 American politicians are fond of telling their audiences that the United States is the greatest country in the world. Is there any evidence for this claim?
Well, yes. When it comes to violence and preparations for violence, the United States is, indeed, No. 1. In 2013, according to
a report
by the Stockholm International Peace Research Institute, the U.S. government accounted for 37 percent of world military expenditures, putting it far ahead of all other nations. (The two closest competitors, China and Russia, accounted for 11 percent and 5 percent respectively.)
From 2004 to 2013, the United States was also the
No. 1 weapons exporter
in the world. Moreover, given the U.S. government's almost continuous series of wars and acts of military intervention since 1941, it seems likely that it surpasses all rivals when it comes to international violence.
This record is paralleled on the domestic front, where
the United States has more guns and gun-related deaths than any other country.
A
study
released in late 2013 reported that the United States had 88 guns for every 100 people, and 40 gun-related deaths for every 400,000 people―the most of any of the 27 economically developed countries surveyed. By contrast, in Britain there were 6 guns per 100 people and 1 gun-related death per 400,000 people.