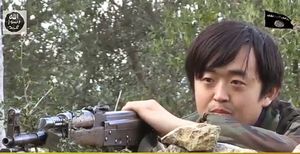 China is facing increasing pressure along two fronts. In its western province of Xinjiang, terrorists have been stepping up destabilization and separatist activities.
In China's southeast Special Administrative Region of Hong Kong, protests have disrupted normality in the dense urban streets, with protest leaders seeking to directly confront Beijing while dividing and destabilizing both Hong Kong society and attempting to "infect" the mainland.
What is more troubling is the greater geopolitical agenda driving both of these seemingly "internal" conflicts - and that they both lead back to a single source beyond China's borders. With the so-called "Islamic State" (ISIS) now implicated in receiving, training, and employing terrorists from China's Xinjiang province, and considering the fact that ISIS is the result of an intentional, engineered proxy war the US and its allies are waging in the Middle East, along with the fact that the unrest in Hong Kong is also traced back to Washington and London,
presents a narrative of an ongoing confrontation between East and West being fought on the battlefield of fourth generation warfare
.