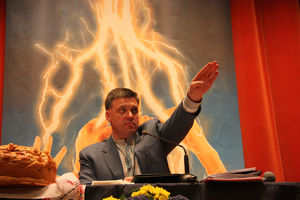 The violent anti-government street protests that have rocked the Eastern European nation of Ukraine include a smorgasbord of opposition groups and dissenters who strongly object to the rule of President Viktor Yanukovych and the
purported influence
of Russian leader Vladimir Putin on the nation's affairs. Clashes between rioters and police have already killed at least 25 people and wounded more than 250.
The most controversial element of the anti-government alliance is Svoboda (Freedom), an extreme right-wing political party that not only has representation in parliament, but has been dubbed by its critics as a neo-Nazi organization
. Britain's Channel 4 News reported that Svoboda has assumed a "leading role" in the street protests in Kiev, with affiliated paramilitary groups prominently involved in the disturbances. Svoboda flags and banners have been featured in the demonstrations at Kiev's Independence Square. During the continuing street riots, one Svoboda MP, Igor Myroshnychenko, created an iconic moment of sorts when he allegedly helped to topple the statue of Vladimir Lenin outside a government building, followed by its occupation by protesters.
However, despite its extremist rhetoric, Svoboda cannot be called a "fringe" party - indeed,
it currently occupies 36 seats in the 450-member Ukrainian parliament, granting it status as the fourth-largest party in the country
. Further, Svoboda is linked to other far-right groups across Europe through its membership in the Alliance of European National Movements, which includes the British National Party (BNP) of the United Kingdom and Jobbik, the neo-fascist, anti-Semitic and anti-Roma party of Hungary.
The leader of Svoboda, Oleh Tyahnybok, who has appeared at the Kiev protests, has a long history of making inflammatory anti-Semitic statements, including the accusation during a 2004 speech before parliament that Ukraine is controlled by a "Muscovite-Jewish mafia."
Miroshnychenko also called the Ukrainian-born American film actress Mila Kunis a "dirty Jewess."