When the banksters who run America set their sights on the newest designated enemy of democracy, without fail
the assault is preceded by information operations to convince a clueless public of the target state's burning hatred for "freedom."
Momentarily torn away from corporate entertainment spectacle, enlightened citizen-consumers will be fed phony news stories of atrocities,
green-screened crisis coverage
set to
dramatic music
, and helpful cues to identify heroes, victims and villains in the unfolding morality play. Washington is said to be Hollywood for ugly people, and the ugly people have proven remarkably adept at statecraft as stagecraft, selling their brand of international banditry as
feel-good humanitarian uplift
for decades now.
But just as Hollywood has lurched into
creative senility
, so too is the template for overseas intervention fraying
as US global dominance enters its terminal phase.
No longer yielding to "leadership" from the wolves of Wall Street, independent powers have begun to challenge the foundations of the Washington consensus. At the forefront of this movement has been a revived Russia, which in the face of NATO encirclement and with survival on the line, has shown itself willing and able to confront the Pax Americana. But the show must go on; as the United States positions forces ever closer toward Moscow's frontiers, with furrowed brows and feigned concern, the talking heads on our telescreens mechanically inform us of Russian aggression. It's springtime again for Russophobia in the West.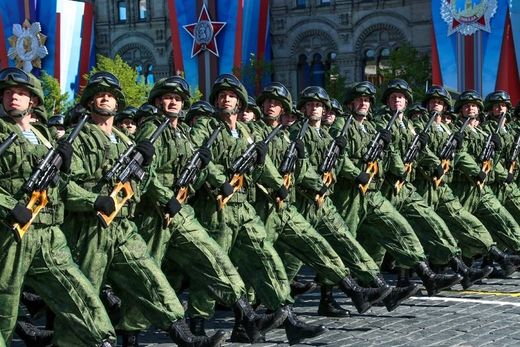 With its roots in the Great Game of espionage and intrigue between Victorian subalterns and the Tsar's Cossacks in Central Asia, a systemic
antipathy to Russia as such
only took root in America from the time it assumed Britain's imperial mantle at the dawn of the Cold War. The hostility, of course, has been mutual, and
Russians have not forgotten how their land suffered through the "peace dividend" of US unipolarity in the 1990s.
Promised that the North Atlantic alliance would never contemplate expanding eastward, Mikhail Gorbachev starred in
pizza commercials
and Boris Yeltsin headlined summits with his trademark
vodka-soaked buffoonery
. It was then that a weakened, bankrupt Russia could be looted by multinationals, its people impoverished and demoralized, and the state further subverted by forces from "civil society" NGOs to cutthroat
jihadist mercenaries
waging holy war in the North Caucasus.