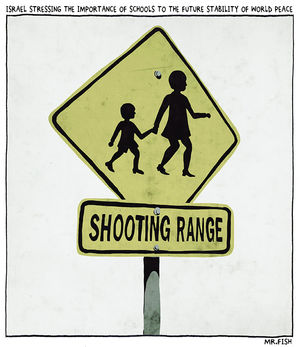 In recent years most of humanity has become proudly more tolerant of groups who once seemed to be on the margins of society. But until now it's still been seen as acceptable to be offensive about one minority, which is the child murdering community.
At last it seems the mood is changing, and finally we're beginning to hear the child murderers' point of view.
For example one brave soul, prepared to speak out, is spokesman Uri Drome, who explained on Radio 4 yesterday that although the Israeli government bombed a school in which several children died, the deaths are clearly the fault of the people who live in the areas being bombed.
What a refreshing change from that tired old thinking that always blames murder on the murderer.
Mister Drome, once a spokesman for the Israeli government said the Israelis were "lured into a trap, now Hamas sheds crocodile tears about the dead."
If only more of us understood bombed schools in this way. We always rush to judge some poor kid in an American town who mows down his classmates, without even pausing to consider the dead kids probably tricked him into it, and now to make it worse their parents are all pretending to cry.
Even more imaginative was Michael Oren, ex-Israeli ambassador In Washington, on Channel 4 News. He explained that Hamas was to blame for all this death, because "They are booby-trapping toasters and fridges in their houses."
It goes to show you should never make up your mind too quickly. Many of us see pictures of buildings reduced to rubble with a bomb sticking out, and hastily conclude the bomb had something to do with the explosion. But look carefully and it becomes obvious the cause was the silly sods blowing themselves up with an exploding toaster.
I bet if we went back to Hiroshima and checked what happened more thoroughly, we'd discover the blast was nothing to do with an atom bomb, and was caused by a booby-trapped kettle.