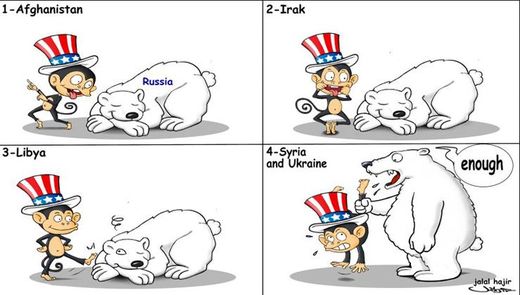 How the Russian Bear Emerged From Hibernation.
In Bertrand Russell's
A History of Western Philosophy
, the philosopher delivered his summarization of the writings of Catholic theologian Thomas Aquinas thusly, "Before he begins to philosophize, he already knows the truth; it is declared in the Catholic faith. If he can find apparently rational arguments for some parts of the faith, so much the better; if he cannot, he need only fall back on revelation. The finding of arguments for a conclusion given in advance is not philosophy, but special pleading."
American foreign policy is determined in much the same fashion.
Valuable objects are desired.
Noble justifications are manufactured. Trusting populations are deceived. War is made.
Empires do their special pleading on a global scale. For instance, the U.S. and its allies know precisely how they want to portray the Ukrainian conflict to their deluded Western populations. They need only apply the false flags and fashion the nefarious motives - like so many brush strokes - to the canvas of geopolitics.
Both the government and their corporate media vassals know their conclusions in advance. They are simple: Russia is the aggressor; America is the defender of freedom; and NATO is gallant security force that must counter Moscow's bellicosity. As the chief pleader in the construction of this fable, the
Obama administration has compiled a litany of lies about the conflict
that it disseminates almost daily to its press flacks.