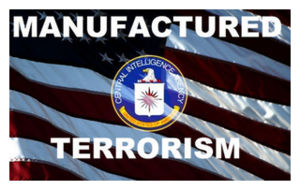 Almost all wars begin with false flag operations.
The coming conflicts in North Korea and Russia are no exception.
Mass public hysteria is being manufactured to justify aggression against Moscow and Pyongyang, in retaliation for acts attributed to the North Korean and Russian governments, but orchestrated and carried out by the CIA and the Pentagon.
The false flagging of North Korea: CIA weaponizes Hollywood
The campaign of aggression against North Korea, from the hacking of Sony and the crescendo of noise over the film,
The Interview,
bears all the markings of a CIA false flag operation.
The hacking and alleged threats to moviegoers has been blamed entirely on North Korea, without a shred of credible evidence beyond unsubstantiated accusations by the FBI. Pyongyang's responsibility has not been proven. But it has already been officially endorsed, and publicly embraced as fact.
The idea of "America under attack by North Korea" is a lie.