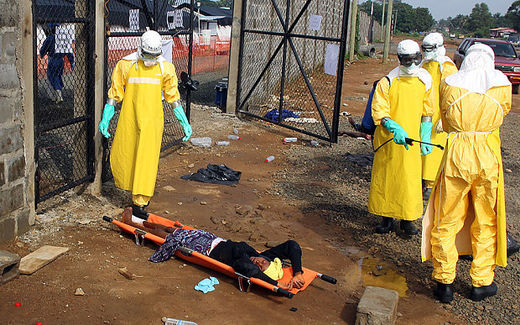 Scale of Ebola outbreak in Western Africa leaves staff of frontline health agency with grim decisions over who to treat and who to turn away
Like every other volunteer who serves with Médecins Sans Frontières, Stefan Liljegren joined up to help the sick and destitute. In 15 years with the agency, he has been everywhere from Afghanistan and Kosovo through to South Sudan and East Timor, the hard and often dangerous work compensated for by the knowledge that he is saving lives.
His latest mission, in Ebola-hit Liberia, offers rather less job satisfaction. As field co-ordinator of MSF's new 160-bed Ebola treatment centre in the capital, Monrovia, one of his tasks is to decide which of the sick people who arrive outside the clinic's gates should get treatment. Such is the scale of the outbreak that for every 20-30 new patients the clinic admits each day, the same number are often turned away - despite the likelihood that they will go home and infect their relatives.
"This is by far the most difficult challenge that I have ever faced," the 44-year-old Swede told The
Telegraph
during a brief break from his work in the sweltering humidity of Liberia's monsoon season. "Every day I have been faced with impossible choices, and decisions that are inhuman to make. Having to tell someone that they can't come in when they are screaming and begging to do so is an indescribable feeling, especially when you know they may go back to families who might well then get sick themselves."
Outside the clinic an hour earlier, a grisly scene demonstrated Mr Liljegren's point. Resting face down in the mud was the body of Dauda Konneh, 42. He had been lying there dead since daybreak.
"He was vomiting a lot and had symptoms like Ebola, so we put him in a pick-up truck and took him here for treatment," said one young man outside. "When we got here last night, he was still alive, but the clinic would not accept him. He died at dawn today."