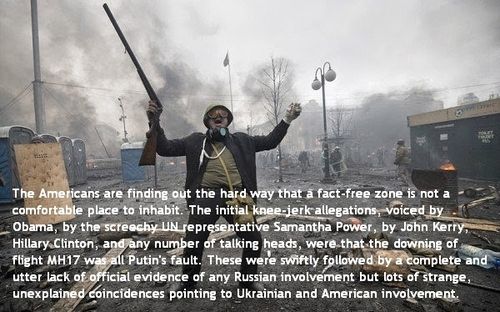 The Americans are finding out the hard way that a fact-free zone is not a comfortable place to inhabit. The initial knee-jerk allegations, voiced by Obama, by the screechy UN representative Samantha Power, by John Kerry, Hillary Clinton, and any number of talking heads, were that the downing of flight MH17 was all Putin's fault. These were swiftly followed by a complete and utter lack of official evidence of any Russian involvement but lots of strange, unexplained coincidences pointing to Ukrainian and American involvement. These were, in turn, followed by an uncharacteristically frank admission from US intelligence that there is no proof of Russian involvement. The newly installed Ukrainian oligarch-turned-president Poroshenko (code-name "Piglet")
switched from claiming that he had proof of Russian complicity to being very very quiet.
Incompetently concocted fake "evidence" of this and that continues to appear on social media sites, only to be swiftly disproved. Once disproved, the fake evidence vanishes, only to be replaced by more of the same. The latest fake is of Russian artillery bombardment from across the border. All of this has added up to quite an awkward situation for the Americans. Barefaced lying may be fun and profitable, but it does not provide a solid foundation for foreign policy.
Nobody wants to go down in history for blowing up the world over some fake Youtube videos.