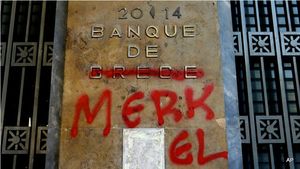 Illusions are at play in the modern tragedy that is the Greek economic system, particularly when it comes to notions of who benefits most from the latest bailout
Modern Greek tragedy is at play, and so are illusions.
The big myth is that Greece overspent and the Greek government was reckless with its budgets, ultimately indebting Athens. It is true that Greek officials tried to gain influence and political support through spending. It's also true that they signed lucrative contracts with local businesses.
Athens, however, is no exception here; this type of conduct has been displayed by politicians throughout the European Union and around the world.
The fact is that this is not what created the economic crisis in Greece. What is really taking place in Greece and the eurozone is something altogether different.
The Greek bailouts appear to be part of a rigid restructuring of the EU that is placing other members under the control of Germany.
Banker bailouts versus national bailouts
We are not dealing with national bailouts for failing economies, but with banking sector bailouts. Almost all the money that has been given to Greece, Cyprus, Ireland, and Portugal has gone to the banks of the creditor lenders.
In his 2013 documentary
The Secret Bank Bailout
, German investigative journalist Harald Schumann documents how
the peoples of Ireland, Cyprus and Spain were not bailed out.
The biggest recipients of the Irish bailout that saved Anglo-Irish Bank were British, French and German banks, including Union Investment Privatfonds, Rothschild et Compagnie Gestion, and Deutsche Bank. German and French banks accounted for 50 out of the 80 bondholders. The blogger
Guido Fawkes revealed
that the Irish government was protecting German investors when he published a list of the bondholders that he had obtained from an insider.