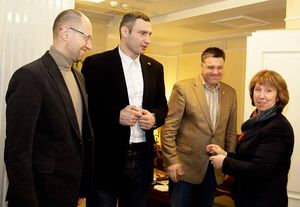 Kiev's government and its western allies bear full responsibility for the recent bloodshed in Ukraine, Russia's presidential spokesman has said, adding it is now impossible to convince people in the region to disarm because their lives are under threat.
Spokesperson for Russian President Vladimir Putin, Dmitry Peskov, released an official statement following the tragic events in Odessa. 39 anti-government activists
have died
in a fire at the Trade Unions House there, after the building was set ablaze by pro-Kiev
radicals
. Some anti-Kiev protesters burned to death, while others suffocated or jumped out of windows, the Ukrainian Interior Ministry said.
"The authorities in Kiev not only bear direct responsibility, but are complicit in these criminal activities. Their arms are up to the elbows in blood," Peskov said.
He said the tragedy in Odessa was the product of "the connivance of those who consider themselves the authority in Kiev."