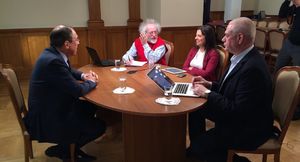 On Wednesday, Russian Foreign Minister Sergei Lavrov gave a live interview to Radio Sputnik, Ekho Moskvy and Govorit Moskva radio stations, answering questions of listeners and readers from around the world.
On Wednesday three Russian radio stations conducted a live interview with the country's top diplomat. It was the first time Sergei Lavrov holds a radio Q&A session answering questions from people all over the world.
In the run-up to Larvrov's Q&A session, Internet users were encouraged to ask their questions on Twitter using the hashtag
#AskLavrov
.
14:05 - The last question (a personal one): Margarita Simonyan wonders if Lavrov really used the F-word addressing [British former foreign secretary] David Miliband in 2008.

"I did tell Miliband "don't lecture me", but the F-word was a quote from a colleague of ours, who had returned from Tbilisi and called Saakashvili a "f*** lunatic". That's the context the F-word was used in".

13:57 - Does the world need a policeman to prevent tragedies like the Rwandan genocide?

"The founders of the UN realized that the organization would need its own forces, the peacekeeping forces. They are not "policemen."