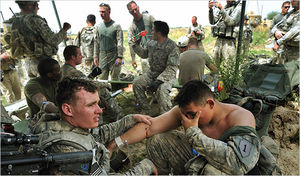 Mazar-e-Sharif - Persistent accounts of Western forces in Afghanistan using their helicopters to ferry Taliban fighters, strongly denied by the military, is feeding mistrust of the forces that are supposed to be bringing order to the country.
One such tale came from a soldier from the 209th Shahin Corps of the Afghan National Army, fighting against the growing insurgency in Kunduz province in northern Afghanistan. Over several months, he had taken part in several pitched battles against the armed opposition.
"Just when the police and army managed to surround the Taliban in a village of Qala-e-Zaal district, we saw helicopters land with support teams," he said. "They managed to rescue their friends from our encirclement, and even to inflict defeat on the Afghan National Army."