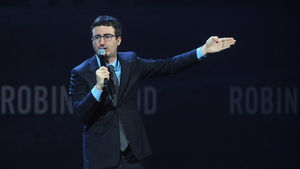 A pro-net neutrality rant at the end of a recent episode of HBO's news-comedy
Last Week Tonight
helped to cripple the website of the Federal Communications Commission this week.
Comedian and television host John Oliver is now being blamed for sending viewers of his new show en masse to the FCC's official website, in turn causing FCC.gov to collapse under the weight of a tremendous amount of internet traffic.
Oliver, who last year filled in for Jon Stewart as host of
The Daily Show
, concluded Sunday's episode of
Last Week Tonight
with a comedic monologue concerning the FCC and a proposal currently being considered by the regulating agency that, if approved, could pave the way for broadband internet providers to create a two-tier system that would effectively erode the concept of net neutrality as it exists today.
"Net neutrality is actually hugely important. Essentially it means that all data has to be treated equally, no matter who created it. It's why the internet is a weirdly level playing field," Oliver explained. "Ending net neutrality would allow big companies to buy their way into the fast lane, leaving everyone else in the slow lane."