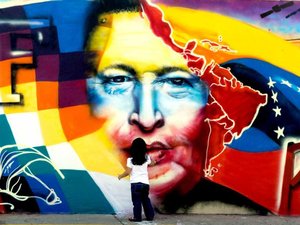 The rich and reactionary in Venezuela and their allies in Washington celebrated when Venezuelan president Hugo Chávez died two years ago on March 5, 2013. US President Barack Obama did not even make the customary and common courtesy of sending his condolences for the passing of a head of state.
Instead the US empire stepped up its demonization campaign against Chávez's legacy in order to bury his Bolivarian Revolution. In contrast to his treatment of Chávez, Obama was effusive in his praise of King Abdullah of Saudi Arabia, who died in January 2015 and was the leader of a country which Amnesty International rightly labels one of the most tyrannical and repressive regimes in the world.
¡Yo Soy Chávez!
So why did poor and progressive people in Venezuela, throughout Latin America, and indeed all over the world mourn Chávez's passing and proclaim
¡Yo soy Chávez!
('I am Chávez')?
Lisa Sullivan, a School of the America Watch activist who has lived in the barrios of Venezuela where she brought up her three children, had this to say at the time of Chávez's passing: "Let there be no doubt: the Venezuelan people have come of age. Chávez is gone, but what resonates on every street and every plaza today:
Yo soy Chávez. I am Chávez
. I am the leader, the dreamer, the visionary, the teacher, the defender of justice, the weaver of another world that
is
possible."