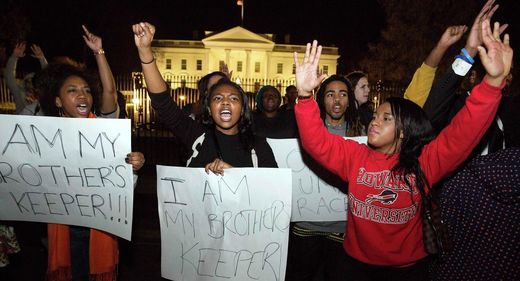 Five NFL players of the St. Louis Rams made the "hands up, don't shoot" gesture before a Sunday game against the Oakland Raiders in a show of support for nearby Ferguson and other cities across the US, where people have been protesting against the grand jury's decision not to indict Darren Wilson in the death of Michael Brown.
The Rams players have been both praised and severely criticized for the gesture, which also sparked intense debate on social media.
Tavon Austin, Stedman Bailey, Kenny Britt, Jared Cook and Chris Givens were the ones who raised their hands during pregame introductions. Protesters frustrated over police brutality and unfair sentencing, disproportionately affecting ethnic and racial minorities in the US, have used the gesture since Wilson, a white police officer, killed Michael Brown in August. According to some claims, the African-American teenager raised his hands in a sign of surrender before he was fatally shot. Others say Brown charged at the officer instead.