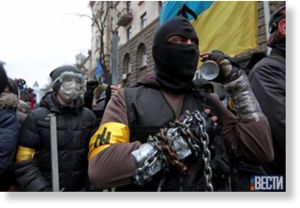 So, what do we have here? In Libya, in Syria, and elsewhere the United States has been on the same side as the al-Qaeda types
. But not in Ukraine. That's the good news.
The bad news is that in Ukraine the United States is on the same side as the neo-Nazi types
, who - taking time off from parading around with their swastika-like symbols and calling for the death of Jews, Russians and Communists - on May 2 burned down a trade-union building in Odessa, killing scores of people and sending hundreds to hospital; many of the victims were beaten or shot when they tried to flee the flames and smoke; ambulances were blocked from reaching the wounded. Try and find an American mainstream media entity that has made a serious attempt to capture the horror.
And how did this latest example of American foreign-policy exceptionalism come to be? One starting point that can be considered is what former Secretary of Defense and CIA Director Robert Gates says in his recently published memoir: "
When the Soviet Union was collapsing in late 1991, [Defense Secretary Dick Cheney] wanted to see the dismemberment not only of the Soviet Union and the Russian empire but of Russia itself, so it could never again be a threat to the rest of the world
." That can serve as an early marker for the new cold war while the corpse of the old one was still warm. Soon thereafter, NATO began to surround Russia with military bases, missile sites, and NATO members, while yearning for perhaps the most important part needed to complete the circle - Ukraine.