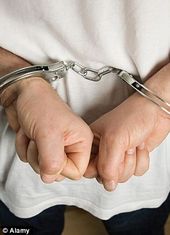 A Pittsburgh woman is suing authorities after she had to have her arm amputated because police officers used 'excessive force' while they arrested her and refused to give her access to a doctor.
The mother-of-three, Amy Needham, 35, of Ross, says the officers entered her home to execute an arrest warrant for failing to show up to a preliminary hearing.
When sheriff's office employees arrived, Needham said she was using the bathroom, but they broke down the bathroom door.
They shocked her with a Taser, applied arm bars and wrist locks, and put on handcuffs 'that were too tight' before taking her to Allegheny County Jail, according to the
Pittsburgh Post-Gazette.
According to her attorney, Marvin Leibowitz, the tight handcuffs caused her to suffer compartment syndrome, a limb- and life-threatening condition that occurs after an injury.