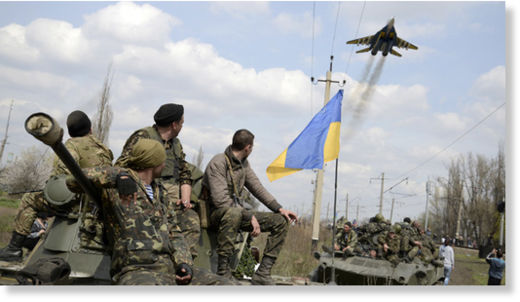 In yet another sleight of hand, Western news media are this week spinning the notion that the US and NATO are «considering sending lethal military aid» in order «to defend» the Kiev regime from «Russian aggression».
That's a pathetic joke. The real explanation is that NATO is losing its war in Ukraine and needs to send more military fuel in order to salvage the mounting losses.
First, the Western media slyly acknowledge that US-led NATO has so far «only dispatched non-lethal military equipment». That rhetorical ruse is used to pretend that non-lethal material is somehow not really military grade. But whether non-lethal or lethal, military equipment is military equipment. So, let's just dispense with that bunch of semantics.
The US and its public-relations alter-ego, NATO, are already deeply involved militarily in Ukraine, supporting the Kiev regime whose 10-month offensive on eastern Ukraine has resulted in over 5,300 deaths.
Secondly, the notion that Washington is «reconsidering» whether to send «lethal aid», as reported in the
New York Times
on Monday, is another risible illusion.
The US and its NATO allies are already sending lethal military equipment to the Ukraine.
US President Obama said this week that «pouring more weapons into Ukraine» will not resolve the conflict. While German Chancellor Angela Merkel also vowed that Germany would not be supplying weapons to the Kiev regime, adding that the conflict cannot be solved by military means. Both Obama and Merkel are either woefully deceptive or living in cloud-cuckoo land. Probably both.
Let's cut to the chase. NATO is at war in Ukraine and has been so for the past year, if not covertly for the past two decades.