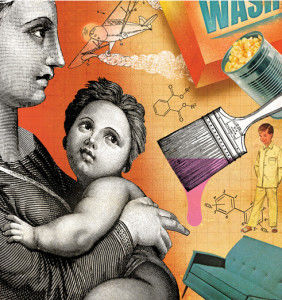 The number of (largely untested) chemicals in our environment is on the rise, as are the rates of autism, cancer, and other serious health problems affecting kids. KIWI investigates
 this "silent pandemic" - and reveals how parents can fight back.
When Josephine Wilson, 37, of Princeton, New Jersey, took her 1-year-old daughter to the pediatrician for a routine visit in July 2013, a flyer for a study on flame retardants in mothers and children caught her eye. The substances, found in furniture, electronics, and appliances, were on her radar because she'd read about potentially dangerous environmental chemicals when she learned she was pregnant. To limit their daughter's exposure, she and her husband had replaced their old sofa with a $3,000 version that uses wool as fire protection - a choice that was "pricey, but well worth it in our minds," she says. When she got home from the pediatrician, she sent urine samples from her and her daughter to the researchers.
Of the 48 participants in the study, which was conducted by the Environmental Working Group and Duke University, the Wilsons' levels were at the low end. Even so, the results weren't exactly comforting. They both tested positive for chlorinated Tris, a flame retardant that was voluntarily removed from use in children's pajamas in the '70s due to cancer concerns but is still used in furniture, as well as an ingredient in Firemaster 550, a newer chemical cocktail that may disrupt hormone signaling. Worse, the level of one chemical was three times higher for Wilson's daughter than it 
was for her. "We'd done everything
we could to remove these chemicals from our immediate environment, and they were still in our bodies," she says. "I'm not sure you can completely avoid them."