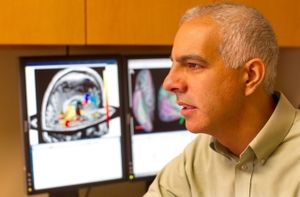 Examining post-mortem tissue from the brains of people with Alzheimer's disease, Stanford University School of Medicine investigators identified what appear to be
iron-containing microglia -- specialized scavenger cells that sometimes become inflammatory -- in a particular part of the hippocampus, a key brain structure whose integrity is critical to memory formation.
In post-mortem brain tissue from people not diagnosed with Alzheimer's, neither the iron deposits nor the scavenger cells engulfing them were present in that brain region.
The findings, recounted in a study now available online in
Neurobiology of Aging
, suggest that high-field magnetic resonance imaging, in particular an advanced version called 7T MRI that uses a powerful 7-Tesla magnet, could someday be used to diagnose and monitor Alzheimer's patients earlier than is currently possible.
The findings also add a new suspect to the Alzheimer's disease lineup
. A long-held hypothesis holds that the most notorious feature of Alzheimer's disease, amyloid plaques, is the main cause of the disorder. These plaques are extracellular aggregations of a small protein called beta-amyloid that are prominent in diseased patients' brains, as well as in mouse models of the disease. The other most cited key player is tau, another Alzheimer's-associated protein that abnormally aggregates into threadlike tangles inside nerve cells.
Surprisingly, in the brain region of interest there was no consistent overlap between the iron-laden microglia and the amyloid plaques or tau.