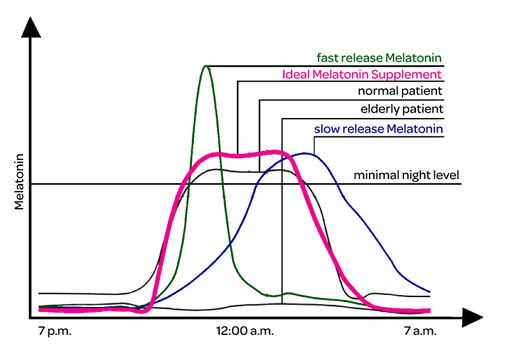 Recent studies in
chronobiology
have indicated that melatonin supplements can help treat circadian sleep disorders as well as a variety of sleep-related issues. However, not all melatonin supplements are created equal. The way melatonin supplements are metabolized can have a huge effect on physiological levels and effects of this hormone.
Melatonin and the Circadian Rhythm
Melatonin
, also known as the "mother hormone of chronobiology", is a hormone made in the pineal gland due to cues from the suprachiasmatic nucleus of the hypothalamus, which regulates the circadian rhythm.
When the retinas stop sensing as much blue wavelength light, the suprachiasmatic nucleus senses this and induces the pineal gland to begin making melatonin
. When early morning light is sensed by the retinas, melatonin production is ceased and hormones associated with wakefulness are made instead. This cycle helps to create a
circadian rhythm
, or 24-hour sleep-wake cycle.
Melatonin has a very short half-life, of about thirty minutes. Because it breaks down so quickly, it must be made continuously throughout the night in order to sustain restful sleep. In people with a healthy circadian rhythm, melatonin levels rise rapidly after dark and plateau throughout the night until early morning. These high levels are essential not just for falling asleep, but for sleeping deeply and restfully. Melatonin levels then drop sharply in the early morning to allow people to wake up in response to increasing light levels.