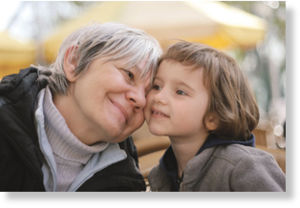 A new study by researchers at The Kinsey Institute and the Fred Hutchinson Cancer Research Center has found that
the timeless, multicultural tradition of grandmothering might have an unexpected benefit: helping some women temper their hot flashes and night sweats during menopause.
The researchers, two clinicians and a bioanthropologist, examined how close relationships can help women in midlife with this inevitable change -- with the clinicians looking for therapeutic benefits that might help patients deal with this unpredictable, poorly understood transition, and the bioanthropologist predicting an evolutionary connection. Their study, which focused on the relationship between mid-life women and young children, found that women who underwent rapid menopause, caused by the surgical removal of ovaries, had fewer hot flashes and night sweats when young children lived in their homes.
The study was published in
Menopause: the Journal of the North American Menopause Societ
y. Study authors are Tierney Lorenz, postdoctoral fellow at The Kinsey Institute at Indiana University Bloomington, Bonnie A McGregor, researcher at University of Washington's Hutchinson Cancer Research Center, and Virginia J. Vitzthum, professor of anthropology and senior research scientist at The Kinsey Institute.