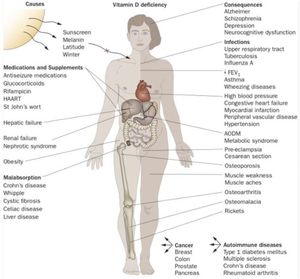 Researchers at UC San Diego and Creighton University have challenged the intake of vitamin D recommended by the National Academy of Sciences (NAS) Institute of Medicine (IOM), stating that their Recommended Dietary Allowance (RDA) for vitamin D underestimates the need by a factor of ten.
In a letter published last week in the journal
Nutrients
the scientists confirmed a calculation error noted by other investigators, by using a data set from a different population. Dr. Cedric F. Garland, Dr.P.H., adjunct professor at UC San Diego's Department of Family Medicine and Public Health said his group was able to confirm findings published by Dr. Paul Veugelers from the University of Alberta School of Public Health that were reported last October in the same journal.
"Both these studies suggest that the IOM underestimated the requirement substantially," said Garland. "The error has broad implications for public health regarding disease prevention and achieving the stated goal of ensuring that the whole population has enough vitamin D to maintain bone health."