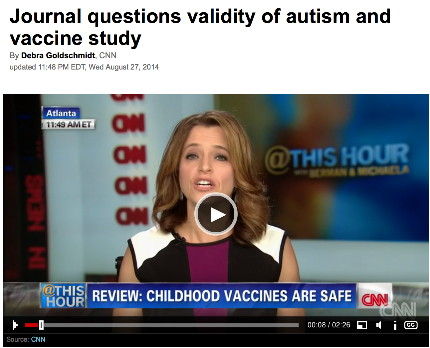 Watch the
CNN Coverup Story here
.
CNN just dropped the bomb many of us have been waiting for: pure denial. They have been waiting patiently for the journal -
Transactional Neurodegeneration
- which published the historical study on the link between autism and MMR vaccine to retract, redact and otherwise deny the truth of the study.
For the record, we contacted the editor-in-chief of
Transactional Neurodegeneration
, Professor Shengdi Chen tonight, with this communication:
Professor Shengdi Chen,

Your recent decision to remove Dr. Hooker's article published in your journalTransactional Neurodegeneration online has been cause of great concern among stakeholders in the scientific, journalistic and legal community here in the U.S., due to a top CDC vaccine safety expert - William Thompson - confessing under the advice of legal counsel today that the CDC manipulated and/or omitted data used in Dr. Hooker's study that falsified a link between African-American children and the diagnosis of autism in those receiving the MMR vaccine before 36 months of age versus those receiving it after 36 months.

While it is feasible that you made the decision for scientific, ethical, and precautionary reasons, as you state on your journal's website:

"This article has been removed from the public domain because of serious concerns about the validity of its conclusions. The journal and publisher believe that its continued availability may not be in the public interest. Definitive editorial action will be pending further investigation."

...the decision raises concerns as to your culpability in a cover-up.

You should know that your decision is being perceived as a threat to the credibility of your journal and career as an esteemed scientist.

Given the legal implications of your decision to potentially collude with a now verified cover-up involving the falsification of scientific data related to vaccine science and autism, would you be willing to make a statement to defend your decision?

I have copied a wide range of legal, journalistic and scientific stakeholders in this communication, and hope you can clear up what appears to be a precautionary decision on your part, which I hope can be clarified in detail on your part.

Sincerely,
Sayer Ji,
Editor-in-Chief of Greenmedinfo.com