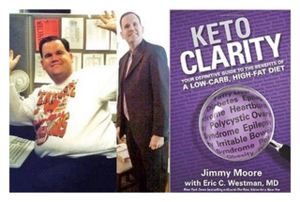 The ketogenic diet has proven effective for accelerating weight loss, but also manages epilepsy, reverses type 2 diabetes, and prevents heart disease, dementia and cancer.
In the book,
Keto Clarity
,
author Jimmy Moore outlines the many health benefits of the ketogenic diet and how he used the low-carb, high-fat eating plan to lose 180 pounds.
In researching his book, Moore spoke to a respected panel of experts, including renowned cancer scientist Dr. Thomas Seyfried, whose decades of research indicate the ketogenic diet starves cancer and
beats chemotherapy for most cancers
.
Moore's co-author is nationally recognized obesity expert Dr. Eric Westman, author of the bestseller
New Atkins for a New You
.
Over the years, Dr. Westman has helped thousands of morbidly obese people lose hundreds of thousands of pounds by following a low-carb, high-fat (LCHF) diet.
The LCHF diet also helped Westman's patients reverse their type 2 diabetes, improve their cholesterol profile, and dramatically reduced their risks of heart disease.