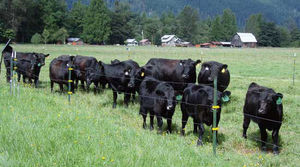 Author and "renegade farmer" Joel Salatin calls for food producers to tell a better story of a "new-fashioned" food system that rejects the industrial agriculture paradigm while embracing technology.
Calling something "old-fashioned" might encourage tourists and antique buyers to take note, but it does not captivate the hearts and minds of our mainstream culture.
Too often, the Earth-stewardship movement positions itself as one of returning to a bygone era - to the good old days, pre-electricity and pre-petroleum. While washboards, hoop skirts and hearth cooking may have romantic appeal, living that way doesn't inspire the imagination of today's solution-seekers.
Even the majority of people who yearn for simpler times and a slower lifestyle don't really want to go without electricity and automobiles.
Those of us who strive to bring about a sustainable food system need a message that's dynamic enough to convert fast-food junkies
. The industrial food system spends a lot of time and resources refining its message. Along with disparaging the do-it-yourself ethos, pastured livestock and fertilizing with compost, it promotes phrases such as "technology," "futuristic" and "feeding the world."