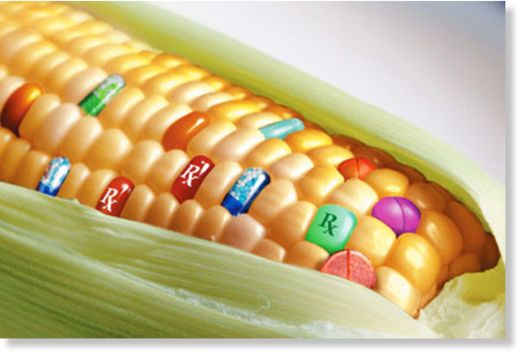 According to Mathew Holehouse in the UK's
Telegraph
newspaper (
here
), former UK Environment Minister Owen Paterson will this week accuse the European Union and Greenpeace of condemning people in the developing world to death by refusing to accept genetically modified crops. Speaking in Pretoria, South Africa, on Tuesday, Paterson will warn that a food revolution that could save Africa from hunger is being held back and that the world is on the cusp of a green revolution, of the kind that fed a billion people in the 1960s and 1970s as the world's population soared.
After talking about a growing global population and the pivotal role of GMOs in feeding it, Paterson will assert:
"This is also a time, however, of great mischief, in which many individuals and even governments are turning their backs on progress. Not since the original Luddites smashed cotton mill machinery in early 19th century England, have we seen such an organised, fanatical antagonism to progress and science. These enemies of the Green Revolution call themselves 'progressive', but their agenda could hardly be more backward-looking and regressive... their policies would condemn billions to hunger, poverty and underdevelopment. And their insistence on mandating primitive, inefficient farming techniques would decimate the earth's remaining wild spaces, devastate species and biodiversity, and leave our natural ecology poorer as a result."
Instead of parroting the corporate spin of the pro-GMO lobby, Paterson would do better to consider more viable options that he likes to denigrate as 'backward-looking and regressive' by listening to what Russia's Prime Minister Dmitry Medvedev stated in April of last year:
"We don't have a goal of developing GM products here or to import them. We can feed ourselves with normal, common, not genetically modified products. If the Americans like to eat such products, let them eat them. We don't need to do that; we have enough space and opportunities to produce organic food." (see here)
Or maybe Paterson would benefit from heeding a Statement signed by 24 delegates from 18 African countries to the United Nations Food and Agricultural Organization in 1998:
"We strongly object that the image of the poor and hungry from our countries is being used by giant multinational corporations to push a technology that is neither safe, environmentally friendly nor economically beneficial to us. We do not believe that such companies or gene technologies will help our farmers to produce the food that is needed in the 21st century. On the contrary, we think it will destroy the diversity, the local knowledge and the sustainable agricultural systems that our farmers have developed for millennia, and that it will thus undermine our capacity to feed ourselves."