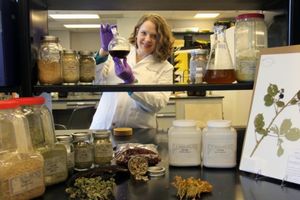 Leaves of the European chestnut tree contain ingredients with the power to disarm dangerous staph bacteria without boosting its drug resistance, scientists have found.
PLOS ONE
is publishing the study of a chestnut leaf extract, rich in ursene and oleanene derivatives, that blocks
Staphlococcus aureus
virulence and pathogenesis without detectable resistance.
The use of chestnut leaves in traditional folk remedies inspired the research, led by Cassandra Quave, an ethnobotanist at Emory University.
"We've identified a family of compounds from this plant that have an interesting medicinal mechanism," Quave says.
"Rather than killing staph, this botanical extract works by taking away staph's weapons, essentially shutting off the ability of the bacteria to create toxins that cause tissue damage.
In other words, it takes the teeth out of the bacteria's bite."