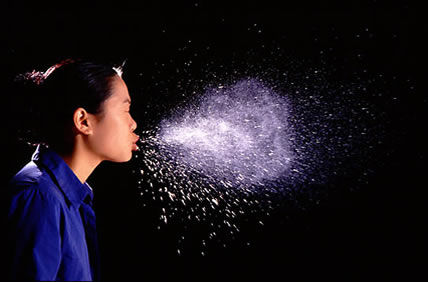 When you are sick, practicing social distancing techniques not only protects you from the crowds, it protects the crowds from you. If one actually falls ill, the best thing to do from a public health standpoint is not brave it through the illness to get to work, but self-quarantine at home to prevent the spread of the virus. You may not realize it, but that multiphase turbulent buoyant cloud you're about to expel in a sneeze of cough have associated gas clouds that keep their potentially infectious droplets aloft over much greater distances than previously realized, say MIT researchers.
"When you cough or sneeze, you see the droplets, or feel them if someone sneezes on you," says John Bush, a professor of applied mathematics at MIT, and co-author of a new paper on the subject. "But you don't see the cloud, the invisible gas phase. The influence of this gas cloud is to extend the range of the individual droplets, particularly the small ones."
Coughs
Researchers have illuminated the flows of coughs with powerful lasers and fancy photo techniques through the use of powerful computers to model this flow of thousands of tiny particles. They've used heated manikins and cough machines in rooms filled with tiny droplets of olive oil or theatrical smoke to track how air moves, where breath goes, and how exposed we are to someone else's cough.