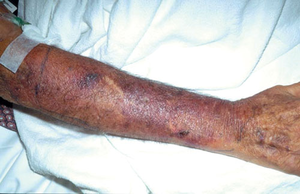 For years the Maryland Department of Environment has issued warnings about the deadly pathogen vibrio vulnificus, but
infections are now at a 10-year high
.
The bacteria "are found naturally in coastal areas" especially from May to October and "are not a result of pollution." Vibrio can infect the skin through an open wound.
Two strains of the disease, vulnificus and parahaemolyticus, can be contracted by eating raw or undercooked seafood.
"I've grown up on the bay my whole life, and I'm 66," Rodney Donald told the
Washington Post
from his hospital bed at MedStar Washington Hospital Center.
Donald nearly lost his leg to vibrio.
"I'd never even heard about it," he said.
Vibrio infections in Maryland are up to 57 in 2013, compared to 25 in 2002, according to the Maryland Department of Health and Mental Hygiene. Six cases were reported this year.
The Calvert County Health Department reported five infections around the Chesapeake Bay this summer.