While encouraging, this move is also a veritable Sign of the Times, where people have to be forced to stop eating processed frankenfoods that send them to an early grave.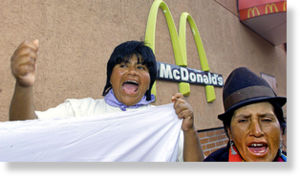 Ecuador's leftist president Rafael Correa is taking on US-owned fast food chains in a bid to combat the escalating obesity problem in the country.
"We are moving past poverty-related problems since the country is progressing a lot, and moving on to problems of affluence. People are dying from bad food, not a lack of food. People will stop eating so many McDonald's and Burger King hamburgers with the tax. This favors the production of our traditional gastronomy," said the politician, who has become well known for his strident anti-American rhetoric since assuming power in 2007.
"If you want to make yourself sick, that is your problem. We are in a free country. But those who deliberately affect your health, they should contribute a little more to the healthcare system to help you once you are ill."
Correa's PAIS Alliance holds more than two-thirds of the seats in the country's legislative assembly, and while internet memes bemoaning state interference in people's diets have appeared on the internet, the law is sure to be passed in the coming months.
Though the politician did not outline the severity of the penalties, or who would be covered by the law, the target of his ire was clear.
"We're talking about these big chains where meat is cooked in pans of oil used over and over, which is a threat to public health," said Correa in his local radio address.