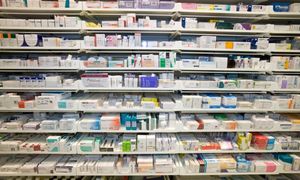 Almost 60% of patients taking prescription opiate painkillers are
prescribed potentially dangerous drug combinations
, according to a study released on Tuesday by a prescription drug management company.
"There could be instances when prescribing these combinations of drugs is appropriate,
but not at this scale
," said Lynne Nowak, a doctor with Express Scripts, a St Louis, Missouri-based company that processes more than 1bn prescriptions each year.
"The fact that the majority of these patients are being treated by multiple physicians and pharmacies signals a communication breakdown that leads to dangerous use."
The study, a Nation in Pain, was conducted using the anonymized records of more than 6.8 million Americans who had filled prescriptions for opioids between 2009 and 2013. Opioids, such as Vicodin and OxyContin, came to national attention as potentially dangerous in the mid-2000s when cities across the US started experiencing unusually high incidences of opiate overdose and addiction-related crime.