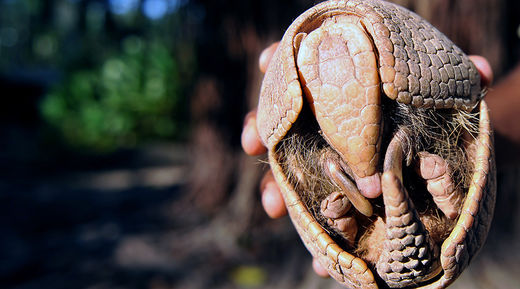 Leprosy is on the loose in Florida, thanks to the armored armadillo. Nine people have come down with the disease after coming into contact with the animal. Now wildlife experts are sending out warnings about the risks of cuddling with cute animals.
So far this year, nine people contracted Hansen's disease, the official name for leprosy, in Florida. It is caused by the Mycobacterium leprae bacteria, which can be found on nine-banded armadillos, Florida Department of Health deputy press secretary Brad Dalton told WTLV. The state normally sees two to 10 cases each year.
All of the affected patients said they came into contact with armadillos, but genetics plays a big role in who contracts leprosy after touching the animals, according to Dr. Richard Truman, acting chief of the laboratory research branch of the National Hansen's Disease Program in Baton Rouge, Louisiana.
"Between Texas and Louisiana and the southern United States, many millions of people have direct or indirect exposure to armadillos every day," he told NPR, noting that 95 percent of humans are completely immune to the illness.
Armadillos aren't the only animal to watch out for, though.
"All wild animals can harbor infectious agents that are harmful to people," Truman says. "If we leave animals alone and exercise caution, they don't pose a risk to us."