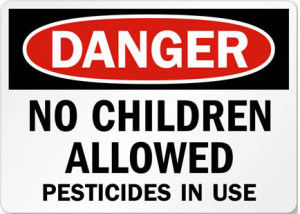 Despite major improvements in treatment and survival, children's cancer rates are
rising
in the United States, leaving parents and scientists alike searching for evidence of what's behind the trend. A new report sheds light into one avoidable risk: household pesticides.
Children exposed to insecticides inside their homes have a 47 percent higher risk of developing certain cancers in childhood, according to the report by Alex Lu and his colleagues at the Harvard TH Chan School of Public Health.
The research team examined 16 high-quality studies of children's risks and found that indoor exposure to insecticides was associated with higher rates of leukemia and lymphoma, the most common cancers diagnosed in children. Exposure to outdoor herbicides (weed killers), but not insecticides (bug killers), was associated with 26 percent higher childhood leukemia risk.