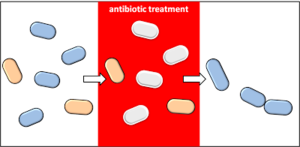 It's one thing to grow bacteria in a test tube, perform a screen in the lab, and find a mutation in the pathogen's genes. It's a whole other thing, and much rarer, to find the exact same mutation in nature--in this case, in
E. coli
in urine samples from some 500 patients suffering from relapsing urinary tract infections.
The confluent discovery, by University Distinguished Professor Kim Lewis and his colleagues, was published in the journal
Nature
.
It could put people with relapsing UTIs on the fast track for a new therapeutic regimen that Lewis described in an earlier paper.
"We took a large collection of
E. coli
isolates from patients with relapsing UTIs," explains Lewis, who is director of the Antimicrobial Discovery Center. "
And we found that quite a number of those isolates had exactly the same mutation--in a gene called hipA-
-that we and other scientists have seen in test-tube experiments."
Pooja Balani, a doctoral student in Lewis' lab at the time of the study and a first author of the paper, spent countless hours performing a genetic screen, poring over both test-tube cultures of
E. coli
and patients' UTI isolates, in search of hipA mutations.
She was delighted by what she saw:
hipA leapt to the fore in both populations.