When 24-year-old Erika Langhart - talented, beautiful, bound for law school - died on Thanksgiving Day 2011, she became one of thousands of suspected victims of the birth-control device NuvaRing. Elite army athlete Megan Henry, who survived rampant blood clots in her 20s, is another. With major suits against NuvaRing's manufacturer, Merck, headed for trial, Marie Brenner asks why, despite evidence of serious risk, a potentially lethal contraceptive remains on the market.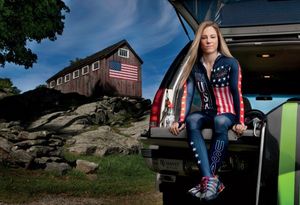 Karen Langhart never had the slightest doubt about her 24-year-old daughter Erika's ability to organize meticulously every detail of her life. For months in 2011, Erika's Thanksgiving plans had been locked in place. On November 23 she was set to arrive from Washington, D.C., on U.S. Airways, landing in Phoenix, Arizona, at five P.M. Erika and her mother would go straight to Sprouts, a local gourmet grocery store, to shop for a turkey, corn bread, yams, and the ricotta and walnuts needed for the signature cheesecake they served at their restaurant, the Red Snapper, one of Durango, Colorado's best. The Red Snapper, designed by Karen and her husband, Rick, restaurateurs and land developers, had been, for the 25 years they owned it, the center of the family's life.
Lanky and athletic, Erika had a toothy smile, a raucous laugh, and a lush beauty; her long blond hair bounced when she spoke. She carried herself like a debutante, and she made light of her leadership awards and magna cum laude degree at Washington's American University. On Sundays, when the Denver Broncos played, Erika wore their colors, orange and blue. Almost six feet tall, she often wore big hats, short designer wrap dresses, and high heels or expensive cowboy boots, playing her height to maximum advantage. Chosen to represent her university at leadership conferences in China and Tibet, Erika seemed on her way to more honors at Georgetown Law School and a career in politics.