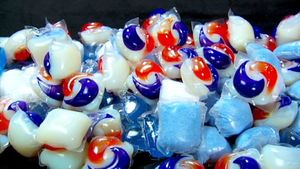 More than 17,000 small children were harmed by single-use detergent packages in just over a year.
Kids often see the bright red and blue of laundry pods and mistake them as candy
, and they're heading to emergency rooms in alarming numbers.
More than 17,000 incidents of children ingesting laundry-detergent packages had been recorded by poison-control centers across the nation between 2012 and 2013,
according to a report
in the journal
Pediatrics
. One child has even died after ingesting the ingredients of the pods.
Laundry pods, which are jaw-breaker sized single-use containers of concentrated liquid detergent, have a
flexible outer membrane that can easily be perforated by young children trying to bite into them,
says the study.
The pods, which often come in bright multi-color combinations, to show that cleaning ingredients will be mixed in the wash, may resemble hard candies or even the teething toys often given to children.