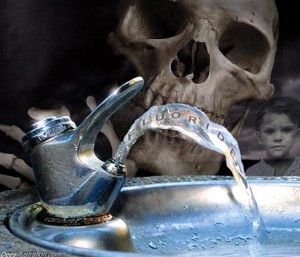 Water fluoridation above a certain level is linked to 30 per cent higher than expected rates of underactive thyroid (hypothyroidism) in England, suggests research published online in the
Journal of Epidemiology & Community Health
.
The findings prompt the researchers to call for a rethink of public health policy to fluoridate the water supply in a bid to protect the nation's tooth health.
In England, around 10 per cent of the population (6 million) live in areas with a naturally or artificially fluoridated water supply of 1 mg fluoride per litre of drinking water.
The researchers looked at the 2012 levels of fluoride in the drinking water supply, using data provided by the Drinking Water Inspectorate for individual postcodes.
And they looked at the national prevalence of underactive thyroid diagnosed by family doctors in England in 2012-13 and recorded in their national quality and incentive scheme (QOF) returns. Complete data were provided for 7935 general practices out of a total of 8020.