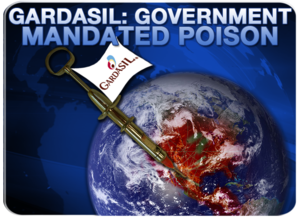 Merck can say that Gardasil contains 'no viral DNA' all they want, but Dr. Sin Hang Lee had reported to the FDA just over two years ago that the vaccine contains fragments of DNA that shouldn't be in something we give young women - so why is Gardasil still on the market?
After conducting extensive research,
Dr. Lee found that in 100% of lab samples tested, fragments of HPV-11,
HPV-16
, and HPV-18 L1 DNA firmly attached to
Merck's proprietary aluminum adjuvant
.
Even though
SaneVax Inc
reported their findings to the FDA, the controversial vaccine used to treat cervical cancer is still being sold, and the FDA states that 'these fragments pose no health risk.'
Once again, the FDA has ignored science which proves that a drug created by a big pharmaceutical company is less than safe.
Dr. Lee also found that the HPV DNA fragments were not only bound to Merck's proprietary aluminum adjuvant, but
they had also adopted a
non-B conformation
, thereby creating a novel (new) chemical
compound of unknown toxicity
.