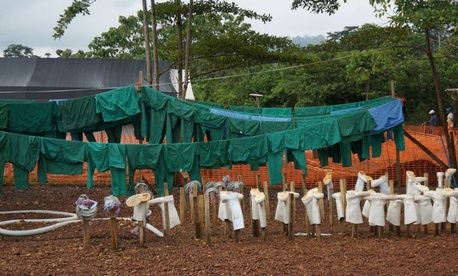 As the Ebola outbreak in West Africa grows worse, the Homeland Security Department is being faulted for mismanaging its supply of protective equipment and antiviral medical countermeasures, a watchdog found.
DHS Inspector General John Roth
warned in a report
dated Aug. 26 and sent to Deputy Homeland Security Secretary Alejandro Mayorkas that DHS "did not develop and implement stockpile replenishment plans or inventory controls to monitor stockpiles, have adequate contract oversight processes, or ensure compliance with department guidelines" to assure supplies of respirators, surgical masks and hand sanitizer.
Congress in 2006 appropriated $47 million for DHS to plan, train and prepare for a possible pandemic, the inspector general noted. But without proper replenishment plans or inventory controls, DHS "has no assurance that the supplies on hand remain effective," said the report, prepared after numerous interviews and site visits to storage facilities.
Examples of poor control include ordering 16 million surgical masks without demonstrating a need for that quantity; 4,184 bottles of hand sanitizer that have expired (84 percent of the supply); and a storehouse of antiviral drugs of which 81 percent will expire by the end of 2015.
The department also failed to develop alternative use plans for the supplies, the watchdog said.
"DHS and its components do not know where its personal protective equipment is located, how much it has, and the usability of the stockpiles that exist," the report said. "DHS is responsible for ensuring it is adequately prepared to continue critical operations in the event of a pandemic."
The watchdog made 11 recommendations for improving management of the stockpiles. DHS agreed with them all, but argued that the auditors "overemphasized the final level of controls rather than viewing them in their role as last in a hierarchy of controls."