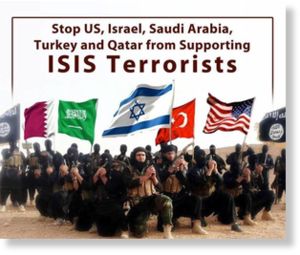 The iconic image of 3-year-old refugee Aylan Kurdi's lifeless body on a beach on the Turkish coast went 'viral' recently and brought the two-year-long European 'refugee crisis' to widespread public attention. EU nations are now facing an influx of potentially hundreds of thousands of migrants fleeing their NATO-war-torn countries in search of safety and stability. Whether or not they'll find it is still an open question.
This 'refugee' problem is, of course, not new, and Aylan was not the first tragic death directly related to the problem. Consider the hundreds of thousands of deaths in Syria alone that have resulted from the U.S. government-manipulated 'revolution' in that country 4 years ago. Or think of the unprovoked attacks on and invasions of Iraq and Afghanistan or the NATO bombardment of Libya and subsequent installation of a fundamentalist 'Jihadi' regime there. Then consider that 2,600 people, or more, have already died attempting to cross the Mediterranean into Europe. The 'refugee crisis' has been brewing for over two years, but it took Aylan's body to make many people sit up and take notice.
The refugee crisis is very real, at least in the sense that Western-backed death squads have made life miserable for millions of Syrians in particular (almost half of the Syrian population is internally or externally displaced). Whereas the U.S. (along with its lackeys Canada, Australia, the Gulf States, and others) bear the most responsibility, they have been the least willing to accept refugees from the states they're destroying, and which they claim they wish to 'save'. Europe is forced to bear the brunt of dealing with the fallout: humans in need of food, shelter, and jobs. It's possible of course, if there is the will. Russia has willingly taken in close to a million Ukrainian refugees (again, the result of an American phony revolution in Ukraine last year). But so far, Germany is the only EU nation that appears willing to really open their doors to people in need, making allowances for 800,000 refugees this year alone.