"What the darkness cannot possess, it seeks to destroy"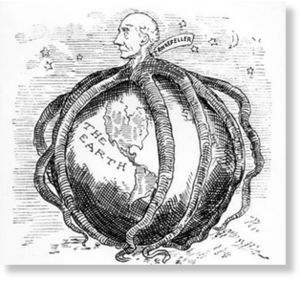 You've probably read all sorts of theories that seek to explain the causes of the 'new cold war' in which we find ourselves. From the embarrassingly simplistic "Putin's a Hitler" offered by the Western press to the more nuanced idea of an 'energy war' between US-Europe-Russia. The truth about why we are where we are right now, as a species, however, is actually fairly simple. But to understand it you'll have to ditch the idea of a 'new cold war' and
replace it with 'the 120-year-old war that never ended'
.
If you like your history condensed and relevant to current events, then read on.
Over 100 years ago, in 1904, one of the founding fathers of both geopolitics and geostrategy, Oxford University graduate and co-founder of the London School of Economics, Sir Halford Mackinder, proposed a theory that expanded geopolitical analysis from the local or regional level to a global level. Geopolitics is the study (by people in positions of power) of the effects of geography (human and physical) on international politics and international relations. In layman's terms,
this means the study of how best to control as much of the world - its resources, human and natural - as possible
. When you or I think about the world, we think of a big, complicated place with billions of people. When the 'elite' think of the world, they think of a globe, or a map, with nation states on it that can, and should, according to them, be shaped and changed
en masse
.
Mackinder separated the world into just a few regions.
The 'world Island', an area roughly comprising the interlinked continents of Europe, Asia, and Africa.
The offshore islands, including the British Isles and the islands of Japan.
The outlying islands, including the continents of North America, South America, and Australia.
The most important of these, by far, was the 'world island' and in particular what he called the 'heartland',
which basically means Russia
.
Mackinder said that whoever controls the 'heartland'
(Russia)
controls the 'world island'
(Eurasia and Africa),
and whoever controls that, controls the world
. It's a fairly self-evident analysis of the situation because the great majority of the world's population and resources are on the Eurasian continent, and holding a vast northern position on that landmass - with your rearguard protected by an impassable frozen ocean - gives you the prime vantage point, or 'higher ground' if you will.