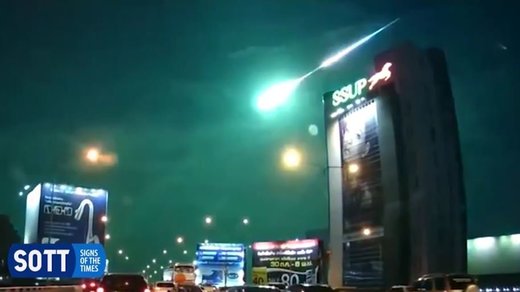 SOTT.net last looked in detail at the frequency of meteor fireballs in 2013, using the data garnered by the American Meteor Society (AMS). SOTT.net pointed out the increasing frequency of fireballs
1
, and asked the question: "
What does 2014 have in store?
"
Well, the results are in, and the answer is simple: comparing 2014 to 2013,
the frequency of fireballs increased by 120%
.
Comparing 2015 to 2014, fireballs increased by 20%
. That is a significant increase, and it should be generating a lot of attention. If it is, then it's being done very quietly behind closed doors.
Since October 2013, the web site
spaceweather.com
has published daily data from NASA's All-Sky Fireball Network, which observes, and daily reports, fireball activity over the US.
2
I have collated both sets of data - from NASA and the AMS - to produce the following graphs, taking into account that each dataset relies on different definitions of 'meteor fireball'. Click on the graphs to view them at full size.