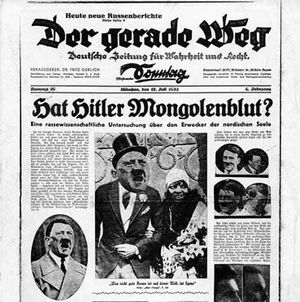 Fritz Gerlich
was a German journalist during Hitler's rise to power. He was well known for his biting criticism of der Führer. One of his most controversial moments was turning Hitler's image into a composite where his facial features were exaggerated and he was arm in arm with a black woman.
In the article, Fritz suggested that readers apply Hitler's own science of physiognomy to Hitler himself, and when applied, it's clear Hitler isn't even Aryan, but of a Mongolian subtype. This insult was the final nail in the coffin for Fritz, who had consistently used the power of the pen to combat Hitler each step of the way. He was arrested and dragged off to Dachau while working on yet another Hitler exposé, and killed a little over a year later.
Gerlich serves as but one example of many journalists who were threatened, beaten and murdered for revealing the truth. Only in the dark can evil things hide. I draw this piece of history to your attention, dear reader, because I want to talk about some other modern-day journalists who were killed under questionable circumstances. It seems we have yet to learn the lessons we said we'd never forget.