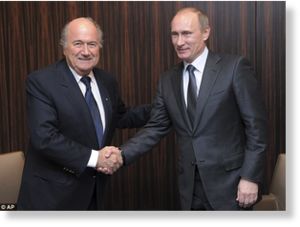 Try and find any public information that shows that Sepp Blatter is guilty of any of the charges of fraud or corruption that have ever been brought against him. You won't find it. The only thing Blatter seems to have been "found guilty of" is "political correctness", aka crimes against Western, liberal, capitalist, secular, atheist, war-loving culture.
For example, Blatter advised gay football fans planning to go to Qatar - a brutal dictatorship supported by the West and ruled by Sharia law, where homosexuality carries the death penalty - to "refrain" while there. That's pretty good advice in my opinion.
Blatter also allegedly suggested that women footballers dress in a more feminine way to improve attendance rates. While that carries more than a hint of sexism and misogynism, this is sound business advice in this capitalist, sex-obsessed, free market driven, morality-free, money-is-all-that-matters Western world.
As to his "bizarre winner's speech"; on what basis can this be considered "bizarre" when compared to the paramoralistic verbiage regularly spewed by the average Western politician? Blatter says "we need more women in FIFA" - just like every goddam political party leader in the Western world. He also mentioned god. How exactly is that bizarre when 2/3 of the global population believes in some kind of god? But I forget, he is being targeted by the liberal, godless, materialism-worshipping and warmongering West. No god here please, unless he supports war and genocide.