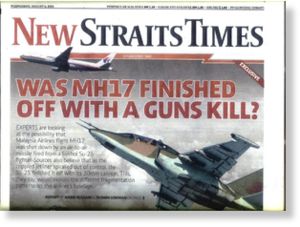 Western mainstream media whores are already jumping all over a single sentence in the
Preliminary report [on the] Crash involving Malaysia Airlines Boeing 777-200 flight MH17
, that reads:
Damage observed on the forward fuselage and cockpit section of the aircraft appears to indicate that there were impacts from a large number of high-energy objects from outside the aircraft.
According to paragons of bullshit
like the BBC
, this "pretty much rules out anything else other than a [BUK] missile".
What the BBC and just about every other mouthpiece of Western anti-Russian propaganda are studiously ignoring is the
evidence provided by Russia
, which was
corroborated by eyewitnesses
, that
fighter jets were in close approach to MH17 when it went down
. And in case everyone forgot, high caliber bullets are also "high-energy objects".