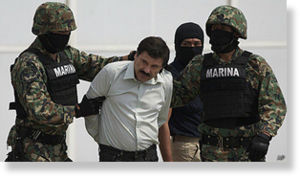 Well, he's done it again! Joaquín Guzmán Loera, better known as "El Chapo", head of the powerful Sinaloa Cartel and formerly the most-wanted billionaire drug lord in Mexico (and elsewhere), escaped from a Mexican maximum security federal prison outside Mexico City a few weeks ago. In 2001, Guzman escaped from another maximum security federal prison.
The story this time goes that a 50cm diameter hole was found in his cell, protected from the prying eyes of security cameras by a blind spot that blocks portions of the adjoining bathroom from view. Then via a "hi-tech" tunnel, Guzmán descended 19 meters to reach a 1.5km underground corridor that ended in a small house just outside the prison. The corridor was fully fitted with electric cables and illuminated by light bulbs, which Guzmán apparently removed on his way out. Incredibly, this 1.5km tunnel was also installed with a rail and a motorbike. For 'human rights reasons', the security bracelet Guzmán was wearing, which he ditched just before descending into the tunnel, didn't have a GPS tracking system.
In apparent blunder after blunder, despite the alarm being raised minutes after he vanished from camera view, it took 18 minutes for a guard to arrive at his cell.
Security alerts to the nearest airport were issued 5 hours after he was last seen and alerts to other nearby airports were issued almost 15 hours later.
As luck would have it, the prison's layout is exactly the same - down to the very last detail - as the other prison Guzmán broke out of in 2001. There are only 3 identical prisons in Mexico, and Guzmán has been in 2 of them. If he's ever arrested again, I wonder where he'll end up.
Curiously, the US government requested Guzmán's extradition to the US on trafficking charges just two weeks prior to his escape.