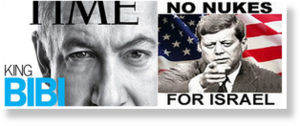 Events in the world of "high politics" over the last week have been very revealing, and entertaining. The US-Israel 'special relationship' has, apparently, been souring for a while.
At the beginning of this year Israeli defence minister Moshe Yaalon accused John Kerry of being "obsessive and messianic" in his pursuit of a peace deal between Israelis and Palestinians. A few months later Kerry warned Israel that it was in danger of becoming "an apartheid state". Israel is, of course, already a full-blown apartheid state with even the warmongering daughter of Israeli terrorists and now, Israeli Justice Minister, Tzipi Livni,
complaining about segregated buses for Palestinians
.
Two weeks ago the Obama administration warned that Israel risked alienating its "closest allies", and last week Yaalon was pointedly snubbed by senior administration officials during a visit to Washington. Then, several days ago, American-Israeli journalist and former Israeli prison guard, Jeffrey Goldberg,
published an article in The Atlantic
that cited an unnamed Obama official describing Netanyahu as a "chickenshit" in terms of the moribund Israel-Palestine 'peace process'
and
the alleged 'nuclear threat' from Iran.