Comment:
This is the tenth in a series of 12 articles written in 2006 commemorating (at the time) the 43rd anniversary of the assassination of JFK. This year, 2013, is the 50th anniversary of what can, in hindsight and in Truth, be called the Day America Died.
Anyone who has taken the time to study the facts about that fateful day in Dallas, TX, will already know that JFK was deliberately murdered by a cabal of psychopathic warmongers who were opposed to his plans for a more peaceful world. That same cabal is still in power today, and it has extended its reach across the globe.
We will be featuring one article per day between now and the anniversary.
You can find the rest of the JFK series on the right hand bar of
Sott.net
. You can also purchase a Kindle of
the whole series on Amazon
.
If you do nothing else, just take the time to watch the Sott.net/QFG produced version of '
Evidence of Revision
', a three disc set that presents archive footage that will leave you in no doubt who killed JFK and why.
John F. Kennedy, Oil, and the War on Terror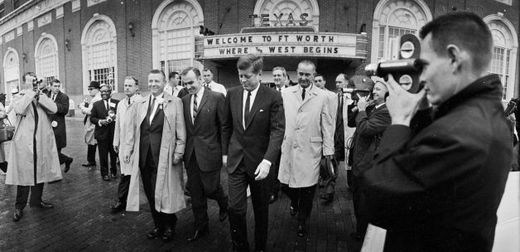 On November 20th, 1963, between 11:30 - 11:40 a.m., President John F. Kennedy met with Lena Horne, Carol Lawrence, DNC chairman John M. Bailey, and others.
Later that day, he issued a statement on the Extraordinary Administrative Radio Conference to Allocate Frequency Bands for Space Radio Communication Purposes, held in Geneva, Switzerland from October 7 to November 8, 1963. He invited other nations to participate in setting up a global communication satellite system. He spoke of
"a peace system worldwide in scope."
Following that, John Kennedy sent to the Congress the 17th annual report on U.S. participation in the United Nations, and then he signed into law bill (HR2073) to allow the conveyance of submerged and tidal lands to Guam, the Virgin Islands, and American Samoa if they are needed for economic development or other compelling reason.
The John F. Kennedy Presidential Library Archives
At the end of the day, he had less than two days left...