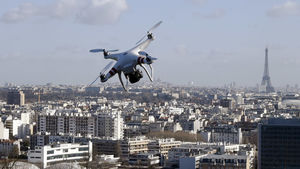 British security services, known for their hysterical obsession with terrifying the British public by way of repeated bogus terror threats, recently used the British gutter press to
claim
that IS (the
CIA/Mossad/Saudi proxy army
formerly known as ISIL/ISIS) could use easily-affordable home-assembly drones to drop explosives on open-air sporting and cultural events (but not British government or intelligence service buildings, of course), causing mass casualties which could be filmed by on-board cameras. These videos would then be handed to
Rita Katz and her SITE group
for uploading to Youtube, thereby ensuring the drama reaches the widest audience.
An unnamed counter-terrorism source, probably from MI5's department of propaganda, told the British
Daily Expres
s that "terror groups had been
trying to launch a drone-borne bomb attack for some time, as these machines are getting more hi-tech every year.
" While the unnamed MI5 propaganda source did not reveal how he knew the intentions of jihadi groups, the fact that
British intelligence has a long track record
of
grooming militant Islamists to carry out "terror attacks"
against civilians, meant he didn't have to.