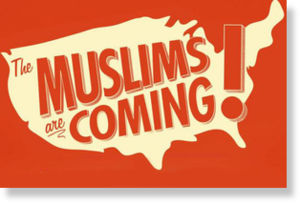 Local Dutch broadcaster RTV Noord Holland recently launched an advertising campaign involving posters with the question: "Are other jihad families living in Het Gooi?". The poster refers to
two families
with children living in the area who, last year, were alleged to be planning to move to Syria and help ISIS. The posters were hung at bus stops in the cities Huizen and Hilversum (
Het Gooi
is the area around Hilversum). The Muslim community in the Netherlands, as well as non-Muslims have responded with shock, many voicing their concerns that this campaign increases Islamophobia and encourages the assumption that islam and terrorism are one and the same thing.
Several people have compared the campaign with the persecution of the Jews during the Second World War. Ali Osman, board member of
Moslims in Dialoog
, for instance, said: "It is not the same, but back then it also happened in steps.
First the Jews were not wanted anymore, then they became second-rate citizens. That also seems to be the case here."
As a reaction to this recent uproar, Paul van Gessel, director of RTV Noord Holland that is responsible for the campaign of bigotry and jingoism, told the current affairs show
Dit is de Dag
:
'We focus on a theme which is important in a region,' 'Jihad fighters are an issue in Het Gooi. We are a journalistic organisation and we ask questions.'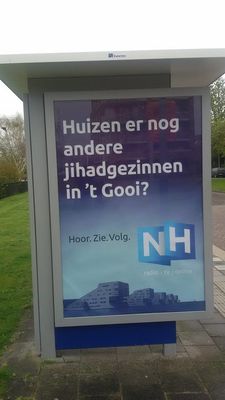 How exactly a handful of alleged IS-supporters in an area with approx.
220,650
inhabitants (or about 0.005% of the population in the area) translates to "Jihad fighters" being ''an issue'' in the region is beyond me. If there truly was a Jihad-issue in Het Gooi, the problem could have been dealt with in a different manner. Instead of hanging up posters that exacerbate the disadvantageous social and economical position in which Muslims in Holland find themselves, they could have made efforts to educate people (Muslims and non-Muslims) about
the real origins and purpose of ISIS
. Investment could also have been in spreading information about the difference between someone committing violent acts in the name of a religion and the other peaceful followers of that same religion. This would have helped to alleviate the stress that the average Dutch Muslim has to deal with and discourage young adults of Muslim faith from falling prey to ISIS propaganda.
Alas, Paul van Gessel and others appear to have a different goal in mind.