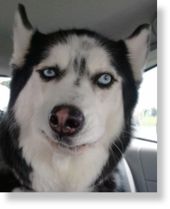 We live in a world where media reporting has very little to do with the truth, and everything to do with sensationalism, fear mongering and, very often, corporate and financial interests. Most of what passes for human "nutritional science" these days is not the result of objective scientific research, but rather the skewed and manipulated "findings" of scientists working for, and entirely beholden to, the food industry and the 'bottom line' of multi-national corporations.
The very same can be said when it comes to the research into the nutritional health needs of our beloved pets, after all, the largest
human food
manufacturer in the world, Nestle, is also the largest
pet food
manufacturer. In 2010
Nestlé Purina PetCare
had revenues of $12.5 billion, or about 15% of total revenues for the Nestle Corporation.
Yesterday, the British broadsheet
The Telegraph
published an article with a rather bombastic title:
Raw meat could be the cause of dead dogs, scientist warns.
'Bombastic', as in, 'high-sounding but with little meaning; inflated' is precisely what this title and entire article is.