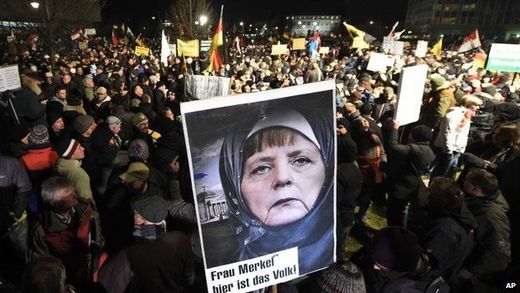 The reports coming from Germany these days can be confusing: we hear stories about the staggering numbers of refugees pouring into the country, about
refugees disappearing without a trace
, about Germany being the only country actually living up to its responsibility to provide shelter for these people who fled the chaos that the West created with its perpetual war in the Middle East,
wild theories
that claim the "so-called refugee crisis" is entirely manufactured in order to "invade" Europe in general and Germany in particular, while providing a cheap labor force for the corporate elites, and even warnings of an impending
civil war
in Germany.
However, the most important thing people need to understand about the current situation in Germany is the widespread and increasing hatred towards refugees and Muslims that is infecting people's minds in the very country that gave rise to the Nazis and one of the darkest episodes in human history. Incidentally, in light of the Paris attacks that have propelled the "Muslim terrorist" narrative back into the headlines, we should all remember that one of the seminal events that led to the rise of the Nazis and their final solution for the Jews was the burning of the Reichstag by the Nazis that was then blamed on 'Communists'. As they say, history repeats - same song, different verse.
So what's the atmosphere on the ground in Germany? First, there are indeed large numbers of refugees in the country, which naturally poses a lot of logistical problems: where can they live, which government agencies are responsible, what about medical treatment, language barriers, registration, heating, food, etc.? What about all the legal procedures that are supposed to take place with asylum seekers (including deportation, which always has been subject of debate in Germany), when the numbers are so high and under conditions of general chaos?
These are obviously great challenges, and those tasked with facing those challenges report a lot of mismanagement of the situation. Tellingly, a lot of the work is actually done
not by the government, but by the many volunteers
who distribute clothes, provide language classes, help with bureaucracy and so on. Needless to say, with such a large group of people, along with the majority of peaceful and traumatized refugees, there will also be thugs, criminals and pathological types of all sorts. Naturally then, there are reports of crimes and violence committed by some of the refugees (notice however that many of the more horrific tales are based entirely on rumors fueled by racism,
most of which turned out to be hoaxes
). On the other hand, there
are
very frightening incidents of right-wing violence against the refugees, from
beatings
to
setting fire
to refugee camps.