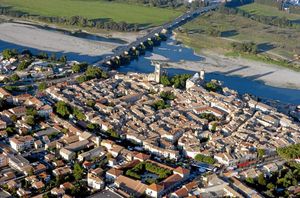 French TV channel France 3 recently aired
a documentary
that covered an interesting episode in the long history of CIA abuse of innocent civilians. Although the incident and its context are highly disturbing, it is a testament to the persistence of a select few researchers that their findings are reaching a wider audience.
The show focuses on the 1951 "mass intoxication" case in the French village of Pont Saint Esprit. For one week in August that year, hundreds of villagers suffered from an apparent attack of psychosis that included hallucinations. As a result, seven people died (two of them by suicide) and some sixty were interned in psychiatric hospitals. Just one month after the events, the
British Medical Journal
explained it away as a case of poisoned bread by ergot mold (a psychedelic mold). However, investigative journalist Hank P. Albarelli Jr has convincingly argued in recent years that this was in fact an experiment carried out jointly by the CIA and the US Army, involving the deliberate use of LSD or a similar psychotropic substance.
The nightmarish scenes of the week that began on the 17th of August 1951 were described
as follows
:
A French newspaper at the time of the bizarre incident wrote, "It is neither Shakespeare nor Edgar [Allen] Poe. It is, alas, the sad reality all around Pont-St.-Esprit and its environs, where terrifying scenes of hallucinations are taking place. They are scenes straight out of the Middle Ages, scenes of horror and pathos, full of sinister shadows." A brief article in TIME magazine, then a major U.S. news journal, with extremely close ties to the CIA, stated, "Among the stricken, delirium rose: patients thrashed wildly on their beds, screaming that red flowers were blossoming from their bodies." Other newspapers that converged on the scene described people throwing themselves from rooftops, women and men throwing their clothes off and running the streets naked, and children complaining that their stomachs were infested with coils of snakes.