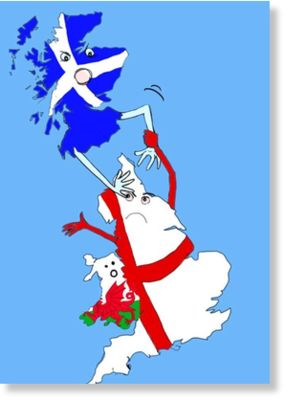 People of Scotland!
Let's be honest. For a long time, the vast majority of you have, at the very least, harbored a certain resentment towards the 'English', and by 'English' I mean the racist, warmongering 'elite' class in Westminster who have treated you as second class citizens.


I'm here to tell you that your dislike of these 'English' is entirely justified
. As an example of the prevailing attitude of the English establishment towards the Scottish people, consider the comments made by two members of the English establishment media a few days ago. In reference to the very fact that the Scottish were even being 'allowed' the chance to vote for independence,
one of them said
:
"Hang on, are we just pandering to the errant child, offering sweeties"
the other added:
"rewarding bad behavior"
These comments clearly highlight the contempt with which the English establishment authorities look upon the Scottish people. So why would any Scot, in his or her right mind, want to be associated in any way with such elitism and arrogance?