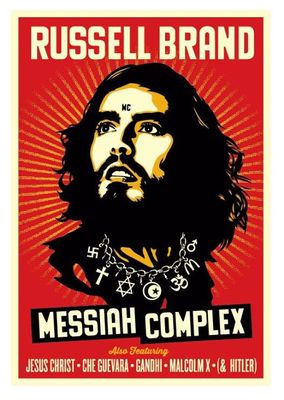 Okay, Russell Brand: Yep, you're
saying lots of stuff people want to hear
. (Just like every single other politician, btw.)
And yeah, you're 'one of us' (Just like every politician that's come galloping across the hero horizon over the years, btw.)
But, I am reminded of something this other comedian said way back when:
"Think of how stupid the average person is, and realize half of them are stupider than that."

George Carlin
And so I have to ask, 'cuz I'm annoying that way, why it is you're being granted the opportunities to so openly articulate your political views in mass media venues. Curious, that is. Considering that you're not really espousing any point of view that hasn't already been articulated before, and usually for the purposes of perception management and manipulation, by the way, I guess I am just having this little 'inner niggling' about what your purpose is, Russell.
Because society is way dumber than it used to be, by all appearances.
The public, by and large, seems pretty damn (how shall I put this delicately) 'suggestible'. Put much less delicately: easily suckered, conned, taken for a f*cking ride.