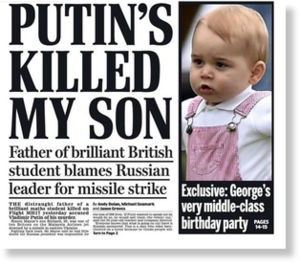 One year ago today over Eastern Ukraine, someone deliberately shot down Malaysian Flight MH17 killing all 298 passengers and crew, most of them Dutch citizens.
In the immediate aftermath of the event, and I mean, 'immediate', the Western media and the Western political elite it works for, blamed 'pro-Russian rebels', Russia, and even Vladimir Putin himself for bringing down the plane with a Buk M1 missile. No evidence was presented to back up the claim.
Since then, the 'trial by media' has continued, although still without one shred of evidence that 'Russia did it'. With the 1-year anniversary approaching,
CNN released
a 'damning' new report citing unnamed "U.S. officials" who said they had seen a draft of the final official report by Dutch investigators due in October this year. The draft apparently reveals shocking new hard evidence in the form of the statement: "Russia did it". Slam dunk!