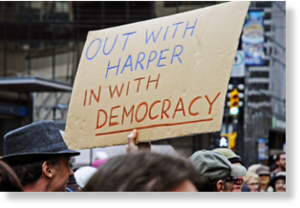 At what point do we start getting suspicious?
Three weeks ago, on October 3rd, Canadian PM Stephen Harper's Conservative party
narrowly passed a motion
to "launch combat missions" in Iraq alongside other Western warmongering nations and their clients in the Middle East. The motion was passed (157 for to134 against) despite stiff opposition from the NDP and Liberal opposition parties and a Canadian public traditionally averse to any kind of foreign military campaigns. On the day of the vote,
an online poll
showed almost
60% of respondents were against
Canada joining the 'coalition'.
NDP opposition leader Tom Mulcair
said
that the Harper government was "
plunging Canada into a prolonged war without a credible plan
" and that bombing ISIS "
will only create more recruits for ISIS and can, in fact, prove to be disastrously counterproductive"
. On Monday, former prime minister Jean Chretien again
criticized
Canada's military involvement in Iraq saying that it was "
just the latest in a long history of interventions by western countries that have left "scars" on the Middle East
" and that "
Canada should be putting its emphasis on humanitarian assistance for the refugees in the region
."
The pusillanimous PM Harper responded by reading a gospel from the Neocon book of public scaremongering:
"It is imperative that we act with our allies to halt ISIL's spread in the region and reduce its capacity to launch terrorist attacks outside the region, including against Canada. As a Government, we know our ultimate responsibility is to protect Canadians, and to defend our citizens from those who would do harm to us and to our families.
In urging all parliament members to support the motion, Harper admitted that involving Canada in another war was not only unpopular but politically risky in the run up to next year's general election. Then again, given the
widespread allegations of vote fraud leveled against Harper's Conservative party
during the last general election, Harper may not have much to worry about.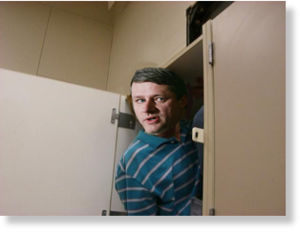 Two days ago, having finally emerged from the
broom closet into which he bolted during the gunfire
in the Parliament building, Harper responded to the two "terror attacks"
saying
that the events were "
a grim reminder that Canada is not immune to the types of terrorist attacks we have seen elsewhere around the world, and that the attack(s) would only strengthen Canada's response to terrorist organizations
".
Harper also pledged to speed up a plan already under way to bolster Canadian laws and police powers in the areas of "surveillance, detention and arrest.
We will not be intimidated. Canada will never be intimidated."
But of course,
as a result of two very well timed 'terror attacks'
, Canada, or rather Canada's public, its military and its political class,
have
been intimidated (or rather manipulated) into backing down in the face of Harper's warmongering and becoming accomplices in more corporate war-for-profit and the destruction of their civil liberties.