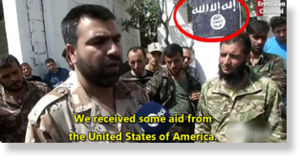 In his recent
interview for CBS' 60 Minutes
, Putin flatly rejected Western media claims that the Syrian military commits war crimes, not least the incessantly repeated claim that the Syrian military is wantonly dropping 'barrel bombs' over civilian areas, telling American journalist Charlie Rose, "
Speaking in the professional language of the intelligence services, I can tell you that this kind of assessment is an 'active measure' by enemies of Assad. It is anti-Syrian propaganda
." Since the conflict began,
many massacres have been blamed on Syrian forces, but later turned out to have either not taken place at all or have been carried out by so-called 'rebels' or 'terrorists'.
Within a year of the so-called 'Syrian uprising' they told us the death toll was hitting 100,000. By late 2013 it was 200,000. And today Western media outlets throw around figures of 'over 320,000 dead'. The primary source for these figures throughout the 'civil war' - which is really a war of conquest by proxy mercenaries in the pay of Washington, Turkey and Saudi Arabia, - has been the '
Syrian Observatory for Human Rights
', an opposition 'group' whose reports about what's happening in Syria have been taken at face value, despite its clear interest in portraying the Syrian government in the worst possible light. The information on which the figures are based are internationally considered so dubious that the UN
gave up trying to keep an accurate count
almost two years ago.
Routinely cited by every single Western media outlet, and its reports taken as gospel truth,
the Syrian Observatory for Human Rights (SOHR) has effectively been inventing a narrative of what's happening in Syria that fits Western foreign policy interests
. With no real 'ears on the ground' in Syria, SOHR produces reports on troop movements, government policy, and public sentiment, all of which amount to so many lies that are uncritically swallowed and regurgitated by Western presstitutes. The Syrian Observatory for Human Rights (SOHR) consists of one Syrian expat - Abdul Rahman, aka Rami Abdulrahman, aka Osama Suleiman - and his 'team of four activists in Syria'. Rahman, a three-term convicted criminal in Syria, found refuge in the West, where he
miraculously sees all in Syria from his two-bedroom house above a clothes shop in Coventry, England
.