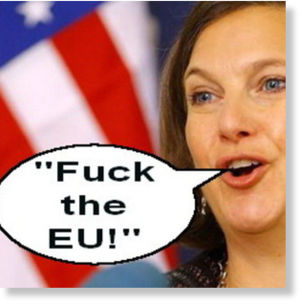 Dear leaders of Europe,
In a socio-political-economic-military bloc like the EU, consisting as it does of 28 countries and 24 official languages, communication can be a problem. Although most speak English or understand it to some degree, nuances of the language can perhaps be difficult to pick up. So I propose to clear up a particular nuance that has obviously been misunderstood by most of you.
On December 13th 2013, U.S. Assistant Secretary of State Victoria Nuland, said to the U.S. Ambassador to Ukraine Geoffrey Pyatt the words
"F*ck the EU".
Now this was immediately interpreted by you all to be a
command
coming from the US boss in Washington to "f*ck the EU". The problem is - and here good knowledge of the English language is useful - that Victoria Nuland was insulting you, dear leaders, and all Europeans. She was NOT commanding anyone to "f*ck the EU", but the fact that you appear to have run with her suggestion is evident for all with eyes to see. The devil's advocate in me would suggest that she most likely meant it both ways; that is,
both
as an insult and as a command. BUT, at the very least, you should have been insulted and
not
taken it as a command.
You may protest and say that you didn't take it as a command, in which case I will refer to a few examples that demonstrate how you have. In all fairness to Victoria Nuland, it didn't start with her command/insult, but the destruction of Europe has definitely gone ballistic since she provided you with renewed enthusiasm.