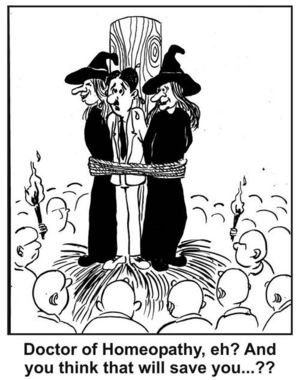 "Eppur si muove" -
And yet it moves
- were the words Italian mathematician and physicist Galileo Galilei allegedly uttered after being sentenced by the Inquisition for heresy. Galileo's heresy was his opinion that the Sun lies motionless, that the Earth is not at the centre of universe, and that it moves. Unlike those around him who were quite happy to blindly follow dogma concerning the universal order, Galileo observed the world around him, measured different parameters and finally, after he analysed enough collected data, worked out that the Earth is moving around the Sun. Galileo was certainly luckier then Giordano Bruno, another Italian mathematician, who was burned at the stake in 1600 for advocating the same idea.
People who attack homeopathy these days do so with the same fervor as the Inquisitors. With their small, medieval minds, they repeat the same nonsense and misconceptions about homeopathy, over and over, without making the slightest effort to conduct their own research or empirical quest. I have to admit that my first reaction to homeopathy was of a similar myopic nature, my 'conventional scientific mind' immediately dismissed it as nonsense, and I had no desire to study the subject further.
Enter Spark, the appropriately named dog
But then one day Spark visited my practice and everything changed.
It took me a few moments to realize that Spark was not some strange, hairless breed I had never encountered before, but rather a West Highland Terrier. He had only a few tufts of hair remaining, mostly on his head, chest and the tip of his tail. The rest of his skin was completely bald, blackish and covered with oozing sores and scabs. I was the fourth veterinarian to see Spark. After learning his medical history and previous treatments, it became obvious that there weren't many options left to try. He had already been treated with several anti-parasitic medicines, tested for different allergies and was eating nothing but hypoallergenic dry-foods. None of this had worked. He'd also been on several types of antibiotics and steroids, as well as a course of fungicidal medicine, all to no positive effect whatsoever. In fact his health kept deteriorating.