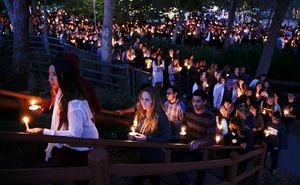 Details are still coming in regarding the murders in Isla Vista, California on May 23. Elliot Rodger, the suspect who was found dead from a bullet wound to his head in his BMW after the shootings, apparently stabbed to death his two roommates (Cheng Yuan Hong and George Chen) and a third man (Weihan Wang) in his apartment, before shooting and killing two young women (Veronica Elizabeth Weiss, Katherine Breann Cooper) outside the Alpha Phi sorority house and continuing on to the local IV Deli Market, where he then shot and killed Christopher Ross Michael-Martinez and injured an additional thirteen people. His victims ranged in age from 19 to 22 years old (Rodger himself was 22).
With the sheer number of mass shootings bearing all the hallmarks of psyop stage-managing (see SOTT's own Joe Quinn and Niall Bradley's
Manufactured Terror
), it's easy to wonder if there's more to this story than meets the eye. Most of the reports so far seem fairly straightforward. Elliot Rodger had a history of mental illness, 'odd behaviour', and his moral decline leading to the horrific events last Friday was documented by Rodger himself in vlogs uploaded to YouTube in the weeks before the murders and a 140-page 'manifesto' distributed to several people that day, including his parents. While there's no suggestion in his videos and writings of an accomplice, an early report did mention that
a second suspect
had been apprehended:
One woman, identified as Sierra, told NewsChannel 3 that she was approached by two men in a black BMW. The driver waved a small handgun and asked, '"Hey, what's up?"'
Then there's the
weird near-coincidence
of an active-shooter drill scheduled to take place at the same campus 5 days later:
Meeting of the Board of Directors of the Santa Barbara Metropolitan Transit District, April 29, 2014

[...]

"Operations attended a table top exercise for the May 28 "Active Shooter Drill" at Santa Barbara City College. Multiple agencies were there, "fine tuning" the different roles, protocols, and schedules."
Assuming for now that this was the work of a 'lone nut', I want to examine some of Rodger's bizarre behavior in the run-up to his going postal. We've heard a few opinions in the media regarding what if anything could have been done to prevent this tragedy. Most of them, in my opinion, are flat-out wrong. For example, Richard Martinez, the father of one of the victims, blames "
irresponsible politicians and the NRA
" for his son's death:
'Why did Chris die? Chris died because of craven, irresponsible politicians and the NRA.

'They talk about gun rights. What about Chris's right to live? When will this insanity stop? When will enough people say 'Stop this madness, we don't have to live like this.' Too many have died.

'We should say to ourselves: Not one more.'
It's an understandable sentiment, especially coming at a time so soon after the loss of his son. But aside from the fact that Rodger seems to have been intent on committing the murders no matter what and with whatever means available (e.g., the knives he used to murder his roommates), gun laws are
unlikely to make a difference
when it comes to crimes of this sort. The problem runs deeper than laws and policies.