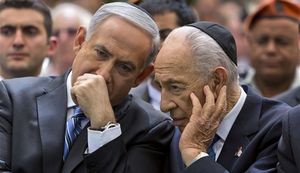 The Lone Ranger and Tonto are watching a horde of Indian braves bear down on them in full battle fury. "Looks like we're in trouble, Tonto," says the Lone Ranger to his pal. "What you mean 'we,' white man?" Tonto responds.
The situation in Palestine mirrors very closely the problems faced by Native American Indians from early American settlers. The American settlers came up against, and ultimately annihilated the Native American Indian populations. Of the estimated 15 million Native Americans, nearly all of them were wiped out. According to some estimates, only a few million people in the U.S. today can claim significant heritage from Native American Indians. Those that were not murdered where simply 'bred' out of existence, either by rape or intermarrying with 'white men'.
It's important to note that the eradication of the Native Americans took a very long time, with many successive 'invasions' and land 'confiscations', as well as small wars and rebellions. The specific history of this conflict is well-known, and where it is not, the reader is invited to review extant information on the topic. The comparison between early American settlers and Israeli settlers is striking and disturbing.
We all know how often 'white men' mourn what was done by their ancestors in the 'New World'. It's a list of crimes that many wish could be undone.
Some of the deeds included:
Buffalo hunted to extinction simply to remove a major food source of the Native Americans. While many were also slaughtered during settlement operations, or while making railroads, actual plans to 'starve' Native Americans by killing Buffalo were implemented.
Blankets and supplies intentionally infected with smallpox and 'gifted' to Native Americans, slaughtering whole populations by a slow and painful death. These were not accidents.
Both official and unofficial 'posses' routinely hounded and slaughtered Native Americans, often on the pretext of some crime. White criminals took to disguising their crimes by leaving Native American paraphernalia at the scene or scalping their victims.