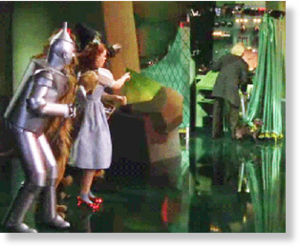 All anti-imperialists that have been secretly longing for the day when the last great Empire of our 'modern' era would finally do what all the 'best' Empires have done - overextend itself in both reach and hubris for all to see and usher in its collapse - should be looking at the situation in Ukraine with hope and expectation.
Well, maybe I'm getting a little carried away there, but the US-Ukraine-Russia debacle does seem to be presenting 'we the people' with a rare opportunity to see the great American Empire as the monolithic edifice, composed largely of lies, propaganda, rhetoric, fear and public credulity that it is. There is, perhaps, a chance to see that the emperor really is naked, and that our overblown overlords and their "greatest democracy on earth" exist and persist only because we all believe their carefully crafted lies served up to us in the yellow journalism of the Empire's
fourth estate
, the mainstream media.
As the empire fades and the hubris of its leaders increases however, it seems even those carefully crafted lies aren't having the desired effect. This week, both Obama and John Kerry exposed America's vaunted 'exceptionalism' as being based on exceptional dishonesty when they made statements about Russian intervention in Ukraine. The funny thing is, both Obama and Kerry were actually trying to do the opposite - present themselves as paragons of righteousness. Apparently the Neocons from whom they take their orders failed to mention to these two spokesmen for Empire that 'chutzpah' should never be pushed too far, lest you expose your unmitigated effrontery and impudence for all the world to see.