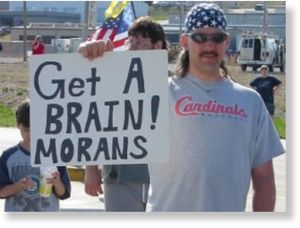 Boy did my
last article
ever bring the fundie flag-waving authoritarian followers out of the wood work. I've been swamped with efforts aimed at trying to guilt trip me into supporting U.S. troops.
Let me make myself perfectly clear:
This guilt trip-circle-the-wagon-bullshit does not work on me. Save it for your fellow authoritarian followers in case they ever accidentally step out of the brain-dead zombie patriot line.
Our troops have ZERO BUSINESS being deployed all around the world, ZERO business invading and illegally occupying other countries, ZERO business stealing the resources of other nations, ZERO BUSINESS raping and torturing the people of other nations, and ZERO BUSINESS MURDERING the people of other nations.
These people have done NOTHING to US, NOTHING to our government crime syndicate.
Wow, who'd have thought I (or anyone) would have to make such simple and humane ideas so explicit!