In Ottawa today, in an event "unprecedented in Canada's history",
someone shot dead
- at point blank range - one of the two soldiers who stand guard at Canada's National War Memorial. From there the suspect(s) hijacked car(s) and made their way to Parliament Buildings, where they opened fire in close proximity to Canadian government ministers and legislators. Canada's capital city is currently on lockdown as thousands of personnel from multiple security forces patrol the area and set up checkpoints to monitor vehicles going in and out of the city.
One of the shooters has been killed, allegedly by a security guard inside the Parliament. At least two patients have turned up with gunshot wounds at a local hospital. Eyewitnesses told local news outlet CTV that "a man with long hair carrying a rifle" fired four shots at a soldier next to Canada's 'Tomb of the Unknown Soldier'. That soldier has since
died
.
Eyewitness: 'It sounded like a shotgun'

One man watched the scene unfold from a third-floor office that faces the war memorial. "It was unreal," said the witness, who asked not to be identified. "I heard the shot and looked out the window. . . The shooter came from the west side and aimed right at the young guy that was standing guard and shot him twice. I think he missed with the first shot; it sounded like a shotgun."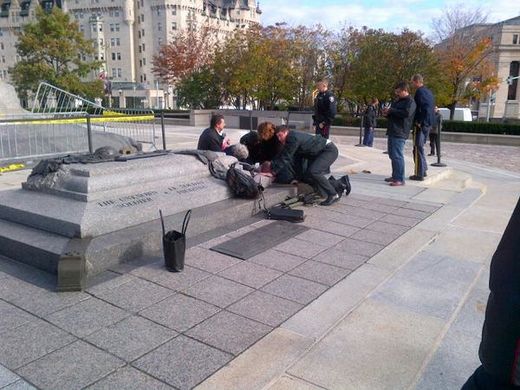 Canada's military has been put on high alert, with all its bases on lockdown. Canada had incidentally raised its national terrorism alert level earlier today, following a separate attack on Monday, in which
two Canadian soldiers were run over in a hit-and-run by a "homegrown radicalized jihadist", Quebecois Martin Couture-Rouleau, aka 'Ahmad the Converted'
. One of the soldiers died. The suspect was summarily executed following a manhunt by militarized police.