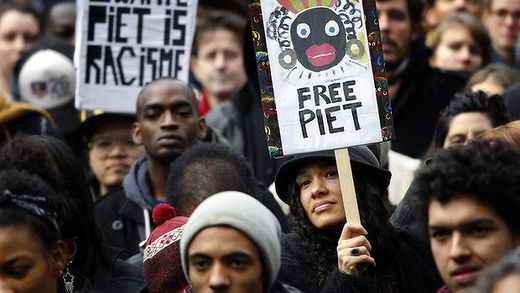 As the holiday season approaches, people the world over will be celebrating the year's end in accordance with their local traditions. In the Netherlands in recent years there has been steadily-growing controversy about its peculiar Christmas tradition involving white people wearing blackface theatrical makeup.
Jon Stewart is right:
the U.S. most definitely is NOT a post-racial society
. But before we, as Dutch citizens, start lecturing Americans about the state of their nation, we ought to come clean about our own racist proclivities. Every year on December 5th Dutch children celebrate a kind of mini pre-Santa day of gift-giving (well, gift-receiving in the kids' case, but the adult population joins in the fun too). The centerpiece of Sint-Nicolaas Day are parades in every town and city up and down the country, in which the guest of honor is a very Father Christmas-like figure who gives kids candy... with the assistance of 'Black Pete', his negro servant sidekick.
To understand this toxic Dutch 'tradition', you have to understand some of its past. But first, here's the story of "Sint-Nicolaas and Black Pete" as it is presented today.