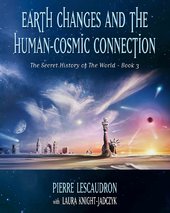 Editor's note:
This article addresses several controversial topics (homosexuality, pedophilia, sexual predation, etc.) and its content, as well as some illustrations, may be shocking to some.

If, despite this disclaimer, you decide to read further, keep in mind that the 'devil is in the details', so read carefully and try to avoid black and white thinking.

In particular, do not forget that during the analysis, we focus on a small minority of pathological individuals who have infiltrated the gay community. So this is not an attack on gay people but an exposé of this small minority that pretends to be gay and attempts to exploit the gay community in the service of a nefarious agenda.

This being said, fasten you seat belts, and jump in!
_______________________________________________
The main idea developed in this article came rather unexpectedly while I was writing the last part of
Earth changes and the Human Cosmic connection
, which has just been released as
paperback
and for
Kindle
.
The theorized 'Human-Cosmic connection' might be one of the main mechanisms, if not the main one, through which the human population influences, positively or negatively, its environment, including major cosmically induced catastrophes.
While the above mentioned book offers a much more detailed and precise picture of this essential phenomenon, the last part of this article quickly describes this concept and shows how this might connect all the
seemingly unrelated
topics that we will address now.