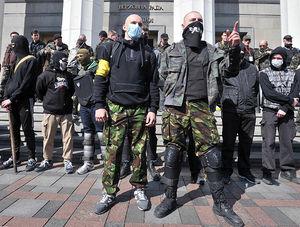 The US military hasn't actually been involved in an overt "war", in the traditional sense of a conflict between two mostly equally matched adversaries, since the end of the Korean war in 1953. As Col. Fletcher Prouty points out in his book
JFK:The CIA, Vietnam, and the Plot to Assassinate John F. Kennedy
, US soldiers in Vietnam were mainly fighting against 1 million North Vietnamese villagers who were 'deported' to the South (by the US Navy) where, like any dispossessed people, they resorted to theft to survive. These were the bulk of the 'Viet Cong' that the
US military raped, tortured, napalmed and shot en masse
. Every other US military and/or CIA 'adventure' from the 1960s until today (and there have been many) has involved one of the following three approaches:
A) a short-lived 'turkey shoot' against an impotent 'enemy' (see Iraq "war" 1, Libya 2011).
B) a protracted direct "war" of colonial expansion waged against an indigenous, largely civilian, population who resist occupation and plunder of their land (see Iraq "war" 2).
C) a 'proxy war', where paramilitary groups (either local or imported) are funded, trained and armed by CIA and US military 'advisers' (too many to list, but see
here
for a list) and fight local resistance groups on behalf of the USA.