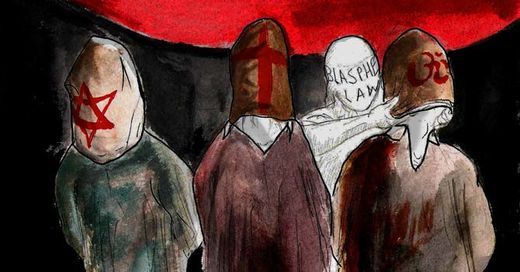 Religious statutes permit Muslims to take the law in their own hands, kill alleged blasphemers and attack minority communities. In Pakistan, a mere accusation of blasphemy is often enough to put an individual and their community in extreme danger.
Is this only true to Islam or are there similarities at work in other religious systems as well? Let's look at recent events to illustrate the concern:
Blasphemy
: Utter-ly a Death's Sentence
a horror story...
Christians beaten to death for allegedly desecrating Qur'an in Pakistan
An angry crowd attacked and killed a Christian couple and then burned their bodies at the brick kiln where they worked. Rumors circulated that the couple had desecrated a Qur'an the day before, although the circumstances of this accusation are not clear [...] the latest example of violence against minorities accused of blasphemy...
and this one is unthinkable...
Girl saw her mother burn alive for blasphemy in Pakistan...and then the mob tried to set HER alight as well
A four-year-old girl and her 18-month-old sister were forced to watch their pregnant Christian mother 'twitch' in the flames when a Muslim mob burnt her and her husband alive after accusing them of blasphemy and were savagely beaten...
and then this crazed old guy...
A 70-year-old Briton suffering from paranoid schizophrenia is facing a death sentence in Pakistan
When Mohammad Asghar claimed to be a prophet sent by God, his psychosis talking, a police officer at the maximum security prison shot him in the back because he had to "kill the blasphemer..."