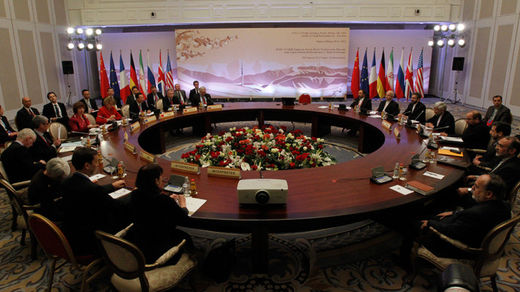 Today, Thursday 20 November, U.S. Secretary of State John Kerry is
set to arrive in Vienna
for talks regarding Iran's nuclear program. A year ago, in Geneva, the P5+1 group (comprising Russia, the U.S., UK, France, China, and Germany) resolved to reach a temporary agreement that would guarantee Iran's peaceful intentions by November 24th this year, and, Iran hopes, lead to the lifting of sanctions. Representatives of each country met in Vienna on Tuesday to, in theory, put the final touches to the deal, with a final round of talks planned for the 23rd.
But there are mixed messages and intentions coming from all sides. U.S. State Department Spokesman
Jeff Rathke said
Washington is willing to suspend the existing sanctions on Iran if a nuclear deal is reached, then terminate them entirely if Iran lives up to its commitments. (Iran, in contrast, wants the sanctions cancelled outright as soon as the deal is signed.) But any agreement reached may leave Obama in a pickle.
Taking the lead in a US Senate threat to block any Iranian nuclear agreement are Senators Robert Menendez (Dem.) and Mark Kirk (Rep.) who are demanding that Iran must totally dismantle its nuclear program in order for the U.S. to even consider reversing sanctions. Last December the two 'hard-ass' senators
introduced a bill
that called for
increasing
sanctions on Iran rather than lifting the existing ones.