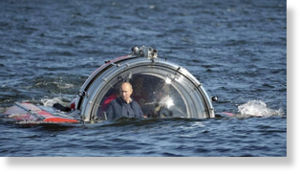 As Russia continues to assert itself and lay claim to its rightful place as a leading global power, Western governments and their media whores, in a desperate attempt to preserve their faltering hegemony, are resorting to increasingly outrageous anti-Russian stunts and manipulations that surpass even the worst propaganda of the Cold War era.
The most recent episode in the ongoing absurd anti-Russian theater occurred 10 days ago when the Swedish
Svenska Dagbladet
paper declared that the Swedish military had "
intercepted a distress call in Russian on a radio frequency reportedly used by Russia for emergency calls
" off the Swedish coast.
Citing unnamed "sources"
the newspaper claimed that the call was "encrypted radio traffic between a location outside of Stockholm and Russia's Baltic enclave, Kaliningrad" and that it "indicated a damaged Russian submarine."