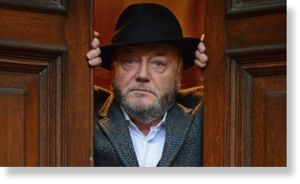 I couldn't believe my ears recently when I learned that George Galloway, long-standing thorn in the side of the British establishment... is a firebrand supporter of Scotland remaining in the United Kingdom that is ruled with an iron fist by said establishment!
Here's a synopsis
of his arguments against Scottish independence, from a recent 'speech' (more like an abrasive and illogical rant) titled 'Just Say Naw', apparently one of many as he toured Scotland to campaign against independence from the UK Crown.
I confess to not having been able to listen to it all - it was really difficult for me to see him fall so low after admiring his defence of working class interests for so long. Scots aren't merely voting 'Yes' for a change of passport, as he flippantly suggests; they're doing so because there is no way for them to continue the 'class war' - as he puts it - within the status quo.
While it's true that "fundamental class points" remain pertinent for Scots whichever state they live under, how those "class points" are addressed is another matter entirely. Scots have woken up to realize that said interests cannot be addressed by a government down in London. Of COURSE Scottish oligarchs envision 'the natural order of things' continuing more or less undisturbed. But surely reducing the number of oligarchs with access to Scotland's resources has at least the potential to improve things for Scots? At the very least, a smaller centralized state run by and for the Scots oligarchs he names in his talk is less likely to get away with as many war crimes, and as much corruption. than a larger centralized state run by and for many more oligarchs in London.