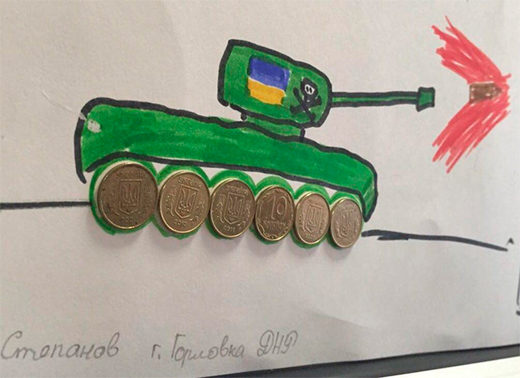 A couple of weeks ago, I wrote
an article about some courageous women
who dared to speak up against the fascism in Ukraine. There is, however, another group of people there who cannot speak up for themselves, and who are even less equipped to deal with life in a war zone: the children.
The relatively peaceful world that the children of East Ukraine knew before the 'Maidan' is long gone. Living under constant bombardment, in bomb-shelters, sometimes without one or both parents and witnessing horrific scenes is scarring these children in a way that, even with proper attention and care, will take a long time to heal. My own mother-in-law was 6 years of age when the German army quickly overran Paris in WWII. Although the attack was short, the trauma of the bombings, sirens and bomb-shelters left her scarred for life with chronic nervousness and anxiety attacks. Now think of the children in Donbass and the ongoing terror campaign that the Kiev junta is waging there - for close to a year now, and with little respite in view.
President Poroshenko is fully
aware that he is making the children in Donbass suffer.
This was made very clear in a hate-filled speech he gave in the Rada (Ukraine's parliament) last year:
...we [in Ukraine] will have work - they [in the Donbass] won't. We will have pensions - they won't. We will care for our children and pensioners - they won't. Our children will go to school, to kindergartens - their children will sit in cellars. They don't know how to organize or do anything. This, ultimately, is how we will win this war.