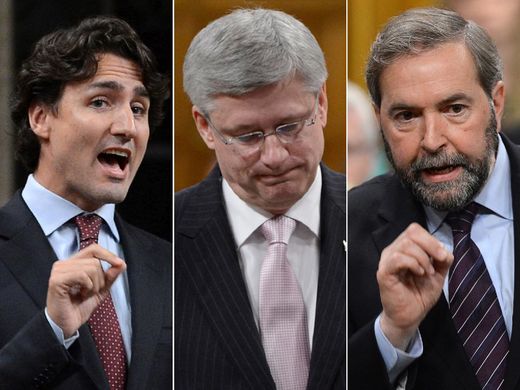 On October 19th, voters head to the polls to decide who will be Canada's next Prime Minister. Unlike the United States, which is dominated by two parties, Canadians have a whopping
three
main political parties to choose from: the right-wing Conservative Party, the centre-right Liberal Party and the centre-left New Democratic party.
Canada's political system is based on the British model of a parliamentary democracy, where the leader of the party that wins the most seats becomes the acting head of state. Under this model, elected members of parliament are not allowed to speak freely on matters of personal opinion or even to give voice to the needs of their local constituents, but must vote along party lines as outlined by the leader and dictated by the party 'whip' who 'whips' party members into line and prevents them from telling the truth, if possible.
Regardless of which of the three main political parties in Canada a person belongs to,
any prospective political candidate that chooses to tell the truth about controversial subjects like Israel or 9/11 may quickly find themselves out of a job
.