"He who controls the past controls the future. He who controls the present controls the past."

- George Orwell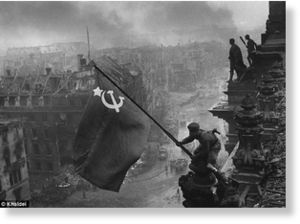 Today, the deliberate inversion of historical fact by Western media and officials is so widespread that it is subverting the very foundation of historical reasoning.
The principal aim of these distortions of public perception is the conquest of our minds, and corruption of our ability to separate truth from lies, all for the purpose of deluding people into accepting servitude and atrocities.
The Western media machine attempts to rewrite the history of WWII by blaming the Soviet Union for starting the war in Europe , or at least for being a major aggressor and partner-in-evil alongside Nazi Germany.
Just as the US promoted the Nazi regime in Germany to target the Soviet Union 70 years ago, the monied interests controlling the US are today using fascism as a tool to weaken Russia and prevent its potentially powerful alliance with Germany and other European countries.
As Russian Minister of Foreign Affairs Sergey Lavrov
said on April 22nd
: "
Americans do a lot to prevent Germany from developing closer ties with Russia
."
The US played an important role in the initiation of the Second World War and the major events that led to it. (See:
Hidden History: The Secret Origins of the First World War
for background on the Anglo-American 'Secret Elite' and how they rule the world through war.) Before and during World War II, the U.S. eugenics movement, comprising extremely wealthy individuals, and
American corporations
like IBM, Ford, General Motors, ITT, Standard Oil of New Jersey, Chase Bank, National City Bank of New York, and others, supported the fascist propaganda and military institutions of the Nazi regime. Hitler called American eugenics leader Madison Grant"s book
The Passing of the Great Race
his "bible".