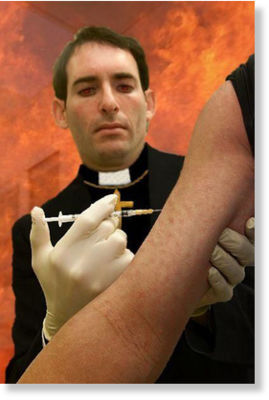 Vaccination, the holy sacrament of allopathic medicine, is a crime against humanity. Under all circumstances, they are neither safe nor effective. By their very nature they bypass the natural laws of immunity and are antithetical to health. Vaccination is an assault upon everyone who accepts it, and it has left a trail of debility, disease and death in its wake. This grotesque ritual is one of the greatest scams foisted upon citizens of the world.
Most truly health-conscious researchers know that vaccines contain very hazardous ingredients: Aluminum, polysorbate 80, formaldehyde, aspartame, benzethonium chloride, glutaraldehyde, thimerosal, MSG, squalene, cetyltrimethylammonium bromide and phenoxyethanol, just to name a few.
Additives aside, what about the vaccine 'seed'? How do scientists acquire the main ingredient? What is the process of procuring the viruses used in this deadly concoction? While researching vaccine production, it struck me that the main ingredient seems to just appear out of nowhere. The virus is just there. It's taken from
somewhere
and grown in
something
. It's attenuated (reduced in virulence), or not, 'purified', strained and mixed with additives, and voila!... a vaccine is born.
But that is not the whole story. It doesn't explain how virus samples are collected and cultivated. The high priests in the Cult of Vaccination would have you believe that there is a Virus Fairy making deliveries to labs around the world, but there isn't. I don't know about you, but I don't believe in the Virus Fairy. This stuff has to come from somewhere.