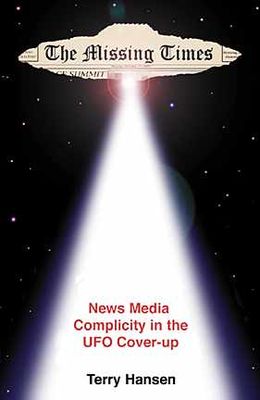 The Missing Times: News Media Complicity in the UFO Cover-Up
is a book written by independent journalist Terry Hansen in 2000. Having seen it referenced in several books on UFOs from the last decade or so and recommended by several experts in the field, I decided to check it out. As our regular readers will know, we at Sott.net like to keep up to date on the various oddities, anomalies, and instances of '
high strangeness
' that pop into our reality on a regular basis. And, being an alternative news website that analyzes and comments on mainstream media coverage (i.e., propaganda) of everything from weather to warfare, the book's focus on the inner workings of media coverage on the topic suggested it might be right up our alley, so to speak. As it turns out,
The Missing Times
is a great resource for information on censorship and propaganda in general, not just UFOs and media, and it has some far-ranging applications, as we'll see.
First of all, a bit of an overview of the book itself: it begins with a short introduction on the way news media has covered (or not covered) big UFO stories, particularly the 1975
Malmstrom Air Force Base UFO/ICBM encounters
. Widely reported in the local and regional press, it took a full two years for these highly sensational (i.e., newsworthy) events to reach the national news.
Hansen observes that
there are two realities in media: the official reality, represented by major national news corporations (which reflect official government views), and folk reality, which is often represented in local or regional, 'small-town' reporting. UFO stories, in particular, often make it into the local press, where they're reported fairly accurately, but rarely if ever do they get serious coverage in the national press.
And when they do, it's usually because the story has already become so large that they need to cover it or risk looking like they are censoring it. Even then, their reporting is rarely if ever serious or objective. Rather, it's loaded with 'spin', name-calling, and 'wink-and-nod' levity. What's the reason?