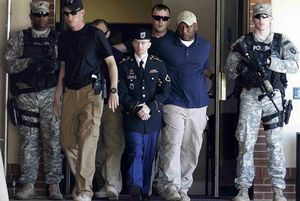 The Bradley Manning case is such a transparent attempt at intimidation to prevent others from exposing war crimes perpetrated by the US government that it could make even a
lethargic baboon
scream bloody murder.
There is no moral validity to the US military's claim or the courts judgment that Manning is guilty of 'espionage' and 'theft'. There is ample room for the specific laws that Manning broke to be interpreted by the judge in terms of the public interest. The public interest can also be cited as requiring laws that work against the public interest, such as those broken by Manning, to be repealed.
Manning was in possession of information that showed that the US government and military had committed crimes against humanity, war crimes, and even genocide against the Iraqi and Afghan people.
Manning's information included footage of a US military helicopter gunning down a father taking his children to school, evidence of a death squad operating in Afghanistan, and files showing that amongst the innocents being held at Guantánamo bay prison, who are regularly tortured, are dementia patients, taxi drivers and prisoners of the Taliban.