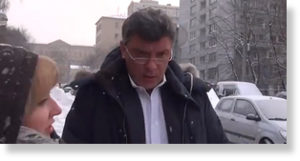 Boris Nemtsov was shot in the back last night as he walked with his Ukrainian girlfriend near the Kremlin in Moscow. Nemtsov ran unsuccessfully for office in 1989 before eventually being elected to Russia's parliament in 1990. As deputy minister for economic reform under Yeltsin, he failed to actually deliver economic reform amid the August 1998 economic crisis and it cost him his job.
In 1999 he founded the Union of Right Forces (SPS), along with fellow liberals Anatoly Chubais and Yegor Gaidar. The
SPS was directly sponsored by the US government (via USAID) in 2002
, after which it became openly critical of Russia's new President Putin (surprise!). This fact alone establishes Nemtsov and SPS as agents of Western efforts to destabilize Russia and therefore not representative of any significant section of the Russian people. Indeed, in the 2003 election, the SPS failed to reach even the 5% threshold needed to enter parliament.
Realising real politics wasn't for him, Nemtsov decided to try his hand at
legalized money laundering
banking, joining Neftyanoi Bank which, with Nemtsov as director, was investigated and
shut down in 2005 for money laundering and fraud
.
In 2004 he joined the Ukrainian government of Mister-US-backed-Orange-Revolution Victor Yushenko, as an 'economic adviser'. He was kicked out of the job in 2006 because of complaints from cabinet members that he was criticizing their decisions.