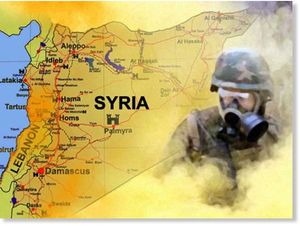 There has been much ado in the press lately about the "alleged" use of chemical weapons by Syrian government forces against the so-called "rebels". Not only are these rebels
supported, trained and funded by western interests
, they also include members of
al-Qaeda
, who, up until last year were the
sworn enemy
of these very same western interests. How
bizarre
is that?
Anyone who reads the Sott page regularly will have
figured out by now
that it was likely the
western-backed rebels
that were
responsible
for the
attack we see portrayed in the media
. But some readers may not be aware that there is also evidence to suggest that chemical weapons
weren't even used
in the attack.
Of course, none of these facts seem to bother the mainstream media, who remain content to parrot the
administration lies
calling for a U.S. attack on Syria.