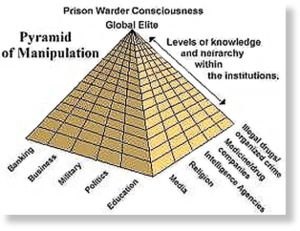 Many have used a pyramid to describe the power structure that the bulk of humanity is subject to - in even the smallest details of our lives. I would like to use it here to address the impending economic collapse, with an eye to explaining what might be going on behind the curtain - what is being hidden and why.
The vertical axis of the pyramid is often described as power, wealth, knowledge, etc. The shape of the pyramid describes the population distribution as measured by the vertical axis. The great bulk of humanity (us) inhabits the lower levels near the base, and the Controllers/Powers That Be/Elites inhabit the lofty levels near the peak.
Control of events at the macro level is administered from the top down by inducing divisions through particular areas in the pyramid. These divisions are made through the use of lies that are designed to achieve particular ends such as war, population reduction, strengthened control, wealth redistribution, etc, right down to plain misery and suffering of the masses.