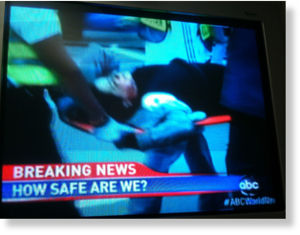 'Marathon Monday' will never be the same for Bostonians. The 117th Boston Marathon ended abruptly when two bombs went off in quick succession at 2.50 pm EST near the finish line on Boylston Street in downtown Boston. As we go to press, 3 people have been confirmed dead, 17 are critically wounded and another 176 have been treated for injuries. The bombs - spaced some 500 yards and 10 seconds apart - went off on the same side of the street, where many spectators had gathered to cheer runners on to the finish line.
Flying limbs and streets awash in blood from what were effectively anti-personnel bombs, designed to maximise trauma, are daily occurrences in countries occupied by the U.S. military, but such gruesome scenes aren't usually seen on the streets of the 'homeland'. Until now.
As the initial shock subsides to make way for an official narrative that will no doubt squeeze every ounce of political capital from this heinous deed, we want to point out some of the inconsistencies we've noticed thus far.