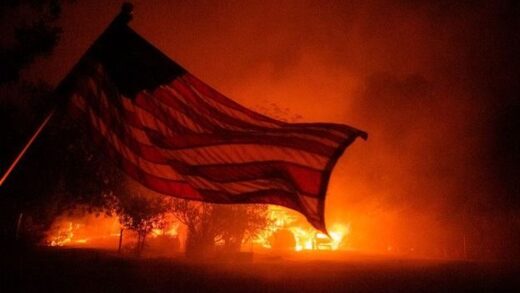 A pilot has been killed and thousands of people have been forced to flee their homes in California after lightning strikes sparked hundreds of fires across the US state.
Nearly 11,000 lightning strikes have been recorded in California over 72 hours, in the heaviest spate of thunderstorms to hit the state in more than a decade.
A total of 367 individual fires were ignited, with more two dozen growing into major blazes, authorities said.
A helicopter pilot was killed after the aircraft crashed while on a water-dropping mission in Fresno County, about 160 miles south of San Francisco, the California Department of Forestry and Fire Protection (CalFire) said.
Multiple fires raced through northern California's wine country, shutting down the major Interstate 80 motorway at Fairfield, about 35 miles southwest of Sacramento.
Flames leapt across the motorway, trapping motorists caught in a hectic evacuation.