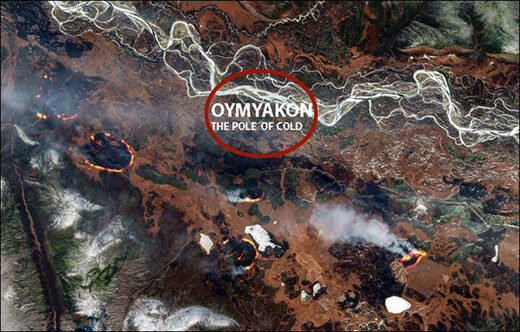 Could burning ground in an area as extremely cold as Oymyakon be caused by zombie fires?
The air temperature in the Oymyakon district of Yakutia is still negative at nights, with daytime just about climbing over 1C.
Snow is beginning to melt, but rivers are still locked in ice for at least a couple weeks more - which is completely normal for Oymyakon, the coldest permanently inhabited settlement on Earth.
What is abnormal is the sight of a dozen wildfires burning a short distance north and south from this famous Pole of Cold
.
The first was registered as unusually early as 29 April by the settlement of Teryut, a short distance north from Oymyakon.
Sentinel-2 satellite caught sight of frozen Indigirka River, snow-covered mountains, and ominous dark-orange dots scattered along the valleys.
The second set of fires was recorded south of Oymyakon and even closer by distance (within 20km, or 12 milds) on 1 May.
Last summer was one of the worst in the history of Yakutia for the number of wildfires, with many registered above the Arctic circle.